There used to be a time when for every occasion there used to be a particular dress. But it's the 21st century and people are more attracted to wearing anything that makes them feel comfortable and enhances their beauty. You know this is "the one" for you when you feel like you're the star of the night even when you try it. Trends have totally changed compared to previous times, down the timeline. Now most of the dresses like quinceanera dresses, A-line dresses, etc, go along with most of the body shapes.
Below mentioned are the top trendy dresses of this year:
Here comes the "trumpet gown"
If you want to flaunt that beautiful curvy figure, this dress is for you. This dress is characterized by the elevated waistline that sits just below the chest from which the rest of the clothing flows to the bottom. This silhouette, skimming over the hips and tummy section, is ideal for a woman with a pear-shaped body.  Although the empire dress works well with all body types, since it draws attention to the neckline and creates focus, it is particularly appropriate for brides with a smaller chest.
Live the feelin' good vibes with "A-line dress":
The A-line dress is perfect for any event, from a pleasant backyard reunion to a formal church service, because of its classic and simplistic nature. For all figures, particularly those with a larger bust, this is a great shape. As A-line dresses are quite flexible, simple changes to the neckline, waistline, or fabric will highlight your best features and conceal those that are not yours.
Almost everyone is flattered by this silhouette, while still allowing you plenty of space to shift, dance, and connect with your guests.
The irenic "sheath gown": 
A sheath dress is form-fitting, has a straight cut, and is nipped without a noticeable seam at the waistline. It rests at or just above the knee and is suitable for a business function or an evening out. This style of dress is suitable for those who want to place their amazing curves in the light, as it flatters those with a body shape of an hourglass.
The blissful "quinceanera dress":
This type of dress actually comes with meaning. Usually, it is worn when a girl is entering into womanhood. Nowadays, these dresses are worn by numbers of girls irrespective of a particular occasion. Quinceanera dresses originated from a Spanish background. There are short quinceanera dresses and long (gowns) as the basic style of the dress.
If you're worried about the price, it's okay as quinceanera dresses on sale are available in online stores.  As Christmas is near there are many quinceanera dresses clearance going on in shops and online stores as well.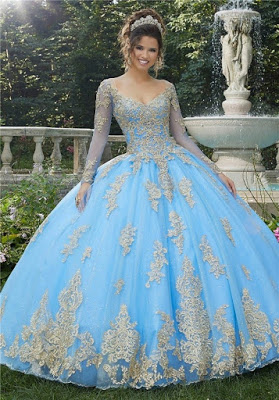 If you're looking for quinceanera dresses on sale Adasa is offering premium quality quinceanera dresses.
A version of this story first appeared on https://designer-dresses-sale.blogspot.com/