Now that it's officially shorts weather, you may be in need of a few outfit ideas that involve your favorite styles. When it comes to your cute denim shorts in particular, it's good to know there are lots of fun ways to style them. Whether you're looking for a summer date night outfit, a cute beach cover up or a go-to summer uniform, be sure to check out these stylish denim shorts outfits!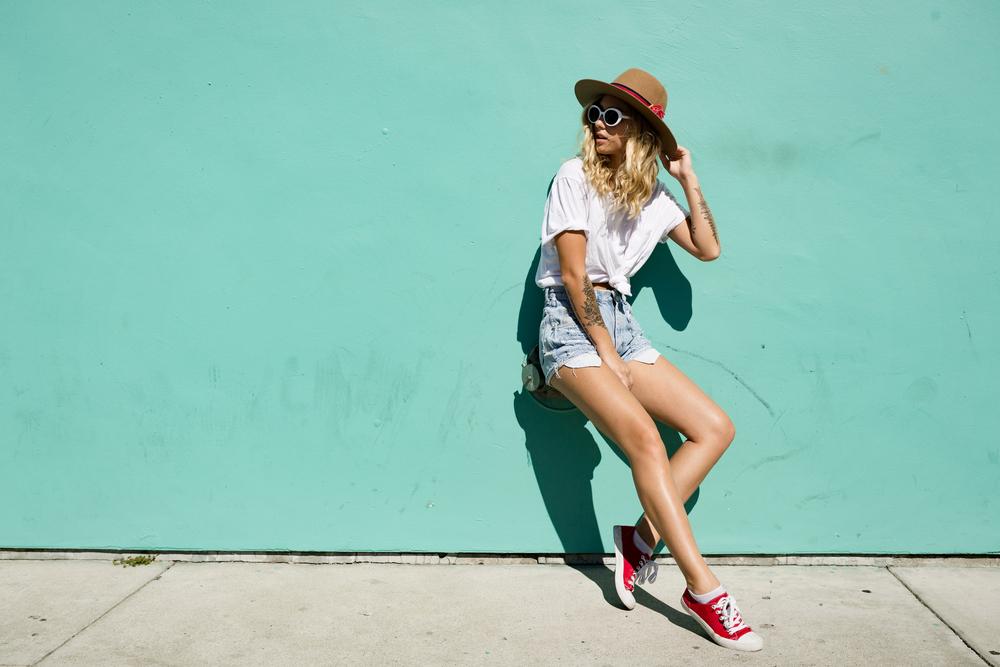 Source: 2M Media/ Shutterstock.com
Beach Hat + Denim Shorts + Sandals:

For the perfect casual outfit, grab a pair of denim shorts and style them with some flat sandals. Add your favorite beach hat and

a pair of sunglasses

for some outdoor sun protection and then finish off the look with a bright white t-shirt or flowy white tank top. This look is perfect for an outdoor lunch, exploring a new city or any casual summer day. 

Denim Shorts + Bodysuit:

Your favorite denim shorts can be part of

a summer date night

outfit, too! Whether you're headed out for a night of bowling, a sunset walk on the beach or dinner and a movie, you can rock a pair of denim shorts with a cute bodysuit to create an easy and stylish date night look. High waisted shorts look super cute with a classic black bodysuit and a set of gold jewelry. For a cute and casual date night look, pair your outfit with some high top sneakers. If you want to elevate the look a bit, go for a pair of strappy sandals or even heels!

Graphic T-shirt + Black Denim Shorts:

Though light wash denim shorts are probably the most popular, it's also a good idea to have some black denim shorts in your closet. They look great with a simple white t-shirt or with a

funky graphic t-shirt

that features a saying, design or even your favorite band. Balance out the dark color of the shorts with neutral sneakers, sandals and bright colored accessories. 
Source: Look Studio/ Shutterstock.com
Feminine Top + Denim Shorts + Leather Belt:

You might think of wearing your denim shorts only with casual t-shirts, flat sandals and super casual outfits. However, you can easily elevate them and use them to create a stylish outfit for nicer occasions. Instead of

pairing your cute blouses

with a skirt for a night out, consider adding a pair of denim shorts instead! Go for a pair in your favorite wash with minimal fraying or holes and then add a cute blouse with puffed sleeves, a collar or fun lace accents. A white blouse is a classic for summer, but a blouse in a bold color makes a fun statement! 
Once the base of your outfit has been created, go for elevated accessories like a brown or black leather belt and jewelry that matches the belt's hardware. Metallic sandals or clean white sneakers make a great finishing touch for this outfit. 
Platform Sandals + Denim Shorts + Crop Top:

When worn together, a pair of denim shorts and a cute crop top are summer's greatest power couple. The pairing is what you might think of during the colder months of the year when you're reminiscing on summer days when your thick coats are packed away.
To put it simply, you can never go wrong with stylish crop tops and denim shorts in the summer. You might even think of them as part of your summer uniform for casual outings and events! Denim shorts paired with a crop top creates a classic representation of summer style, but you can always add a trendy twist with your footwear. Try adding a pair of cute platform sandals as the finishing touch to your outfit. These sandals will give you a height boost and take your outfit to the next level! 
Source: 2M Media/ Shutterstock.com
White Denim Shorts + Summer Sweater:

For summer nights or days when the temperature is a little cooler than normal, you can still rock a fun summer outfit that matches the weather!

White denim is an undeniable summer closet staple

and a pair of white denim shorts look great with a thin, breathable sweater on not-as-hot summer days. Go for crochet or loose knit material that matches your summer color palette and add leather sandals for a bit of texture variation. The denim shorts mixed with long sleeves will keep you feeling comfortable without making you too warm. 
Short and Sweet
Denim shorts are widely popular during the summer because they go with so many different tops, shoes, and accessories. It's arguable, however, that the very best outfits involving denim shorts are those that are simple, chic, and effortless! Keep it classic with trendy accents and let your shorts speak for themselves!