[ad_1]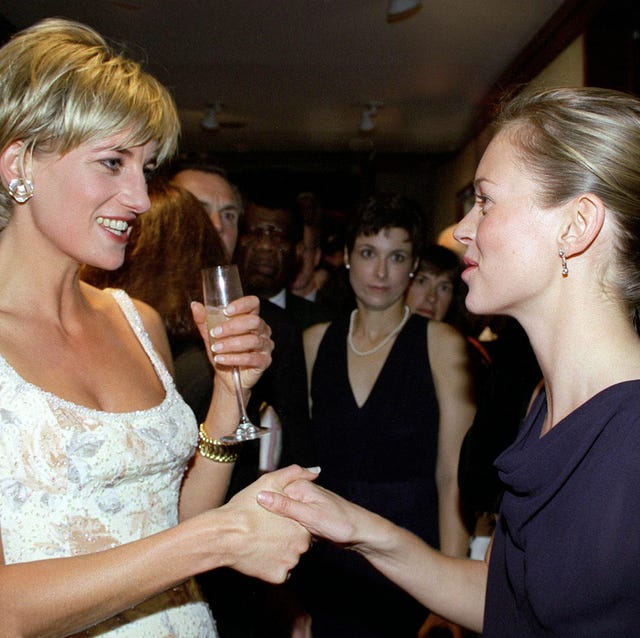 Tim GrahamGetty Images
Princess Diana was one of the—if not the—most influential style icons of the '80s and '90s. If you were lucky enough to meet her, a lot of thought probably went into finding the perfect outfit. At one point in time, many of Hollywood's biggest names got a chance to mingle with Lady Di. While some of their style choices reflected the trends of the era (Liza Minnelli's asymmetrical dress or Linda McCartney's crushed velvet look, to name a couple), others may surprise you. From a Rolling Stones member's leather jacket to Robin Williams's yellow, red, and green suit, these are the memorable outfits celebrities wore to meet the Princess of Wales.
1 of 50
1981: Grace Kelly
The Princess of Monaco met Princess Diana at a fundraising event for the Royal Opera Hall in London and wore a plum dress with balloon sleeves and a statement pearl necklace for the occasion.
2 of 50
1982: Elizabeth Taylor
Elizabeth Taylor ditched her typical flashy evening gowns for an understated white muslin Victorian-era dress. But this outfit wasn't necessarily the actress's choice: She was still in costume from her charity performance of The Little Foxes.
3 of 50
1982: Rudolf Nureyev
Princess Diana met famous Russian ballet dancer, Rudolf Nureyev, after his performance at the Royal Opera House. He wore his elaborate costume from the performance, while Diana opted for her own striking look in a red tulle dress.
4 of 50
1983: Roger Moore
Roger Moore may or may not have been inspired by his on-screen person, James Bond, when he picked out this tuxedo to meet Princess Diana at the London premiere of Octopussy.
5 of 50
1983: Duran Duran
The members of Duran Duran dressed like their typical '80s selves to meet Princess Diana at the Prince's Trust Rock Gala. Simon Le Bon (center) opted for white pants, a crew neck t-shirt, and a white blazer—with the sleeves rolled up, of course.
6 of 50
1983: Charlie Watts and Bill Wyman
The Rolling Stones members dressed very differently to meet Princess Di. While drummer Charlie Watts wore a collared shirt and suit, guitarist Bill Wyman opted for a striped T-shirt and leather jacket.
7 of 50
1984: Phil Collins
The Genesis singer met Princess Diana in 1984 at a royal charity concert and wore a checkered sport coat with khaki pants. He also brought a miniature satin bomber jacket for the expectant mother.
8 of 50
1984: Neil Diamond
While meeting Princess Diana ahead of his concert in 1984, Neil Diamond wore a sequin button-down shirt and black pants. He gifted the pregnant Princess with a toy Garfield.
9 of 50
1985: Nancy Reagan
A White House state dinner brought First Lady Nancy Reagan and Princess Diana together. The First Lady wore a long sleeve beaded evening gown, while the Princess had on a midnight blue velvet off-the-shoulder Victor Edelstein dress.
10 of 50
1985: John Travolta
The actor dressed for the White House state dinner in 1985 in a sharp tuxedo, and honored the Princess with a dance, too.
11 of 50
1985: The Three Degrees
All three members of singing group stunned in red long sleeve gowns, finished with gold sequins. It looks like Princess Diana got the memo, too.
12 of 50
1986: Ludo from 'Labyrinth'
Princess Diana met Ludo, a Hollywood star with far more fur than she's probably used t0, at the premiere of Labyrinth in London.
13 of 50
1986: Tina Turner
Tina Turner wore a spandex dress and a white oversized jacket when she met Princess Diana backstage at the Prince's Trust concert in Wembley Stadium.
14 of 50
1986: Bryan Adams
While on tour in Canada, the "Summer of '69" singer sported a white shirt and gray suit jacket, while Princess Diana wore a ruffled shirt and black blazer.
15 of 50
1987: Lionel Richie
Before Lionel Richie performed at Wembley Stadium, the singer wore a striped satin jacket and presented Her Royal Highness with two child-size leather jackets as gift for her sons.
16 of 50
1987: Lillian Gish
Lillian Gish, credited as the First Lady of American cinema, met Princess Diana at the Cannes Film Festival. The 94-year-old wore a long sleeve lamé gown and white elbow-length gloves.
17 of 50
1987: Lindsay Anderson
At the same event, famed director Lindsay Anderson greeted the royal in a simple tuxedo and black bow tie.
18 of 50
1988: Michael Douglas
In true '80s fashion, Michael Douglas rocked a mullet with his formal tuxedo. The American actor met the Princess while attending the London premiere of his hit movie, Wall Street.
19 of 50
1988: Steffi Graf
Princess Diana and American tennis champion, Steffi Graf, both rocked tennis wear on the court prior to playing a doubles match in 1988.
20 of 50
1988: Roger Rabbit
The star of Who Framed Roger Rabbit wears his usual garb, while Princess Diana wore an off-the-shoulder pink satin Catherine Walker ball gown at the premiere in London.
21 of 50
1989: Glenn Close
At the premiere of Dangerous Liaisons in London, the actress wore a gold lamé dress, while Diana donned a strapless black velvet evening gown by Victor Edelstein. A young Uma Thurman can be seen waiting for her turn in the background.
22 of 50
1989: Billy Crystal and Meg Ryan
The stars of When Harry Met Sally shared a laugh with the Princess at their London premiere. Ryan wore a chic off-the-shoulder brown and cream gown, while Crystal went with a classic tuxedo.
23 of 50
1989: The Bee Gees
The Gibb brothers each opted for a different color while lunching with Princess Diana. Robin chose beige, Maurice went for black, and Barry sported dark navy.
24 of 50
1990: Sean Connery
Sean Connery and his wife met Princess Diana at the premiere of The Hunt For Red October in 1990. Both women complimented one another in dazzling sparkles and aqua dresses.
25 of 50
1990: Joan Collins
It wasn't the first time they were introduced, but Joan Collins still went all out for the opening night of the play Private Lives with her elegant black and white dress.
26 of 50
1990: Barbara Bush
The then-First Lady greeted Princess Diana at the White House in a blue long-sleeved dress and pearl necklace. The royal was wearing a blue and pink suit by Catherine Walker.
27 of 50
1991: Kurt Russell
The actor chatted with Princess Diana at the premiere of Backdraft in London in a classic tuxedo. The Princess wore a black sleeveless gown with beaded straps designed by Bellville Sassoon.
28 of 50
1991: Liza Minnelli
Liza Minnelli opted for a white ruffled gown for the Stepping Out premiere in London, while the Princess wore a formfitting pink and white one sleeve evening gown by Catherine Walker.
29 of 50
1991: Charlie Sheen
Princess Diana rewore this red evening gown when she met Charlie Sheen at the London premiere of Hot Shots. Charlie kept it simple in a black tuxedo.
30 of 50
1992: Dustin Hoffman
At the premiere of Hook in 1992, the actor wore a standard tuxedo. Princess Diana marked the occasion with a white beaded and black velvet gown by Catherine Walker.
Advertisement – Continue Reading Below
This content is created and maintained by a third party, and imported onto this page to help users provide their email addresses. You may be able to find more information about this and similar content at piano.io