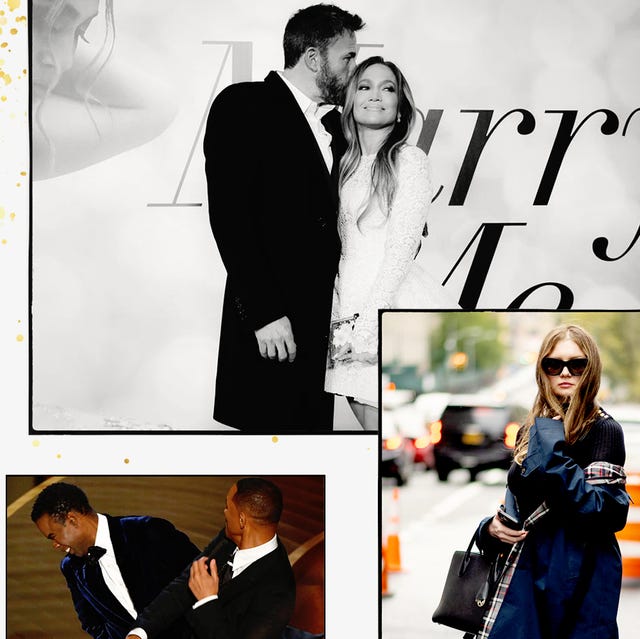 Getty + Design Leah Romero
Folks, it has been a year. Amid the highs and lows of 2022, there were the oddities, viral headlines, and objects of fascination that grabbed our attention, ire, and confusion: Julia Fox was everywhere, and so was Pete Davidson. The Don't Worry Darling drama was so rich it nearly overshadowed the movie itself. Euphoria memes flooded our feeds. And Rihanna had a baby!!!
Like a loving high school class, we're memorializing the last 12 months yearbook-style before we graduate and move on to 2023. Except, instead of Most Likely to Succeed and Class Clown, we have titles like Best Con Artist Career Pivot and Most Unhinged Celeb Crush. (A year as wild as this one requires labels that match.) Keep scrolling for some of the biggest pop culture moments we couldn't stop thinking about—and some we are glad to leave behind.
Advertisement – Continue Reading Below
The Don't Worry Darling press tour
Olivia Wilde and Harry Styles' relationship. Rumors of a feud with Florence Pugh behind the scenes. Residual drama from Wilde's breakup with Jason Sudeikis. Shia LaBeouf's defense. "Miss Flo." Something about a salad dressing. The Don't Worry Darling drama was the gift that kept on giving, the tea that kept on spilling, and the rumor mill that would not stop running—and we ate up every second of it.
Most Original Maternity Style
Alexa Demie as Maddy Perez, Euphoria season 2
This isn't an official Emmys category…but it should be. Demie gave an unforgettable performance as Maddy, aided by a divine manicure by nail artist Natalie Minerva. The way she flicked her fingertips in Cassie's face was art—and so were all the recreations on social media.
Most Unhinged Celebrity Crush
Nathan Fielder
Chaos reigns in Fielder's new hit series The Rehearsal, where he helps people rehearse for difficult conversations or big life decisions. (And that's just the tip of the iceberg.) Yet, somehow, the socially awkward, laptop-toting comedian emerged as an unlikely heartthrob through it all.
Pete Davidson
The SNL alum has dated Ariana Grande, Kate Beckinsale, and Margaret Qualley through the years. Then he started dating Kim Kardashian in 2021 and they went more public than ever with their relationship in 2022. When they split in August, he was soon after linked to Emily Ratajkowski. How???
Best Con Artist Career Pivot
"Anna Delvey" a.k.a. Anna Sorokin
She went from scamming New York's elite as a fake heiress to inspiring Netflix's Inventing Anna while behind bars. She also launched an art career this year, even during ICE detention. In October, she was released from jail, but barred from social media. Still, she's somehow landing tons of press and hosting dinner parties.
Best Album to Blast on a Saturday Night
Renaissance by Beyoncé
How lucky are we to have experienced yet another masterpiece by Beyoncé? Her new album of dance anthems was so addictive, we were busting moves at work and yelling "I AM THE BAR" around the house, and listening to it all again on the weekend. Now, if only we had the visuals, too…
Most Compelling Argument for More Antitrust Laws
The Eras Tour ticket fiasco
After Taylor Swift gave us one of the best pop albums of the year, Midnights, naturally, fans flocked to see the singer perform live. But ticket sales for Swift's upcoming Eras Tour turned out to be a disaster on Ticketmaster, as only a select few were able to snag seats. In the unexpected political movement of the year, the widespread public outcry led to the Justice Department launching an antitrust investigation into Ticketmaster's parent company, Live Nation. Solidarity, Swifties.
The Slap Heard Around the World
Will Smith and Chris Rock at the Oscars
And it launched more hot takes than one could possibly count.
Harry Styles "spitting on" Chris Pine
Did he or didn't he? Pine's rep denied that Styles spit on his Don't Worry Darling co-star, but that didn't quell our hunger for drama. We all watched and analyzed this footage like it was WikiLeaks.
Most Salacious Back Reveal
Timothée Chalamet at the Venice Film Festival
Timmy makes the case for men's halter tops in this bright red Haider Ackermann look. He put his back into it.
Absolute Worst Flirting Attempt
Adam Levine
The Maroon 5 frontman, who is married to Behati Prinsloo, became embroiled in a cheating scandal when model Sumner Stroh alleged that they had an affair, and shared screenshots of their messages (in the DM, naturally). Among the exchanges were cringey lines like, "I may need to see the booty." Please, someone take this man's phone.
Florence Pugh at the Venice Film Festival
An Aperol spritz never looked so good. While other craziness was going down in Venice, Pugh emerged in this monochrome look, completely unbothered. (Catch the original video here.) Cheers, Miss Flo.
Most Effective Pink PR Push
Barbiecore
Greta Gerwig's Barbie doesn't come out until next summer, but the Barbiessance is already here. These behind-the-scenes images of Margot Robbie as the titular doll and Ryan Gosling as Ken cued an influx of all-pink outfits galore (thanks to Valentino as well).
Quiet Quitting
You mean we shouldn't be overworking ourselves and tying our identities to our careers? Genius idea.
Best Case for Reuniting With Your Ex
Ben Affleck and J.Lo's wedding
Twenty (!) years after getting engaged the first time, Bennifer got engaged again, then married in Vegas, and then had an official ceremony at Affleck's Georgia home. (We hope there was a Dunkin' sponsorship.) It's perhaps the best case scenario of two exes reuniting, and may or may not have inspired us to slide back in to someone's DMs.
Best Comedic Line Delivery
"Your parents are upper…middle…class."—Rachel Sennott in Bodies Bodies Bodies
Halina Reijn's satirical summer slasher is full of ridiculous one-liners like "I'm an ally!" and "You're silencing me!" But the way Alice (Rachel Sennott) humbles Jordan (Myha'la Herrold) in one of the tensest scenes of the film is (literally) to die for.
Most Meme-able Quote by a Gay Icon
"These gays, they're trying to murder me!"—Jennifer Coolidge in The White Lotus
Few things brought the internet together more than episodes of The White Lotus on Sunday nights. In the season 2 finale, Coolidge's swan song, she delivered a line with so much fear, so much emotion, and so much vigor that it immediately hit social media like wildfire as soon as she uttered it.
Most Emotional End of an Era
Serena Williams' retirement
After 23 Grand Slam titles, Williams announced her retirement and then promptly played her final match at the US Open. There was not a dry eye in the crowd (or the living room) watching the GOAT say farewell.
Best Unintentional Catchphrase
"Yes, chef!"—The Bear
People in the restaurant industry have been using phrases like "yes, chef!" and "corner!" and "behind!" for generations, but with the debut and popularity of FX's The Bear, set in a busy Chicago Italian beef joint, kitchen lingo was everywhere this summer. After a lengthy pandemic of cooking at home, everyday viewers were almost convinced they were chefs, too.
Best Wildcard Sartorial Decision
Heidi Klum dressed up as a worm on Halloween
The supermodel always goes all out during spooky season, and in the midst of sexy, body-hugging celebrity costumes, Klum's transformation into a literal worm takes the cake.
Best New App that No One Will Remember Next Year
BeReal
⚠️ It's time to be honest⚠️: Is BeReal a fun and refreshing new way to keep in touch with your friends while Twitter falls into shambles and Instagram forces us into using Reels? Of course. Will it survive the test of time? We'll have to wait and see. (Probably not.)
Advertisement – Continue Reading Below