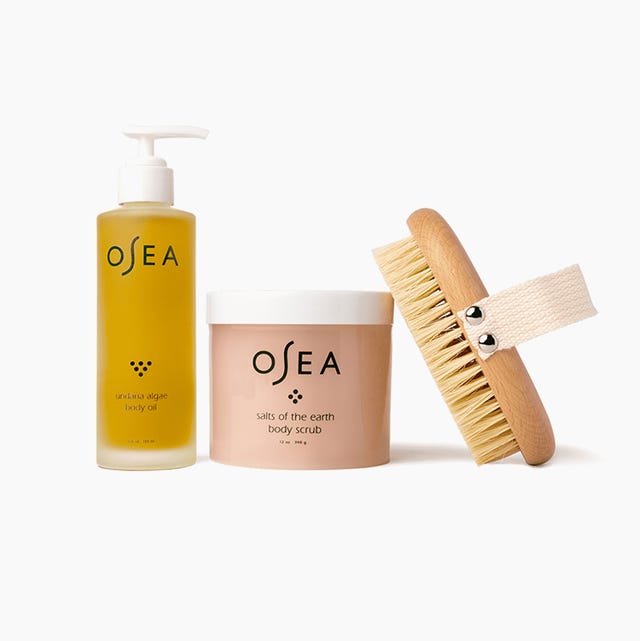 Courtesy
Sometimes all we have left after a hard day at work is enough energy for a fast lather and rinse. However, if your schedule permits a little additional me time, grab a bottle of wine and treat yourself to a bubble bath or a sumptuous, hot eucalyptus shower. To create a spa-like atmosphere in your house, you'll need the correct equipment, which is why self-care gift sets are such a smart investment. More specifically, bath gift sets are a simple, fail-proof gift to give year-round, but many of them are filled with nourishing body washes, body oils, and lotions, as well as bath accessories that make self-care Sunday far more relaxing.
With cozy season in full effect, a bath soak and moisturizing body ritual are all you need to stay soft and snuggly this season. Plus, you can never give yourself too much TLC. Ahead, the 26 best bath gift sets to gift or keep. Happy soaking!
Advertisement – Continue Reading Below
1
Best For Relaxation
Herbivore Botanicals
Soak + Soften Set
2
Best For Partner Baths
Maude
tub kit® no. 1
3
Made For Moisture
Glossier
The Complete Body Hero Collection
4
Best For Supple Skin
frank body
AM PM Babe Kit
5
Best Bath Set With Accessories
Bathing Culture
Gourmet Bather Set
6
Most Sustainable Bath Set
Blueland
Clean Skin Duo
7
Best For Pregnant Women
Hatch Mama
Spa Day Kit
8
Best Fragrance Bath Set
Dior
Rose Bath Bombs
9
Best Robe Set
Brooklinen
The Glow Up Gift Set
10
Best Overall
Farmhouse Fresh
The Big Whoop!
11
Best Unisex Bath Experience
Salt and Stone
Best-Sellers Set
12
Best Vanilla Scent
Spa Luxetique
Vanilla Spa Bath Kit
13
Best Eucalyptus Set
Dr Teal's
Bath and Body Regimen Relax & Relief Gift Set
14
Best For The Clean Freak
Buttah Skin
Body Trio Kit Oatmeal
15
Best For Layering
Philosophy
You're Amazing Gift Set
16
Best Celebrity-Approved
Kora Organics
Body Essentials
17
Best Almond Scent
The Body Shop
Soothe & Smooth Almond Milk & Honey Mini Gift Set
18
Best Bath Accessories
Sierra Concepts
Bath Pillow and Loofah Sponge
19
Best For Dry Skin
Makari
Extreme Argan & Carrot Oil Skin To Love Kit
20
Best For Long Baths
Lush
Hello Gorgeous Gift Set
21
Best For Exfoliation
Osea
Total Body Glow Trio
22
Best For All Over Glow
Mutha
Body Glow Up Set
23
Best Bath Oils
Kneipp
Bathe in Happiness Herbal Bath Oil Gift Set
24
Best Complete Set
Milk + Honey
Art of The Bath Gift Set
25
Best For Daily Use
Rituals
Ritual of Ayurveda Rebalancing Gift Set
26
Best For Skincare Obsessives
Necessaire
The Body Ritual
Advertisement – Continue Reading Below