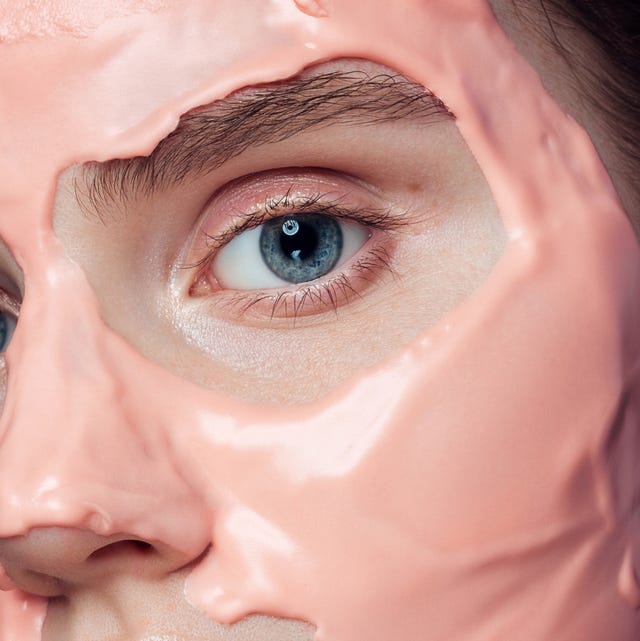 CoffeeAndMilkGetty Images
Very few things are as luxurious and indulgent as applying a face mask. So about once a week, I like to give myself a nice pampering and choose a treatment that will help me relax after a long week. Bonus points if you're sipping a glass of white wine. But which mask to choose? Do you go for a pore-cleansing clay mask? A deeply hydrating sleeping mask? Maybe something to soften a fine line or two? The options are endless.
Face masks are a great way to boost your skin's great ingredients you don't ordinarily use in your skincare routine. So whether you have dry skin, sensitive skin, or acne-prone skin, here are 18 face masks worth indulging in tonight.
Advertisement – Continue Reading Below
1
Best For Dull Skin
Watermelon + AHA Glow Sleeping Mask
Some may dislike the scent
If your skincare goals involve going to sleep and waking up with glowing skin, this is the product for you. It uses glycolic acid to gently exfoliate your cells, revealing brighter, healthier skin behind. Added hyaluronic acid helps plump your skin overnight so you wake up looking like you just got a facial.
2
Best For Sensitive Oily Skin
Purifying Clay Mask
If you have the difficult combination of having both oily or acne-prone skin and sensitive skin, this mask is calling your name. Unlike some products geared towards oily skin which can use harsh chemical exfoliants or extremely drying ingredients, this mask purifies and detoxes without causing damage to the skin.
3
Best For Damaged Skin
Like Butter Mask
Ideal for after a sunburn, chemical peel, or other skin-aggravating event, this soothing and hydrating mask is a miracle in a tube. It contains colloidal oatmeal and ceramides to help heal, nourish, and calm the skin. You can wear it overnight as a sleeping mask, for 20 minutes, or as a daily moisturizer.
4
Best For Enlarged Pores
Superclay Purify + Clear Power Mask
To vacuum out clogged pores, reach for this clay mask. While the clay helps detox the skin, niacinamide and salicylic acid help take it to the next level, banishing blackheads and unwanted texture. Your skin will feel clean, and breakouts will be a thing of the past.
5
Best For Breakouts
Salicylic Acid 2% Masque
May not be suited for very sensitive skin
Unexpected pimples can ruin your day, which is why it's important to have this mask in your back pocket. Using clay and salicylic acid, you can apply this product for 10 minutes once or twice a week to get the clearest skin of your life.
6
Best For Damaged Skin
Snail Rescue Intensive Wash-Off Mask
May not be suited for oily skin
Has your skin barrier been damaged by strong chemicals or sunburns? It can be hard to give your skin the nourishment it needs to heal, but this mask uses snail mucin to give your skin back a healthy, acne-free glow.
7
Best For Fine Lines
Super Collagen Mask
May not be suited for very oily skin
To help tighten and firm the skin, reach for this collagen face mask. It uses clay and natural extracts to clear pores, plump the skin, smooth fine lines. Basically, it's a three-in-one product that you've needed in your routine.
8
Best For Uneven Skin
Charcoal Detox Mask
Takes time to see results
Clogged pores and inflammation can make your skin feel bumpy and uncomfortable. This mask uses clay, argan oil, and shea butter to detox the skin and re-introduce hydration. You'll be left with soft, smooth skin that doesn't feel too tight.
9
Best For Very Dry Skin
Jet Lag Mask
If your skin feels tight, uncomfortable, or you even notice some peeling, reach for this mask. You can use a small amount as an intensive moisturizer, but it's also great to apply on planes or at night for long-lasting hydration. When you have it on, it helps protect your skin from environmental stressors.
10
Best For Sensitive Skin
Cucumber Gel Mask
Who says people with sensitive skin can't have fun with masks? If your skin leans towards being easily irritated or inflamed, try using this cooling, calming mask. It helps detox the skin without drying it out with heavy clays.
11
Best For Unwanted Texture
Cold Plunge Pore Mask
If you're on the hunt for smooth skin with barely-there pores, this cooling mask can get the job done. It uses clay in an innovative way, cooling down the skin and making your pores feel smaller and tighter. It's a great product to use in the summer, when the hot sun makes your skin feel tight and itchy.
12
Best For Plane Facials
Facial Treatment Mask
You know that awful, post-flight skin irritation? Next time you're flying, whip out one of these sheet masks to protect your skin. Each one is infused with Pitera, which gives your skin an intense dose of moisture just when it needs it the most.
13
Best For Cystic Acne
Rapid Response Detox Masque
For those deep-seated pimples that never seem to go away, this lightweight mask can actually make a difference quickly and gently. Using natural extracts and salicylic acid, even the toughest pimples don't stand a chance.
14
Best For Blackheads
Detox Mask Green Tea Blend
With matcha, lemongrass, and clay, this mask is great for giving the skin a boost, helping flush out pollutants from pores that cause blackheads and breakouts. It will leave your skin looking bright and feeling softer than ever.
15
Best For Rough Patches
Water Sleeping Mask with Squalane
Dry patches are never fun (or cute), so soothe those rough edges with this overnight mask. It locks in moisture so you'll wake up looking plump and dewy, and those dry areas will be suitably hydrated again.
16
Best For Beginners
Facial Sheet Mask Combo Pack
Do you need a hydrating mask? A firming treatment? Something for acne? If you're a newbie to the masking world, give yourself the gift of this combo pack so you can find out what you like and need. Sheet masks are a no-muss, no-fuss way to get involved in the fun part of skincare.
17
Best For Glowing Skin
Australian Pink Clay Porefining Face Mask
What's the key to glowing all year round? Ask the Australians, who seem to have mastered the sport. This mask uses pink Australian clay to detoxify the skin, while gently exfoliating at the same time. You'll be left with bright, even skin that glows even in the winter.
18
Best Spot Treatment Mask
Proactiv Skin Purifying Mask
Sometimes you just need to deep clean a certain pore or area of your face. That's where this mask comes in. You can use it as either a spot treatment on an emerging pimple, or all over for a facial moment. It uses sulphur to deep clean pores and battle acne-causing bacteria.
Meet the Expert
Dr. Omar Ibrahimi, Dermatologist
FAQs
Who should be using a face mask?
"Face masks are a great opportunity to deliver quality ingredients to your skin that can help maintain youthfulness, restore hydration and slow the aging process," says Dr. Ibrahimi. "Almost everyone could use a face mask if you have the time to dedicate to applying the product in the evening. There are different face masks for different concerns including brightening, hydrating, oily skin or anti-aging purposes."
Are face masks a necessary item in a skincare routine?
"I wouldn't call them necessary but its an excellent opportunity to indulge your skin in a fun pampering routine and it doesn't need to be done every night. It could be a once or twice a week treat for your skin," says Dr. Ibrahimi.
What kind of face masks do you recommend?
"I would pick the type of face mask depending on the age and goals of the patient," says Dr. Ibrahimi. "Older patients probably want to focus more on anti-aging whereas patients with oily or acne prone skin may want to choose something that reduces sebum production."
This content is created and maintained by a third party, and imported onto this page to help users provide their email addresses. You may be able to find more information about this and similar content at piano.io
Advertisement – Continue Reading Below