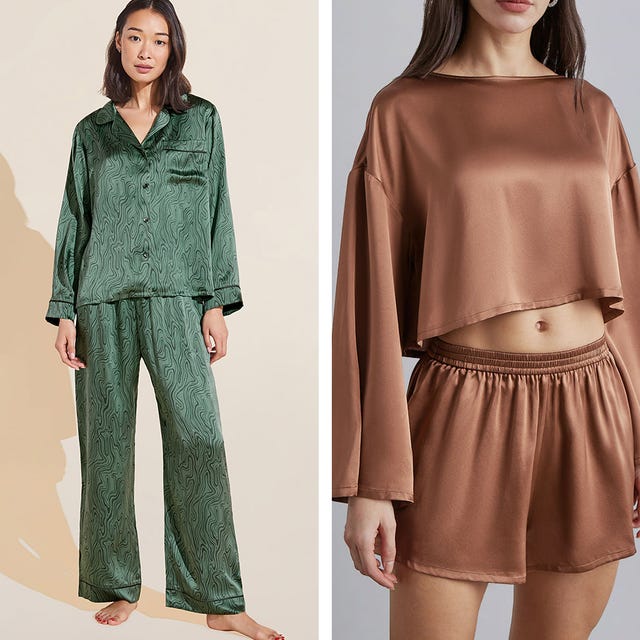 Courtesy
Sleep is important, obviously, which means all things related to sleep are also important. Making sure you have the best sheets, a good quality mattress, a pair of the best slippers, and a solid nighttime routine is well worth your time. An investment in your wellness is an investment in your quality of life…or, at least, that's what I tell myself when shopping for items I deem as self-care.
This brings us to sleepwear—silk pajamas, in particular. Allow me to go ahead and declare that what you wear to bed does, undoubtedly, affect your rest. That said, it might be time to overhaul your crammed-full drawer of tattered boxers and tank tops from college. You deserve better.
Also worth noting, a pajama set makes a great gift for a loved one—or for yourself—in addition to a cool, matching sweatsuit. Here, scroll on to find 15 of the best silk pajamas for women.
Advertisement – Continue Reading Below
Editor Favorite
Papinelle
Audrey Pure Silk Full Length PJ
| | |
| --- | --- |
| Sizes | XS–XXL |
| Colors | 4 options |
| Material | 100% silk |
| Washable? | Yes |
Cult Following
Eberjey
Inez Washable Silk Printed Long PJ Set
| | |
| --- | --- |
| Sizes | XS–XL |
| Colors | 7 options |
| Material | 100% silk |
| Washable? | Yes |
Great for Brides
Intimissimi
Mannish-Cut Jacket in Silk Satin
| | |
| --- | --- |
| Sizes | XS–L |
| Colors | 6 options |
| Material | Silk with polyester trim |
| Washable? | Yes |
Statement Sleepwear
Sleeper
Party Pajamas Set with Detachable Feathers
| | |
| --- | --- |
| Sizes | XS–XXXL |
| Colors | 7 options |
| Material | 100% viscose with feather trim |
| Washable | Yes |
Short Set
LilySilk
22 Momme Elegant Short Silk Camisole Set
| | |
| --- | --- |
| Sizes | XS–XL |
| Colors | 8 options |
| Material | 100% Mulberry silk |
| Washable? | Yes |
Flattering Cut
Lunya
Washable Silk High Rise Pant Set
| | |
| --- | --- |
| Sizes | XS–XL |
| Colors | 7 options |
| Material | 100% Mulberry silk |
| Washable? | Yes |
Fun Prints
Fleur du Mal
Short Sleeve Fleur PJ Top
| | |
| --- | --- |
| Sizes | XS–XL |
| Colors | Black or mushroom print |
| Material | 100% silk |
| Washable? | Dry clean or hand wash only |
Perfect Nightie
La Perla
Silk Chemise
| | |
| --- | --- |
| Sizes | 1–5 |
| Colors | Black or white |
| Material | 100% silk |
| Washable? | Hand wash only |
Budget Buy
Ekouaer
Satin Camisole Pajamas Set
| | |
| --- | --- |
| Sizes | XS–XXL |
| Colors | 41 options |
| Material | 96% polyester, 4% spandex |
| Washable? | Yes |
Silk Alternative
Apparis
Bella Alt-Silk Pajamas
| | |
| --- | --- |
| Sizes | XXS–XXL |
| Colors | 3 options |
| Material | 100% polyester |
| Washable? | Yes |
Show Some Skin
Olivia Von Halle
Zsa Zsa Silk-Satin Pajama Set
| | |
| --- | --- |
| Sizes | XS–XL |
| Colors | Light brown |
| Material | 100% silk |
| Washable? | Dry clean or hand wash only |
Inclusive Sizing
Marshalls
Silk Washable Chemise
| | |
| --- | --- |
| Sizes | 10–16 |
| Colors | Black |
| Material | Silk |
| Washable? | Hand wash only |
Premium Mulberry
Silk Maison
Bateau Long Sleeves Basic Silk Pajama Set
| | |
| --- | --- |
| Sizes | XS–L |
| Colors | Copper |
| Material | 100% Mulberry silk |
| Washable? | Hand wash only |
Bestseller
Petite Plume
Panthre de Nuit Silk Nightshirt
| | |
| --- | --- |
| Sizes | XS–XL |
| Colors | Panther print |
| Material | 100% silk |
| Washable? | Dry clean only |
High Cut, High Reward
Skims
High Slit Stretch Silk Slip
| | |
| --- | --- |
| Sizes | XXS–4XL |
| Colors | Beige or blue |
| Material | 95% silk, 5% spandex |
| Washable? | Hand wash |
Advertisement – Continue Reading Below