[ad_1]

I once heard Jenna Kutcher share on her podcast the idea of creating a "Dream 100" list—the 100 people you'd most love to connect or work with, if you were to dream really big. After the episode, I promptly started working on my own list, and Jenna herself was included in the first five names I wrote down. So in a way, today's Wake Up Call feels like a full circle manifestation moment at its finest.
If you're not yet acquainted with Jenna Kutcher, I'd love to introduce you to one of your new favorite people on the Internet. Jenna is a former corporate, slacks-wearing 9-5-er turned photographer turned entrepreneur, and she's built a business on helping others turn their ideas into reality and thrive in all aspects of life. I love listening to Jenna's podcast when I'm feeling burned out or simply stuck in a particular area of business. She has this way of not only sharing brilliant ideas to help you move forward, but making it fun and simple—in other words, bringing the joy back to running your business.
Over the last couple years, Jenna has shared her own journey of recalibrating her practices and priorities as she navigates motherhood. Her personal evolution is so relatable, it gives others permission to define success on their own terms, whatever that looks like in the changing seasons of life. Her newly-released book, How Are You Really, dives deeper into how we can all create a life that makes room for less hustling and more actual living. Yes, please. Today we're headed to Jenna's home in Northern Minnesota for a personal look at how she herself is thriving, starting with those little daily rituals that make a big difference. Read on for Jenna Kutcher's morning routine.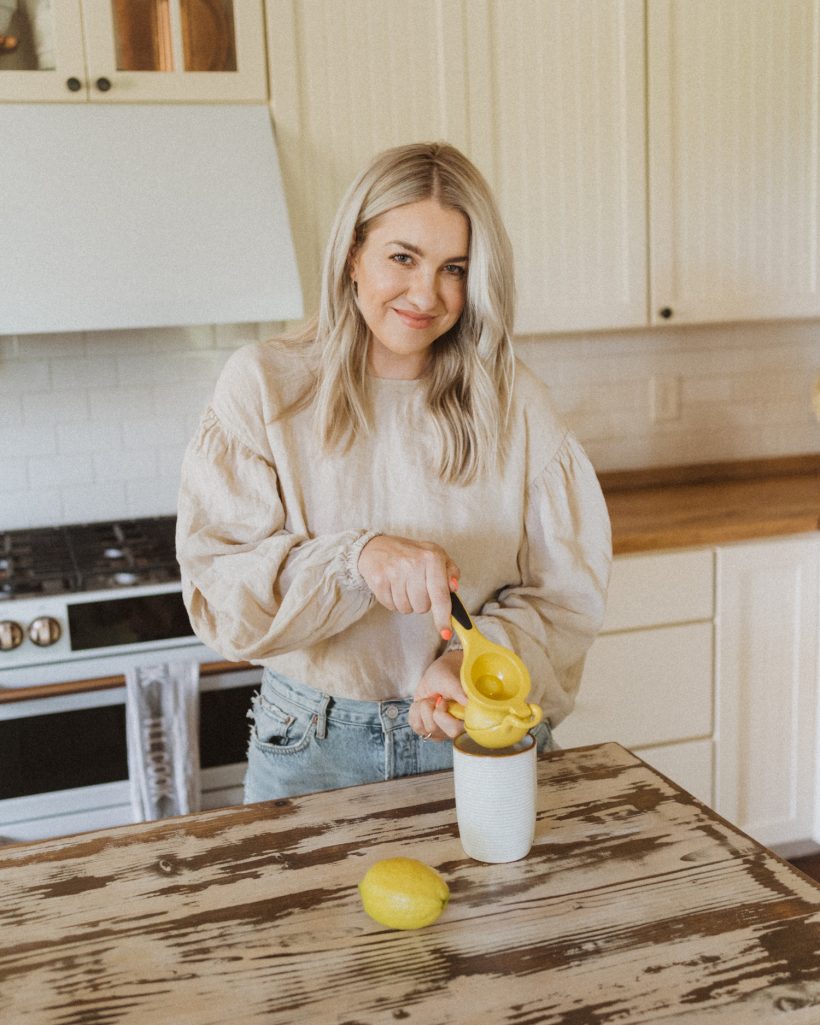 How would you describe life as an entrepreneur?
Wild!  A lot of twists, turns, pivots, and reinventing, but I wouldn't trade it for the world.
What has been your biggest learning over the past year?
To keep trusting my gut! It's what has gotten me this far and it is what will carry me forward in the way only I can go. After four years of hitting the brake pedal in my career to focus on family, I am finally ready to hit the gas a bit, and I've been trying to embrace that part of me again without overthinking it too much.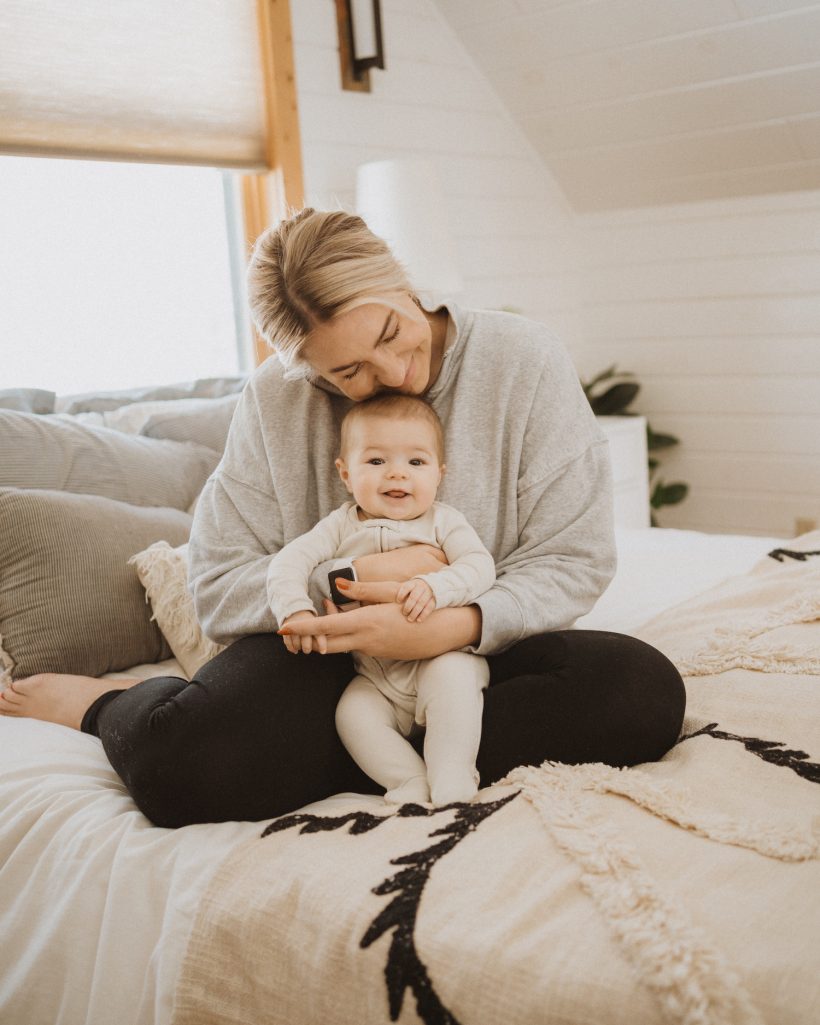 Let's get into your morning routine…
It's hilarious because even a few months ago, my morning routine was literally sleeping until the last minute possible and waking up to my baby monitor (usually exhausted!) Now that we're getting a touch more sleep around here, it still involves a lot of family, but it also includes yoga, red light therapy, meditation, and hot lemon water!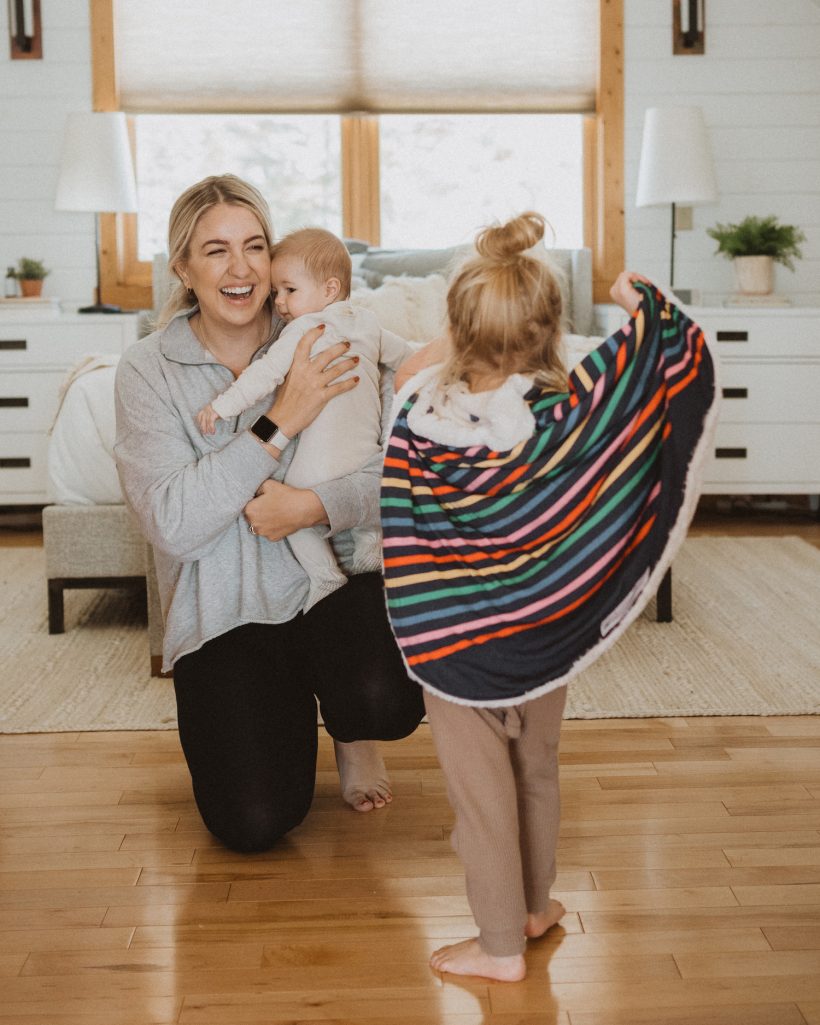 What does a typical day look like for you?
Typical isn't really a word in my vocabulary, because I feel like no two days are the same as an entrepreneur—that's partly why I love being a founder so much. In any given week, I'll have a day of recording, whether it's for my podcast or interviews, I'll write for my own content or blog, I'll wake my girls up and put them to sleep, and probably have a spontaneous dance party. I'll look at my husband at 7:30 p.m. when the kids are sleeping and laugh, because we're both so exhausted but we recognize that "these are the days!"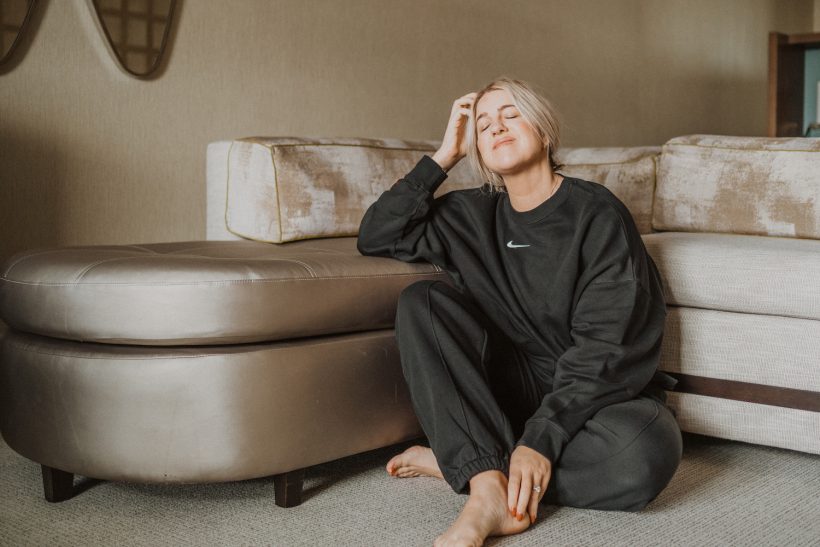 What time is your wake-up call, and how much sleep do you get?
These days, it's been 6 a.m., and in the form of a 3-year-old obsessed with seeing if the sun is out (which is merely payback because my mom said I did the same thing as a child.) We aim to be in bed and asleep by 10 p.m. each night, so I usually clock 8 glorious hours—though I would say that 9 hours would be my sweet spot!
What's the first thing you do when you wake up?
Take a deep breath and recognize that it's a gift to wake up. I'm dead serious! I awake to the fact – pun intended – that each day is a blessing!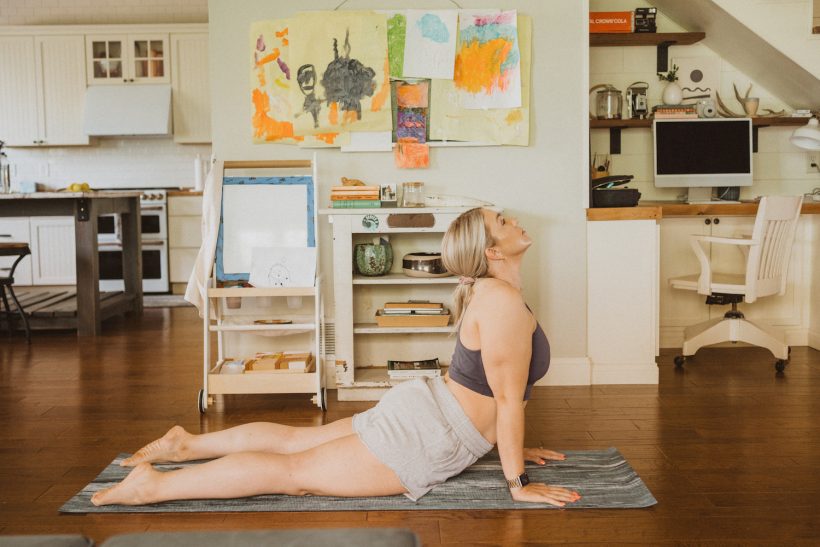 What morning rituals set you up for success?
Before school let out, my husband dropped our daughter off at 8 a.m., and I planted myself in front of our Joovv red light and meditated using my Hyperice Core device (it's helped me focus so much and for an achiever, getting results on each session is addicting!) Now that we're all home for the summer, this ritual fits into my life whenever I can find space, but it's a sacred part of my day.
I wish I could name a laundry list of things like light a candle and put music on, but as I type this, I'm sitting next to my 3-year-old on a bed while she sorts her "treasures" with a blanket snuggled between us as I try to focus.
I don't believe in balance, I aim for blend. And while it absolutely adds chaos to my days, I also love that I get to do both things I love.
On days that I need to do focused work, I usually hide in a closet (I'm not kidding!) or sneak to a local office that an entrepreneur lets me use when I need it.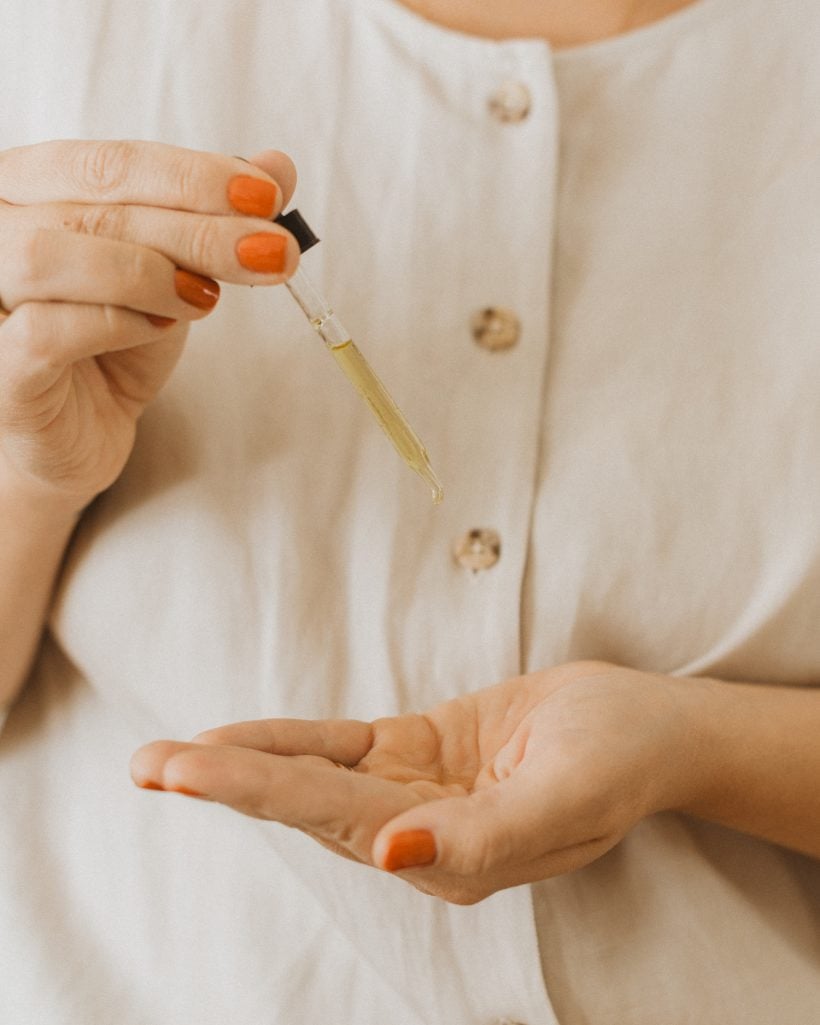 Describe your morning beauty routine from start to finish.
Most mornings, I just splash my face with water to cleanse from night time, then I use Primally Pure Everything Spray and if I'm not wearing make up right away, I'll put a few drops of Clarifying Serum on my skin and do gua sha!
I recently found an incredible all-natural primer and foundation combo from Crunchi that I am OBSESSED with, so as someone who used to not wear make up unless I had to, I now wear this daily. Then a little Crunchi bronzer, some DIME beauty brow gel, Ilia Mascara, and Lipstick. I need a 5-minute makeup routine, so this is it for me!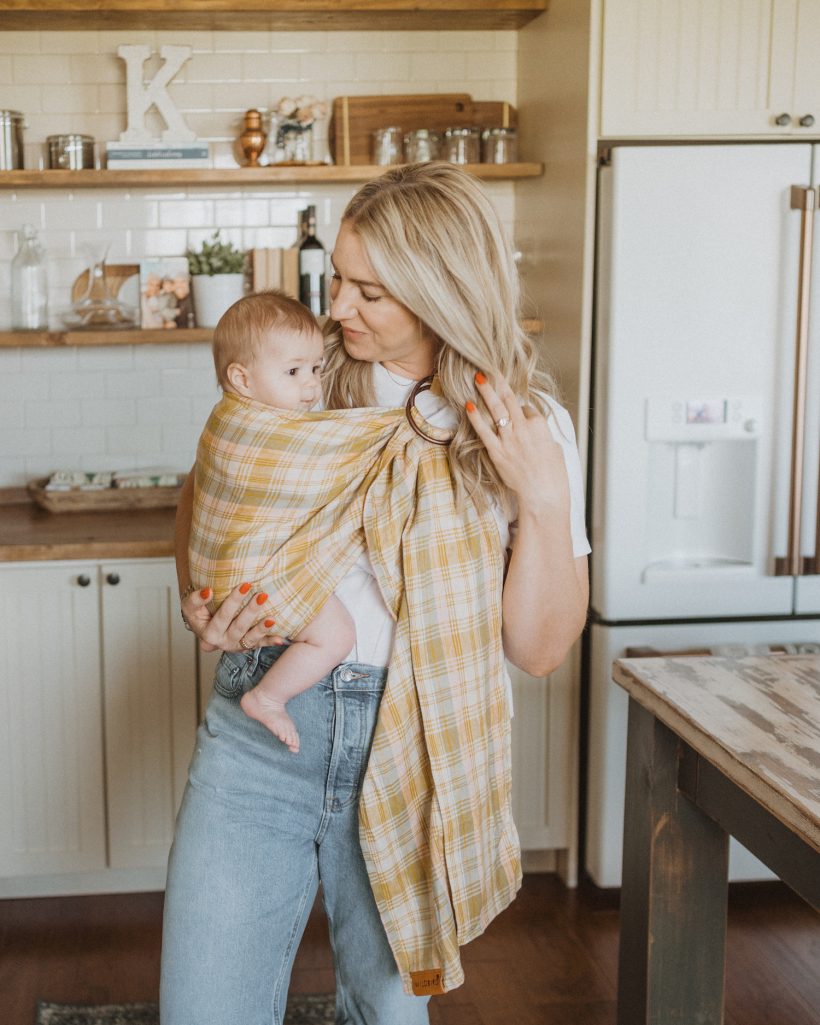 What do you eat for breakfast?
I've been digging smoothies lately since I'm not prone to be super hungry, but especially on busy workdays, I need to make sure I'm fueling my body well. My daughter also loves smoothies and helping me make them! I usually go for the Daily Harvest Cold Brew and Cacao smoothie and then add Be Well By Kelly Chocolate Protein, Kale, 1 Tbs of Chia Seeds, 2 Tbs of Flax Seeds, and this Silk Almond and Cashew milk that has extra protein in it. These actually keep me full and they are delicious!
What will we always find in your refrigerator?
Cheese in many forms! My husband is from Wisconsin and we love our cheese. Parmesan, queso, cheddar, string cheese, melting cheese—you name it, we've got it!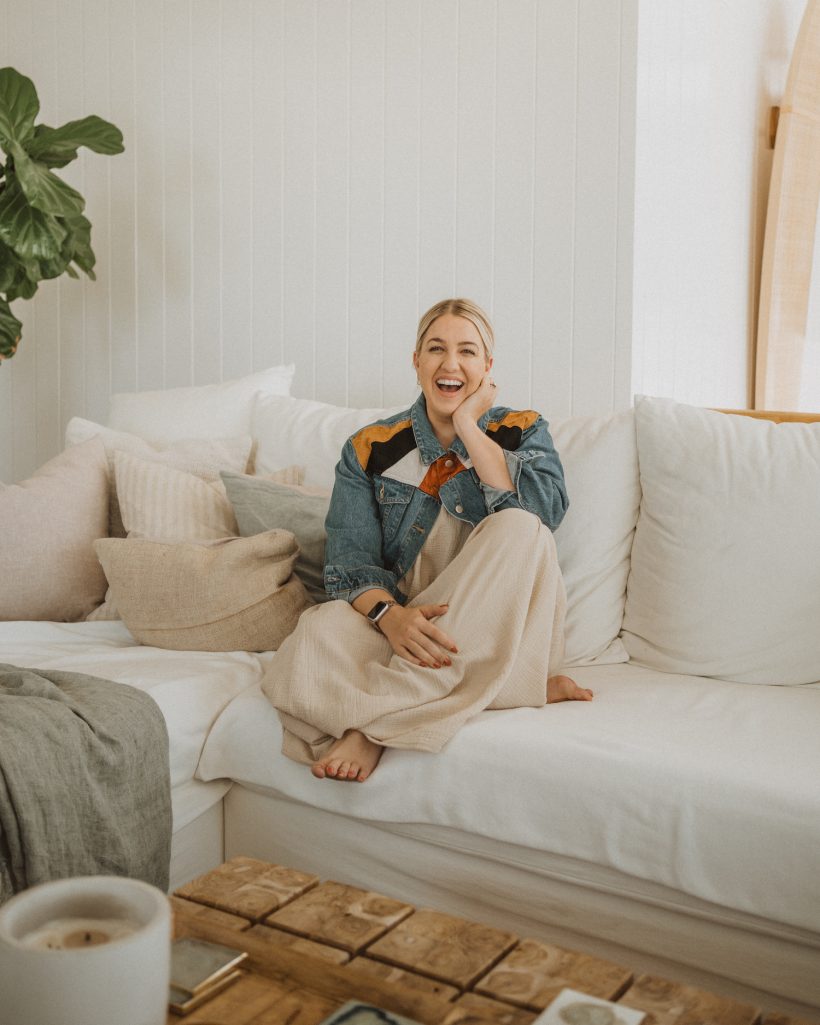 What are your favorite books?
I am what they call a voracious reader—I love packing my reading list with a variety of genres just to keep my brain on its toes! A few recent favorites would definitely be Atomic Habits by James Clear, Daisy Jones & the Six by Taylor Jenkins Reid, and It Ends With Us by Colleen Hoover.   
What's always on your nightstand?
A Canopy humidifier and water—hydration in all the forms, right next to my bed along with my Kindle.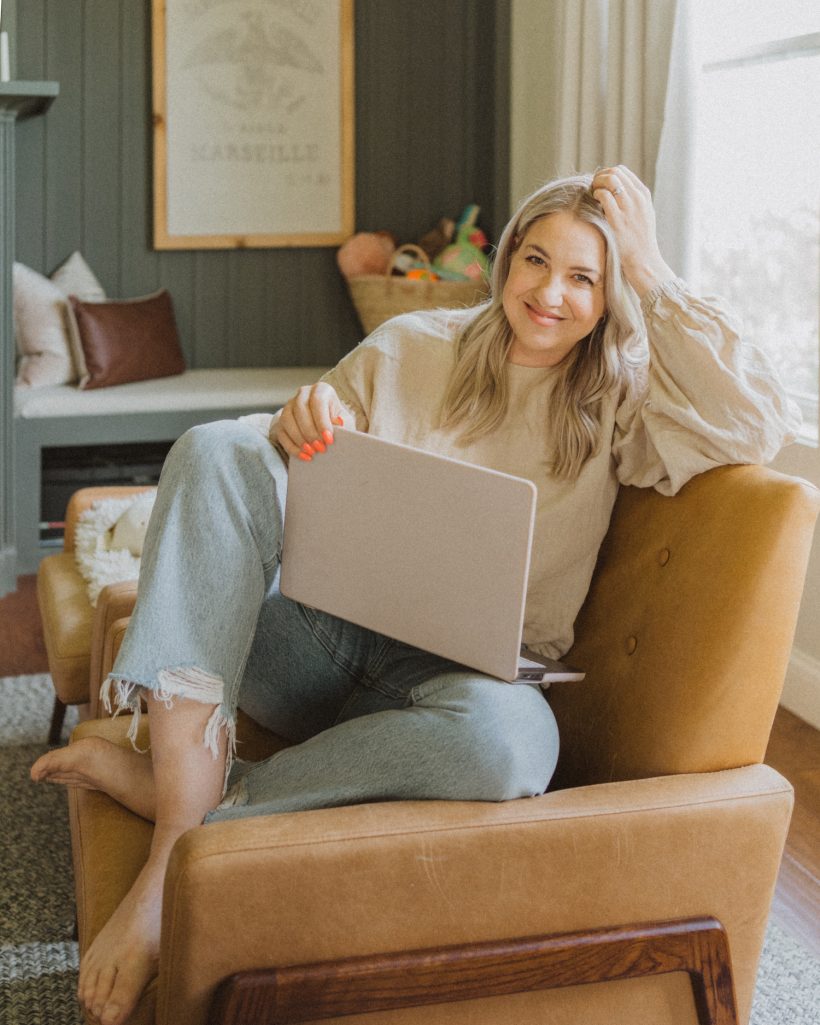 What's your favorite getting-ready soundtrack?
Trevor Hall anything. He's incredible, relaxing, and I just love his music (listening to him as I type!)
Do you work out in the morning?
Lately I made it a rule in our house that if we're up before 7 a.m., we need to be moving. I generally do a Peloton yoga class (shout out to Chelsea Jackson Roberts!) I'm finding in this postpartum season, gentle movement and breathing has been life-giving. We have a mat for Coco and I'll unroll it next to mine and invite her to join me!
How would you describe your personal style?
Classic, neutral, and comfortable – comfort is key.
What's your daily uniform?
It's wild, I haven't worn shorts in over a decade due to insecurities about my legs, and now I am obsessed with shorts and could care less about cellulite or leg hair. These bike shorts have been on repeat for me with any sort of boyfriend tee. I also am a queen of mom jeans and a white linen top – I actually share a story about this outfit in my book and how it was a part of an important vision I had for my life years ago! I'm classic, through and through!
If you had one extra hour every morning, how would you use it?
Honestly? Probably on focused work! I have ADHD as it is, and the chaos of working with kids sometimes leaves my brain feeling like it's going in a million different directions. Just having an extra hour to focus on work would be how I'd leverage that time in this season. That or more sleep!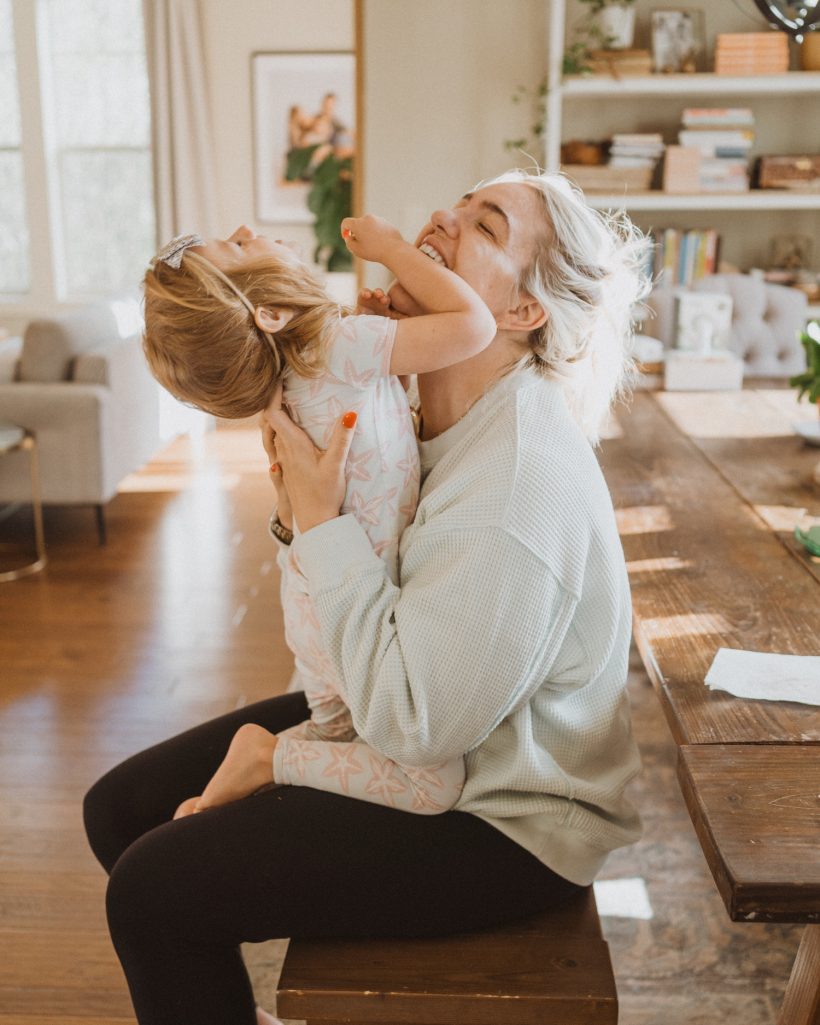 What are Some Things you do every day to live a more joyful life?
Practice gratitude with my family at dinner every night, tell my daughter 3 things I'm proud of her for, and do a short devotional with my husband before bed.
If you could pin your success down to one thing, what would It be?
Following my gut and intuition, letting go of things that no longer serve me, and being willing and excited to grow, evolve, and change.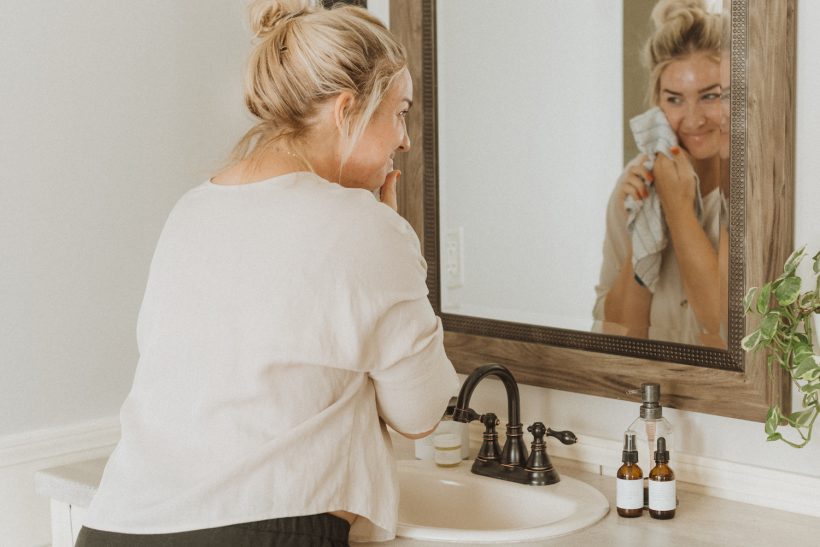 Sentence Finishers:
I never leave the house without: my phone.
If there were more hours in the day, I would: read more.
Healthiest morning habit: green juice.
Worst morning habit: scrolling on my phone.
One thing I want to be known for is: that I always showed up wholly as me.
The one thing I fear the most: losing the people I love.
When I feel that fear, I: wake up to the fact that I get to love them well.
The book I always recommend: mine. 🙂 How Are You, Really?
One trait you need to succeed in life is: belief in yourself and your unique gifts.
Bath or shower? Shower with the kids, and I love my PMD Clean body brush!