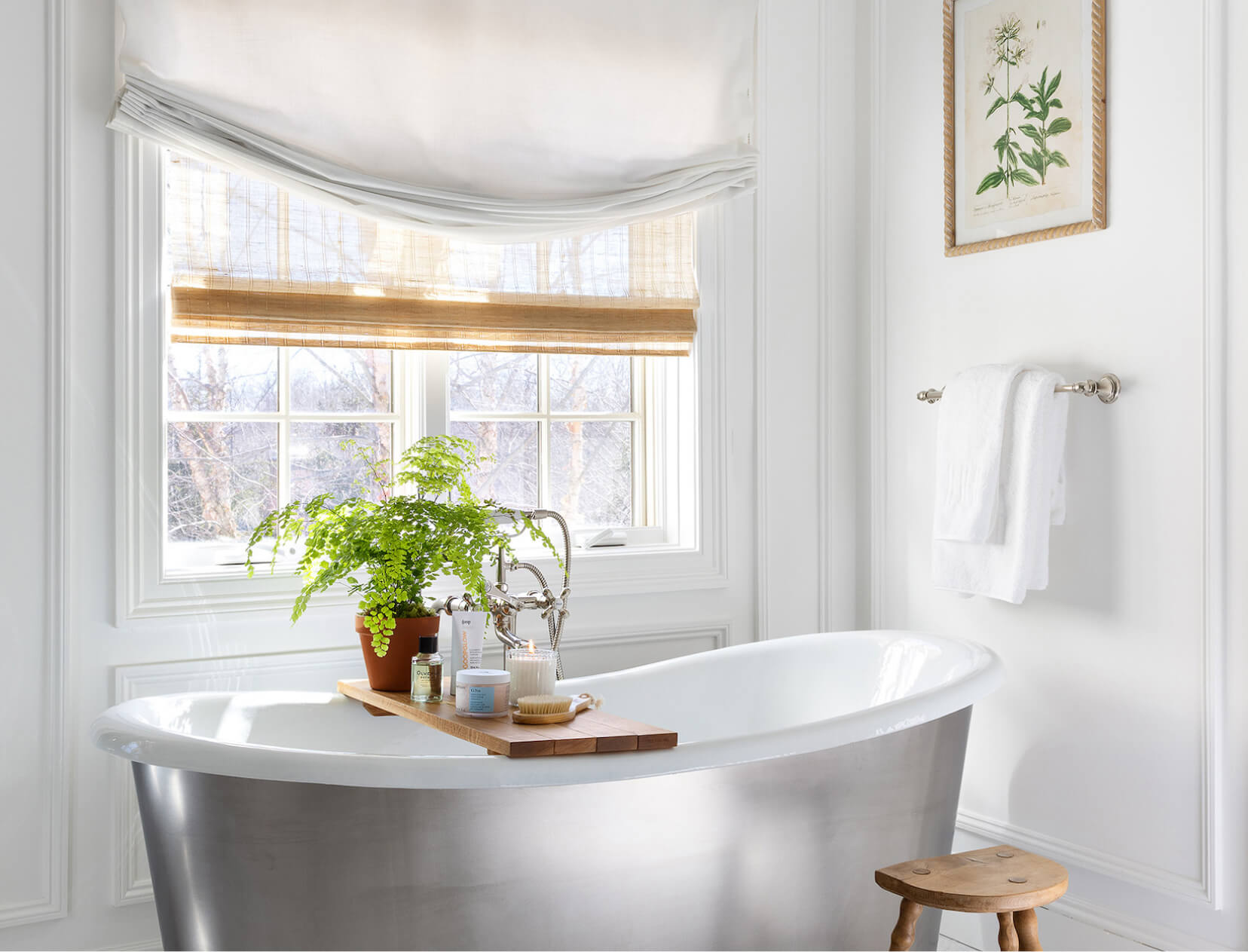 How to Redo Your Bathroom

(without Renovating)
If you're not starting from scratch, as Gwyneth did recently with her at-home spa, there's still actually a lot you can do to freshen up almost any bath area, says top NYC designer Ariel Okin. Okin, who has her own furniture, wallpaper, and accessory lines, as well as a gorgeous e-commerce site, Fenimore Lane, also runs her own interior design firm with clients like Lena Dunham and goop (she transformed an empty Union Square loft into our sophisticated pre-COVID East Coast HQ), among countless other projects. Here, Okin's brilliant decorating tips for changing up your space—no contractors needed.
DISTRACT WITH ACCESSORIES
Oversize greenery and artwork have the power to draw attention away from "anything less than stellar, like lackluster tiles," says Okin. "A big mirror is great if you've got no windows."
The Green Vase

Hollyhock Plant

goop, $375

SHOP NOW

SproutsIO

SproutsIO

goop, $799

SHOP NOW

The Green Vase

Floribunda Rose Plant

goop, $565

SHOP NOW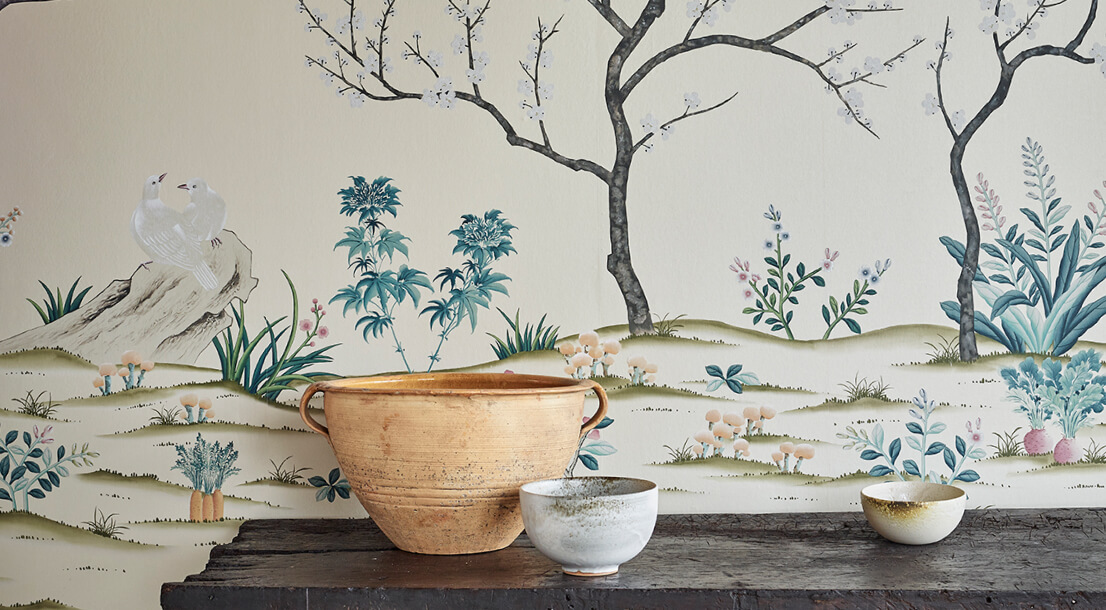 Large woven baskets, a patterned shower curtain, a beautiful bath mat, amazing wallpaper, and—Okin's fail-safe move—a fresh coat of paint can all accomplish a similar sleight of hand. "A slick coat of white paint (or a shocking, bold color) can transform a dated, dingy vanity and does wonders to make a space feel clean and crisp," she says.
J'Jute

Maya Large Tideline Basket

goop, $300

SHOP NOW

goop x Fromental

wallpaper

Fromental, price upon request

SHOP NOW

Avocado Green Mattress

Wooden Bath Mat

goop, $139

SHOP NOW
LIGHT IS EVERYTHING
"Swapping out lighting fixtures is an easy fix that you can implement without having to renovate—any skilled electrician can take out the old and pop in the new. It can do wonders for making a space feel new without having to do much else," says Okin. "Natural light is your best friend in a bathroom," she says, but whether you've got great windows or zero windows, avoid harsh overhead lighting and opt for sconces and floor or table lamps instead. "Any type of light coming from a filtered shade is more flattering and diffused than canned lighting in the ceiling," Okin says. "And it's really helpful when putting on makeup or inspecting your skin."
Tala

Reflection Enno
Table Lamp

goop, $265

SHOP NOW

Tala

The Muse Portable Light

goop, $325

SHOP NOW

Bios Lighting

Skyview Wellness
Table Lamp

goop, $750

SHOP NOW
The best lighting, of course, is candlelight. "Set the mood for that well-deserved long soak," says Okin.

goop x Heretic

Hands Off My Vagina Candle

goop, $75

SHOP NOW
The Maker

Spiritus Candle

goop, $80

SHOP NOW

Maison Louis Marie

Le Bouquet Candles, Set of 3

goop, $55

SHOP NOW
ORGANIZE
Okin recommends the professionals at Neat Method, who have a straightforward system anyone can use: Empty all drawers and cabinets, assess what you have, and create categories (hair, makeup, etc.). Measure the dimensions of your drawers and cabinet space and purchase corresponding caddies and bins. "Into the baskets go the products, and voilà—you can easily find and put away everything so the bathroom stays neat and tidy," she says.
Open Spaces

Large Storage Bins, Set of 2

goop, $92

SHOP NOW

Open Spaces

Open Spaces Medium Storage Bins,
Set of 2

goop, $58

SHOP NOW
DISPLAY YOUR FAVORITES
Not everything needs to be relegated to bins and cabinets. Okin displays her most frequently used shower products on a chic stainless-steel tray.
goop Beauty

G.Tox Himalayan Salt Scalp
Scrub Shampoo

goop, $45/$38 with subscription

SHOP NOW

Crown Affair

The Ritual Conditioner

goop, $38

SHOP NOW

Corpus

Natural Body Wash

goop, $28

SHOP NOW
Add some greenery directly into the shower. "Fresh eucalyptus smells amazing and can stay bundled in the shower for weeks on end," says Okin. "It makes the bathroom feel like a spa every time the water turns on."

She keeps an oak tub caddy for books, candles, and a glass of wine. "Natural materials like wood add texture and warmth," Okin says. And a silver julep cup holds her everyday essentials, including her favorite Westman Atelier Vital Skin Foundation Stick.

Westman Atelier

Vital Skin
Foundation Stick

goop, $68

SHOP NOW
La DoubleJ

Goodie Jar

goop, $180

SHOP NOW

Peg and Awl

Oak Bathtub Caddy

goop, $210

SHOP NOW
DECANT
"The simplest, most effective way to make a bathroom feel really luxe and intentionally designed is with pretty glass jars," says Okin. "Store cotton balls, Q-tips, bath salts, and even mouthwash in them—they just look great."
Hawkins New York

Glass Storage Containers with Oak Lids

goop, $35 to $45

SHOP NOW

goop Beauty

"The Martini" Emotional
Detox Bath Soak

goop, $40

SHOP NOW

de Mamiel

Anchor Bath Soak

goop, $96

SHOP NOW
INVEST IN STACKS OF WHITE TOWELS
"There's nothing plusher or more enveloping than a fresh set of cozy white towels," she says. "They make a bathroom feel like a luxurious European hotel. And they look fabulous neatly folded on a chic wooden stool." Not everything needs to match, however: "I love adding in a patterned or scalloped hand towel here and there for some punch."
RESORÈ

Body Towel

goop, $99

SHOP NOW

Zadro

Luxury Towel Warmer

goop, $160

SHOP NOW

Baina

Josephine Organic Cotton
Hand Towel

goop, $45

SHOP NOW
Related Reading
Beach House Starter Kit
The Dolce Detox
Spring Refresh: What's New in the goop Home Shop This Month
SHOP ALL HOME