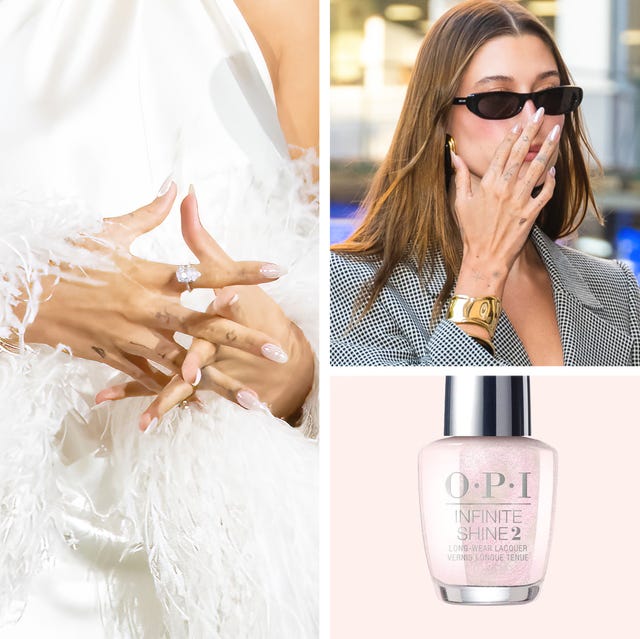 Getty / Design Leah Romero
Unless you've been living inside a nail dryer, you've seen Hailey Bieber's glazed donut nail trend on TikTok, Reels, or maybe even your local nail salon. Search #HaileyBieberNails on TikTok, and you're instantly inundated with over 78 million views showcasing the model's various trendsetting manicures. Mellow Bar in New York City has even added the "Hailey Bieber Manicure" to their service menu. Color Camp, an LA-based nail brand that sells custom press-ons, released their very own Bieber-inspired set.
So what is the Hailey Bieber Glazed Donut nail, you ask? It's a pearly iridescent mani, achieved by applying a light neutral gel base coat and topping with a chrome powder. The ultimate result: the shade of a perfectly delicious glazed donut. Mrs. Bieber's nail artist Zola Ganzorigt, who's also worked with the likes of Kendall Jenner, Syndey Sweeney, and Precious Lee, shared all the tips and tricks for achieving pastry perfect nails. Ganzorigt also shared a few more iconic donut-esque looks from the reigning nail queen, like her classic red or the newest neon yellow chrome, so you can achieve all glazed everything from the comfort of your own home.
Advertisement – Continue Reading Below
The Original Glazed Donut Nail
Ganzorigt created the iconic glazed donut nail look for Bieber to sport at the MET Gala. She notes, "it was so unplanned and came out so pretty that it went viral." It's gained major popularity because it is so simple and flattering on all nail shapes and lengths. "It was different than people's usual chrome nails since the base color is so see-through and natural," says Ganzorigt.
All it requires is a thin layer of a neutral shade like OPI's Funny Bunny polish topped with chrome powder for the shiny effect. Ganzorigt's fave is the OPI Tin Man Can Chrome Effects Mirror-Shine Nail Powder. Finish the look with a shiny top coat and a gel curing. If headed to the salon, Ganzorigt recommends asking your nail tech for the glazed donut look or showing a picture of the chrome mani. She also posts a breakdown of each nail look on her Instagram page if you're looking for specifics!
However, if you're not going to the nail salon or don't have a gel UV light at home, try out these user-friendly products so you can dive into the glazed donut trend right now.
Infinite Shine Long-Wear Nail Polish in Throw Me a Kiss
For a similar pearly iridescent shade, opt for this polish from OPI. Mix with a clear shade like the Color Dept Top Coat for a sheer, jelly-like finish.
Le Mini Macaron 1-Step Gel Polish
Try your hand at gel with this super simple option from Le Mini Macron. All you need is one of their gel starter kits, which includes a mini UV light. They have made the gel game actually user-friendly. Seriously, you can even do your nails on an airplane (see proof in this TikTok).
World's Your Oyster Babe Iridescent Nail Polish
A few swipes of this Nails.Inc polish will give your nails the perfect sheer and pearly look just like Mrs. Bieber. Apply one coat for a light sheen or several for shimmer that can be spotted from afar.
If filing and painting your nails sounds like a real feat, try these completely customizable glazed donut press-ons. Prior to receiving your set, you will receive a sizing kit to ensure each nail fits and is the proper length. Make sure to stock up on some extra nail glue since these bad boys are reusable.
Funshine Smoothie Nail Polish
Stand out this summer with this neon yellow holographic polish. All it takes is a few swipes for a rave-ready mani that can be seen from across the pool, just like HB.
Color Hit Mini Nail Polish
A bright yellow polish is hard to come by, but this neon one from Sephora does just the trick. Opaque in just a coat or two, top with a chrome or pearl top coat for the shimmery finish.
Looking to tone it down just a bit? Opt for this softer pastel yellow and top with a bit of chrome for a more neutral lemon donut look.
Chrome Effects Nail Lacquer Top Coat
For those who don't have a gel kit at home, this chrome effects polish will become your best friend to achieve all of Bieber's best glazed looks. Top any of your fave polishes with a coat of this lacquer and voila! A Bieber-worthy mani.
The Cherry Glazed Donut Nail
Bieber has opted for a bright red almond-shaped nail every now and then. She recently modeled the look in her campaign with Tiffany & Co.
If you want to achieve a classic Old Hollywood-style red manicure like Bieber, start by filing your nails into a rounded almond shape with a high-quality file. Then apply a few layers of a bright red nail lacquer until opaque and finish with a high shine top coat. And if you're looking for an easy way out, try a set of red press-on nails.
Les Mains Hermès Nail File
A perfectly rounded nail or symmetrical almond shape starts with a good file. This set from Hermès comes with 12 wood-based files. The orange side can be used to quickly file and shape the nails, while the beige side can be used to smooth your mani.
Vernis À Ongles Nail Polish
While of course this bottle will look beautiful on your dresser, the polish gives the perfect opaque payoff. Swipe on two coats and go forth with your Hollywood-worthy manicure.
From Brooklyn With Love from Suite Eleven is a true cherry red, perfect for the red polish purist. To avoid a streaky finish, make sure to layer thin, even coats.
Take the easy way out with these reusable press-ons from Olive & June. Use a nail file to perfect the size and shape to your heart's desire.
Halographic Hues Nail Polish
This holographic purple polish will catch the light beautifully, enhancing your mani with glimmers of blue and pink sparkles. When applying a polish with glitter, use a base coat first, like the Seche Clear Crystal Clear Base Coat, so nothing sticks to your natural nail and it'll be easier to remove before your next mani.
Nail Polish in 60 Digital Dream
This pearly purple is a near-perfect match to Ganzorigt's creation for Bieber. A few coats of this non-toxic polish, and you're good to go.
Essie Purples Nail Polish
For a pinky-toned purple, try out this shade from Essie. The brush is a bit skinnier than most polishes, so this is a great option if you have shorter or more narrow nails.
The brand says to "wear this soft lavender when you want to feel tender, intuitive, and magical." Sold.
Iridescent Top Coat Nail Polish
To turn the most basic of manicures into a luminescent glazed donut, top with this iridescent polish. You could even mix it with the regular polish for an even jellier finish….did we mention it's less work this way too?
The Nail Care
When it comes to achieving a Hailey Bieber-worthy manicure, it's all about nail care. "It's really important to take vitamins…to keep your nails healthy," says Ganzorigt. "Using cuticle oil regularly helps to keep your nails healthy as well." No hang nails or dry cuticles here!
Try taking a daily vitamin packed with biotin to grow and strengthen your nails. Apply cuticle cream and hand lotion daily to keep your nail beds moisturized and happy. Ganzorigt also recommends getting your nails done or doing them yourself every 10 to 14 days to avoid chipping and breakage.
Give your nails a bit of TLC with this vitamin E-based strengthening polish. Wear on its own or as a base coat to revive your nails and promote healthy growth.
Hand Serum in Lavender Cloud
Keeping your hands and cuticles moisturized is the key to healthy nails. Keep a hand cream, like this one from Being Frenshe, in your bag or at your desk and slather on throughout the day.
Your nails and cuticles deserve a bit of luxury. Massage this cream into your cuticles and let sink in over night for best results. Wake up with moisturized cuticles and stronger nails.
Filled with 1,000 mcgs of biotin, these vitamins will leave you saying, "Are my nails too long now?" These extra yummy dark chocolate supplements are the perfect little treat that also happens to be doing something amazing for your body. Win win!
Olive & June's Cuticle Serum makes it easy to keep your mani healthy while on the go. Just twist the pen and add a few swipes to your cuticles for a quick boost.
Hands looking a little dry? In need of a complete refresh? Swipe on a bit of this ultra-thick hand treatment, packed with vitamins and amino acids, to protect and hydrate your hands. Focus on your cuticles for extra nail nourishment.
Add a dropper of these Sakara Beauty Water Drops to your favorite drink and sip your minerals with ease. While the drops help strengthen your nails, they also promote healthy hair and skin, while flushing out toxins.
What's Next?!?
If you're waiting on the edge of your seat wondering what the next big nail trend is, don't worry! Ganzorigt is already thinking about it. "Since people are preferring more minimalist nail looks, I'd assume some warm toned colors or dark toned chrome will be popular," she says. But of course, a glazed donut nail is always in.
This content is created and maintained by a third party, and imported onto this page to help users provide their email addresses. You may be able to find more information about this and similar content at piano.io
Advertisement – Continue Reading Below