Finding the perfect wedding guest outfit is only half the battle when it comes to attending weddings. The real magic lies in the art of accessorizing. Accessories are the finishing strokes of a masterpiece and can turn an ordinary outfit into a captivating ensemble that looks stunning on you. Whether you complete your look with your everyday jewelry or shop for new pieces for the occasion, there are plenty of options. 
Source: Ariwasabi/Shutterstock.com
As a wedding guest, your choice of accessories can make or break your look, so it's essential to get it right. You want to look amazing, but you don't want to outshine the bride or anyone else in the wedding party. You also don't want to show up over or underdressed. Fortunately, choosing the right accessories for your look doesn't have to be hard. Let's explore how to accessorize your wedding guest outfit to ensure you turn heads for all the right reasons.
Start with the Right Outfit
Before you start searching for the perfect accessories, make sure you have the right outfit for the event. When crafting your wedding guest attire, steer clear of a few common pitfalls:
White or Ivory:

It goes without saying, but we'll say it anyway — avoid these colors entirely!

Overly Plunging Necklines:

In wedding fashion, elegance reigns supreme. Beware of necklines that plunge excessively, as they may attract undue attention.

Bridesmaid Twinsies:

Reach out to the bride or the maid of honor regarding the bridesmaids' and floral color schemes to ensure you don't inadvertently blend in with the bridal party!
Understanding the Dress Code
The first step in accessorizing your outfit is understanding wedding dress codes. Is it a casual beach wedding, a semi-formal garden party or a black-tie affair? Your choice of accessories should align with the formality of the event. You should be able to find this information on the invitation or the couple's wedding website. If not, contact a member of the wedding party. Knowing the dress code will help you strike a balance between understated elegance and over-the-top glamour.
Embrace Statement Accessories
Accessories serve as the centerpiece of your wedding guest outfit. For a formal event, consider bold and eye-catching pieces such as statement earrings, cuff bracelets or a striking necklace. For a more relaxed wedding, opt for delicate and elegant jewelry that complements your outfit without overpowering it. Stackable wedding bands are perfect for every type of event.
Harmonize with Metal Tones
Coordinate your jewelry with the metal accents on your outfit. If your attire features silver embellishments, choose silver-toned jewelry. If it's gold, opt for gold accessories. Mixing metal tones works, too, but sticking to a single metal yields a classic, cohesive look that's more suitable for weddings.
Thoughtful Footwear
Your choice of footwear can elevate or detract from your outfit. For a formal wedding, consider elegant heels or stylish flats. A beach wedding might call for comfortable and chic sandals. Ensure that your footwear matches the formality of your outfit and allows you to enjoy the celebration without discomfort. Be sure to get a pedicure if you plan on wearing open-toed shoes! 
Chic Handbags and Clutches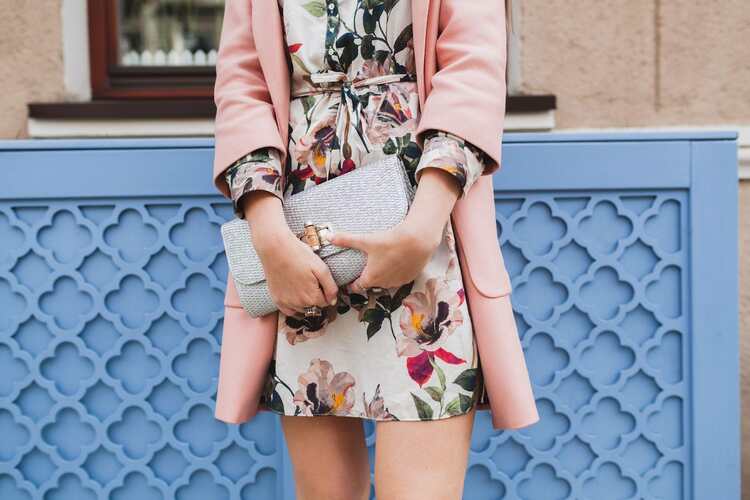 Source: Maria Markevich/Shutterstock.com
A fashionable handbag or clutch is a wedding guest essential. Select a purse that complements your outfit's color and style. Choose a compact option that can hold your essentials, including your phone, lipstick and a small wallet.
Elevate Your Hairstyle with Accessories
For added sophistication, consider hair accessories like fascinators, hair pins or decorative combs. Just avoid anything that could be mistaken as a veil. When worn properly, these accessories can inject glamour into your hairstyle and make you feel like you've stepped out of a vintage-inspired fashion scene. 
Add a Belt or Sash
If your outfit is relatively simple, consider adding a decorative belt or sash. Cinching your waist with a stylish belt or introducing a pop of color with a satin sash can help define your silhouette and add structure to your look.
Outerwear Considerations
Don't overlook the importance of outerwear, especially for weddings in cooler seasons and evening events. A stylish shawl, cape or bolero can help you stay warm and also complement the overall aesthetic of your outfit.
Coordinated Makeup and Nail Colors
Your makeup and nail choices are accessories in their own right. Coordinate your makeup palette with your outfit's colors. A smoky eye or bold lip can enhance your overall look, while well-manicured nails complete the package. Remember to keep the dress code in mind when deciding on your look for the event.
Venue-Inspired Accessories
The wedding venue can provide valuable inspiration for your accessories. If it's a beach wedding, embrace the relaxed atmosphere with bohemian-inspired accessories. For a rustic barn wedding, consider earthy tones and natural materials. An urban wedding may call for sleek and modern accessories. Tailor your choices to the venue's vibe to create a harmonious ensemble.
Respect the Celebrants
While it's crucial to look your best, always remember that the wedding day belongs to the couple. Avoid wearing anything overly flashy or attention-grabbing that might divert attention from their special day.
Prioritize Comfort
No matter how stunning your accessories are, they won't serve their purpose if you're uncomfortable. Ensure that your jewelry, shoes and other accessories are comfortable enough to wear for an extended period so you can enjoy the event. 
A Pre-Event Dress Rehearsal
Source: Pixel-Shot/Shutterstock.com
Before the big day, consider doing a dress rehearsal with your outfit and accessories. This practice run will help you see how everything comes together and allow you to make any necessary adjustments. If you are close to the bride or someone else in the wedding party, consider sending them a picture or video of your outfit and accessories and asking them for their opinion. 
Wrapping Up
Accessorizing your wedding guest outfit is an art that will enhance your look at any wedding event. You can create a memorable and elegant outfit and look your best from head to toe by considering the dress code, harmonizing metal tones and selecting the right jewelry, footwear and accessories. 
Always remember to respect the couple's special day, prioritize comfort and, most importantly, wear your confidence as your best accessory. With these tips, you'll be turning heads and receiving compliments throughout the celebration as you honor this joyous occasion.