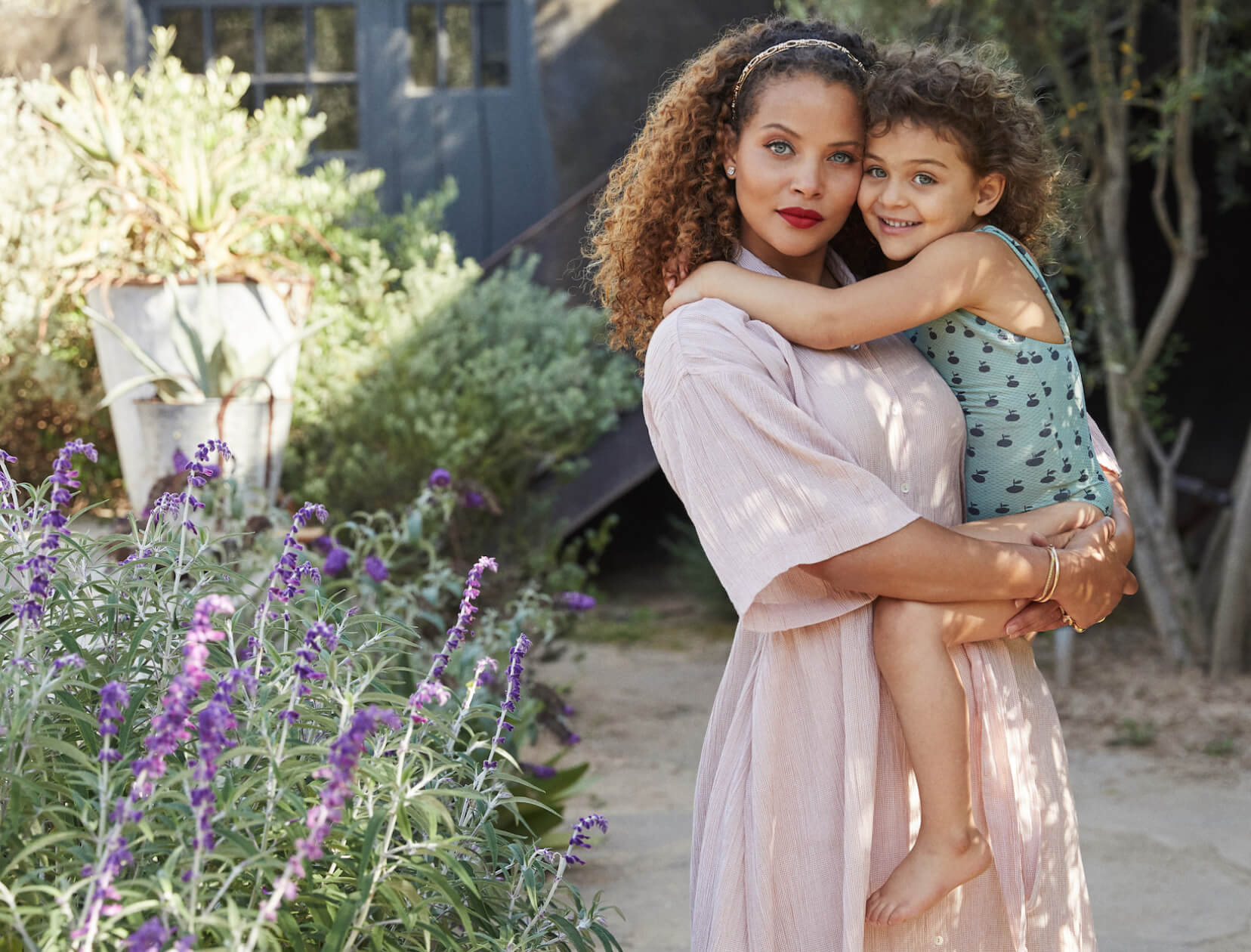 Denise Vasi's Summer Routine for Curly Hair
Denise Vasi quit straightening and heat-styling her hair and embraced her natural, curly texture after having her daughter, Lennox Mae (above). "It was important for her to see me love my natural curls," says the actress, digital content creator, and founder of the lifestyle website maed. "I knew she'd learn to care for her hair by watching me."
Vasi is no less diligent about her hair routine now, however. This is especially true in summer, which she spends in Italy with her family. "My curls are delicate and react to everything from a change in climate to the type of water I use," she says. "If I don't follow my regimen, it absolutely shows." Here, her foolproof hair tips for summer and beyond.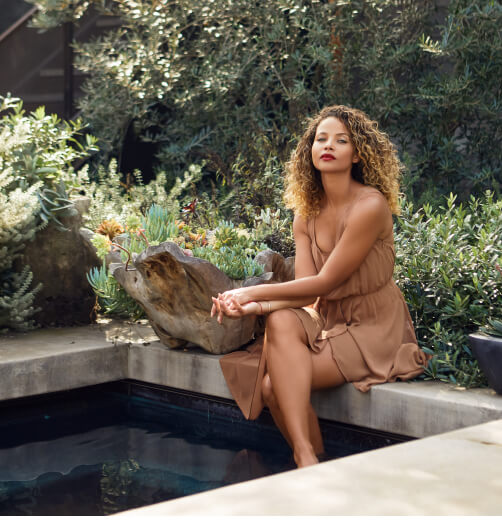 Shampoo Once a Week
I shampoo once a week, max. Before I do, I treat my hair to 20 minutes with this nourishing, strengthening hair serum—it makes a big difference. In terms of shampoo, I found I got less breakage, frizz, and dryness after I stopped using shampoos with sulfates. I love how hydrating and creamy Innersense's shampoo is. And because my scalp gets itchy on hot days, I love the goop Himalayan Salt Scalp Scrub Shampoo: I get a good cleanse in while also gently exfoliating my scalp.
goop Beauty

GOOPGLOW Restore + Shine Hair Serum

goop, $48/$44 with subscription

SHOP NOW

Innersense

Hydrating Cream Hairbath

goop, $28

SHOP NOW

goop Beauty

G.Tox Himalayan Salt Scalp Scrub Shampoo

goop, $45/$38 with subscription

SHOP NOW
Conditioner Is the Ultimate Frizz-Fighter
It's all about the slip. I condition my hair every day and use a basic wide-tooth comb in the shower to detangle knots. The right conditioner helps tame frizz before I even step out of the shower, so it's my nonnegotiable.
Grown Alchemist

Anti-Frizz – Conditioner 0.5

goop, $49

SHOP NOW

Crown Affair

The Comb No. 002

goop, $38

SHOP NOW

Rahua

Enchanted Island Conditioner

goop, $38

SHOP NOW
Double Down with Leave-Ins
My hair needs a lot of moisture to thrive—I can't rely on conditioner alone in summer, when heat and humidity mixed with sea and pool water can leave it extremely frizzy and brittle. I rinse and treat my curls immediately after a swim with a mask or leave-in conditioner. Once I'm back in my room, I give my scalp and roots a quick pass with a co-wash or shampoo.
Rahua

Hydration Detangler + UV Barrier

goop, $34

SHOP NOW

Grown Alchemist

Smoothing Hair Treatment

goop, $49

SHOP NOW

Augustinus Bader

The Leave-In Hair Treatment

goop, $50

SHOP NOW
Add a Little Heat for Amazing Shine
I put a deep-conditioning mask in my hair once a week and sit under a portable hair-dryer I have at home—it's a game changer and gives me gorgeous shine.
Crown Affair

The Renewal Mask

goop, $58

SHOP NOW

Ga.Ma. Italy Professional

IQ Perfetto Hair Dryer

goop, $399

SHOP NOW

Innersense

Hydrating Hair Masque

goop, $30

SHOP NOW
Air-Dry—and Use a Microfiber Towel
The less you touch your curls, the better. But if I do feel the need to dry my hair, I only use Aquis, the best version of a gentle, no-frizz microfiber towel. In a pinch, an old cotton T-shirt will do the trick, too. That plus a frizz-fighting styler is magic.
Aquis

Lisse Luxe Hair Turban

goop, $30

SHOP NOW

Innersense

Quiet Calm Curl Control

goop, $26

SHOP NOW

Ranavat

Fortifying Hair Serum: Mighty Majesty

goop, $70

SHOP NOW
Protect Your Scalp
Several of my girlfriends have recently had moles on their scalps removed. I think we sometimes forget about protecting our scalp from the sun, but it's crucial—it's just as susceptible to sun damage as any other part of our body. So always use SPF and wear a hat when you can.
Supergoop

Mineral Sheerscreen

goop, $38

SHOP NOW

Business & Pleasure Co.

Premium Beach Umbrella

goop, $299

SHOP NOW
Related Reading
A Fall Skin Reset with Lifestyle Guru Denise Vasi
What Can I Do about Dull, Dry Hair?