My picks for an affordable holiday cocktail dress + accessories. 
While we're a few months off from the holidays, it's never too early to start shopping for holiday cocktail dresses, right?
I'm publishing this post earlier than I typically do so that you can get a head start on your shopping, AND so that you can snag an outfit for Thanksgiving too if you're shopping for that! I know there also some non-holiday cocktail events throughout the fall, so hopefully one of the dresses below will also work for that!
I love finding fun holiday party dresses that can also work for the rest of the year. I'll show you a few ways I take a dress that I wear year-round and make it more holiday appropriate! Alrighty, continue reading below!
Holiday Cocktail Party Dresses for Christmas & New Year's Eve
This video shows a few options so you can see how they fit and move! There are also lots of pictures of dresses on me and additional shopping options below.
What is cocktail attire for a Christmas Party?
Typically, cocktail attire means a balance between formal and casual. It's not quite as formal as a black tie event where you'd wear  gowns, but it's dressier than dinner out with your girlfriends. Most retailers will categorize their dresses as "cocktail dresses" for the best possible shopping experience.
For a cocktail party, men will usually wear a suit and tie, and women will wear a dress with heels. I also find that you can easily get away with wearing boots with a heel for cocktail attire.
If you're invited to a holiday or Christmas party this season that calls for cocktail attire, look no further than this post. I'm sharing the best cute Christmas dresses in this post.
Red Cocktail Dress
I find that the best Christmas dresses are red. Don't get me wrong– I also love a green or black dress, but something about red during the holidays feels extra festive to me.
This red dress is under $100 and a great option for Christmas parties this year. I ordered it myself to try on for you, so I'll add photos to this post soon! I love that it's modest and doesn't require a special bra, but has a fun shimmer to it. The length is perfect for heels! It's a perfect holiday dress to have on hand this season since it's just so easy to wear. I find that looser fitting dresses like this are perfect for both heels AND dressy heeled boots.

If you like the style above, but a mock neck isn't quite your taste, you'll love this red dress from Abercrombie. It's also modest with the long sleeves and high neck, but has a satin fun material that adds a little shimmer as it moves. The hem is a little flouncy which is fun. It's a great Christmas dress since it's church appropriate (you could easily pair with tights on cold days). And while it's perfect for the holiday season, you can easily wear this all throughout the winter (especially for Valentines Day!).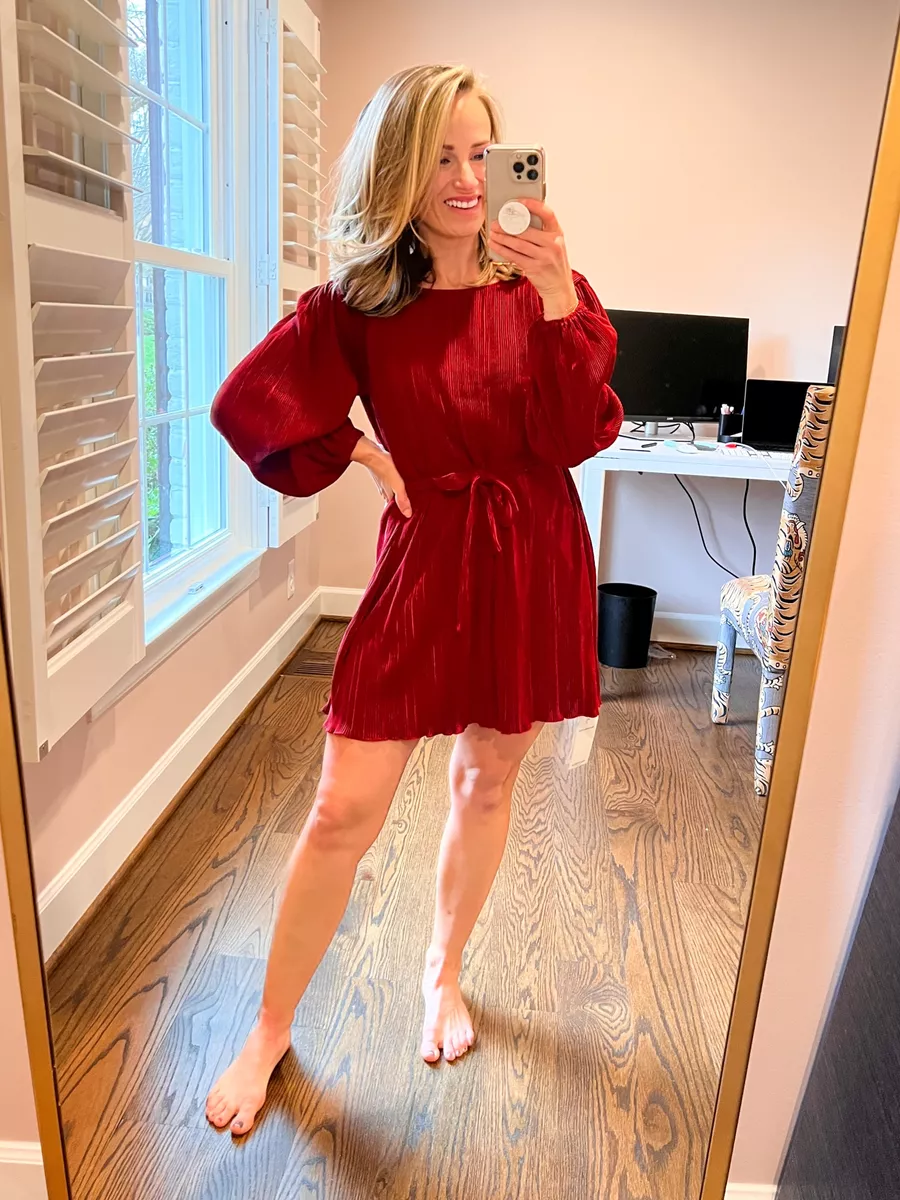 This red dress is under $100 and such a fun option for Christmas parties this year. I'm SO sad that it's sold out, because it was such a popular find!  It fits true to size and feels like the perfect "fun" option. I'm wearing an XS in this, and I dressed it up even more with fun gold earrings. The earrings are a splurge, but if you like the style and want a more budget-friendly option, Etsy has a great pair. I've paired this dress with my favorite black heels.
If you want this dress, be sure to enter your email on this page for a restock. If you're looking for something similar, I love this red tiered dress.
Dress (similar here) | Earrings (budget friendly option here) | Shoes | Clutch
Now to my favorite for this year: this Red Puff Sleeve Mini Dress. Also under $100, this is a PERFECT red dress option for the holidays. You could also wear this for Valentines Day or even as a wedding guest! It runs true to size, and I'm wearing an XS. When I pulled this out of the bag, I wasn't sure about the texture, but once I tried it on I was blown away by how flattering and fun it is. I love the puff sleeve paired with the fitted style. I paired it with a glittery clutch (a great accessory to elevate any dress), and black heels (mine are old, but very similar to this Sam Edelman pair).
This dress is selling out pretty quickly, so snag your size while you can!
Red Dress (sizes going fast!) | Black Heels | Glittery Clutch
I first bought this red dress for a holiday party a few years ago and I've worn it for Valentine's Day, a wedding, and a cocktail party at a Beautycounter event. It's old, but this is super similar. To make it more holiday-ish, I'll add wear bolder gold earrings (like these or these) and carry a very fun, festive clutch (like this). I wore it with nude sandals, but a pair of closed toed pumps would also be very cute. Unfortunately the dress itself is old, so I've linked similar options below.
Dress (similar) | pictured Shoes & Jewelry
Similar Looks
Checkout that sequin dress at the bottom!
Black Cocktail Dress
If you're shopping for a black dress for the holidays, I recommend getting something that's a little more fun with cutouts, an unusual hemline or neckline or with fun fabrics like velvet, lace, or sequins vs. just a plain black cocktail dress! You can get away with more daring choices during the holidays and especially for New Year's Eve parties. And I find I'm more daring in something that's black vs. a bolder color like red. Red with cutouts may be a little too much for me!
With black dresses, I love to wear fun shoes and wear a red lip to make the look more festive. These gorgeous heels would make a simple black dress immediately feel perfect for the holidays. (These are cheaper option). And this is, hands down, the most flattering red lipstick ever (shade chili). It looks GOOD on everyone and the cooler tone makes teeth look whiter (some reds make them look more yellow which we do NOT want).
Little black dresses will serve you well for years to come.
I can't tell you how often I reach for black dresses, even years later.
One of my favorite black dress options is this midi from Lulus. It's under $100, runs true to size (I'm wearing an XS), and feels great. I love that it hits right at my knees for a dressier look, but not quite a midi dress style. The only issue I have with it is that the button in the back is hard to do on your own, so you'll probably want to skip this if you live alone! I've paired it with my all time favorite black pumps (these are cheaper option), gold wing earrings, and a glittery gold sequined clutch. I love that this is flattering and fun, but appropriate to wear to a work party around your coworkers.
Unfortunately this dress is almost sold out, so if your size is unavailable, try this similar option!
Dress (similar here)| Shoes (cheaper version here) | Earrings (cheaper version here) | Clutch
The next short dress is a great option for a simple black cocktail dress. It's also from Lulus and under $100! I love the length for any occasion. This is something I'd wear for office parties, and I'd feel totally appropriate. Since it's a simple shape, I'd dress it up with earrings (cheaper version here), and strappy heels. I'd also carry a fun clutch!
Dress | Earrings | Shoes | Clutch
This black lace dress is from years ago, but I still love it when I look at this picture. I haven't worn lace much recently, but now I want to! Since it's not available anymore, I've linked similar options below. I'd pair a fun dress like this with simple pumps and a simple clutch, so that nothing distracts from the dress. I'd likely wear diamond studs with this.
Similar shift dress  + exact champagne clutch + red lipstick
And if you're attending something extra formal this season, a black gown will be a great closet staple for weddings or other black tie events ahead even after December 31st. This is the one I own and have worn to multiple black tie events, and it's my favorite of all of the formal dresses I've owned over the years. A few great maxi dresses are wardrobe staples!
Similar Looks
Green cocktail dress
I also really love dark green for a holiday cocktail dress. It's so simple to make festive – get a red mani, put on red lipstick, neutral heels and you're good to go! Green works especially well for Christmas party dresses since green has become such an on-trend, popular color this year. I've also linked a cute jumpsuit below that would be quite the statement, as well as some really fun mini dresses with beading.
I'm very into this festive color this year.
This first green short party dress is under $100 from Lulus, and runs TTS. I'm wearing a size XS. While it's SO pretty, the neckline was a little more revealing than what I prefer for the type of events I'd wear it to (fashion tape may help!). But, if you like that type of neckline, this is a beautiful option! I've paired it with the same earrings I'm wearing in the other outfits and black sandals.
Dress | Earrings | Shoes | Clutch
The next green dress is a little brighter than the one above. It's the only non-lulus one I ordered this year, but it's still under $100. I love the belt, but I'm not totally sure how to wear it. I think I like it to the side like I have it below. The texture us super fun and unique, and I love that I don't have anything else like it. I've paired it with the same earrings and shoes as the dresses above!
Sizes are going SUPER quick for this dress, so try this similar option if your size is unavailable. Nordstrom carries the same dress as well, so check here to see if they have your size (they're running low too).
Dress (similar here) | Earrings | Shoes | Clutch
The last green dress I ordered this year is the same as the red one above, but in a green color. I ended up keeping the red since it was more festive, and this one was more of a blue-green. Very pretty, but not quite Christmas-y enough for me. I paired it with the same earrings and nude pumps. The dress is final sale, but only $39, so it's a great option for a fun event!
Dress | Pumps | Earrings | Clutch
And for fun, here's a super old photo of another green dress I wore a few years ago for a holiday party. I still LOVE that mock neck.
Very old dress, similar here | exact heels
Similar Looks
Affordable Cocktail Dresses & Accessories
Lulus has a great selection of affordable cocktail and holiday dresses and Tuckernuck has a wide variety of styles and price points. Have a little fun and get something a little more bold this year, maybe try some embellishments! A seasonal party is the perfect excuse. If you're ordering from Lulus, get your true size. I found that the sizing was consistent across the board for the dresses I linked above.
For accessories, Revolve's accessories selection and Baublebar both have a great selection of statement jewelry that's affordable and, in my experience, both have fast shipping too. I especially love these earrings and this clutch from Revolve.
Thanksgiving outfits
While I wouldn't wear a cocktail dress for Thanksgiving, I do like to dress up a little! Even if I wear jeans, l'll wear heeled booties and a cute top, or maybe a sweater (or a sweater dress like the one I'm wearing below). If you're looking for something affordable (that will ship quickly) for Thanksgiving, Amazon has a $30 dress that I have and love!
I've linked a few fall outfits below that could work for all types of Thanksgiving events.
Outfit linked here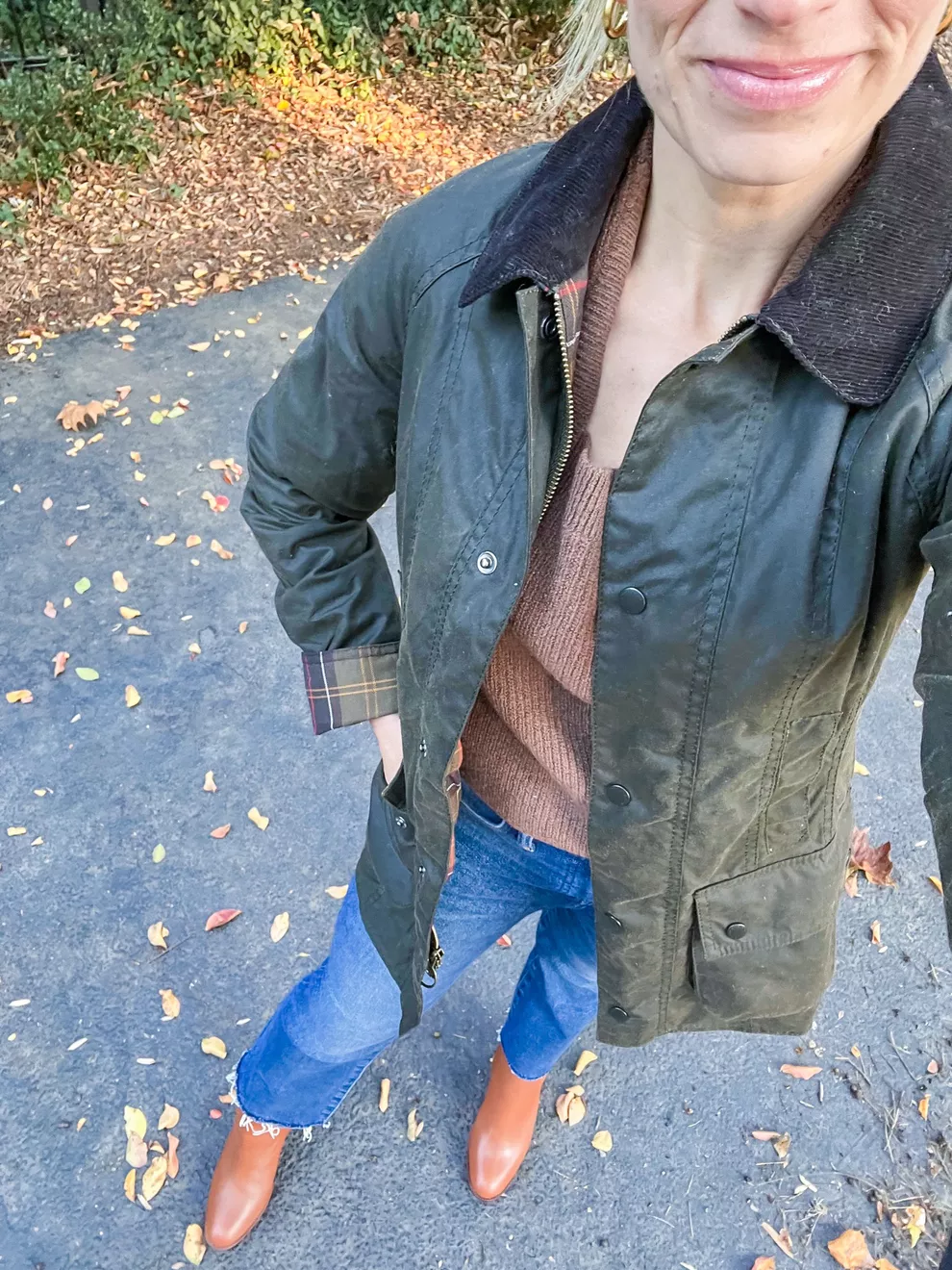 Outfit linked here
Similar dress
Amazon Dress ($30)
 Top | Jeans | Similar Booties
Thanksgiving Picks
Happy holidays and have fun celebrating!
You may also like:
SHOP HOLIDAY DRESSES