Daily Skincare Routine in 12 Simple & Effective Steps
The science is in! Following a daily skincare routine is critical to healthy-looking, fresh, young skin.
Implementing a daily skincare routine keeps your skin young, clean, fresh, firm, and healthy and will pay in the long run.
You'll have fewer wrinkles, smaller eye bags, lesser saggy skin, and no double chins.
However, as science also shows that only 12% of people have a skincare routine, I wanted to find out why.
I've conducted a skincare study between March and April 2022 with the help of The VOU, and here's what we've uncovered:
Almost 60% of the participants don't know what a skincare routine means.
About 50% of the participants skip skincare routines under the assumption the steps are complicated and time-consuming.
43% of those we interviewed do not follow a skincare routine because of the high perceived costs.
Nearly 35% assume that good-looking and healthy skin is just a matter of inherited DNA.
In this article, we'll share the BEST skincare routine ever.
Hight recommended by expert dermatologists, the following results-rich skincare routine comes in 12 quick, simple, and affordable steps.
There are 6 Skincare steps in the morning routine and six skincare steps in the evening/night-time.
Skincare Routine
6 Steps for Day, 6 Steps for Night
Why You Need Separate Skincare Routines for Day & Night
Morning cleansers, toners, and moisturizers protect your skin from environmental aggressors.
Rich in antioxidants and sunscreen, these products minimize pollution-based free radicals and shield you from ultraviolet radiation.
On the other hand, the night skincare routine focuses on skin damage repair, cellular turnover, and removal of dark spots.
The night routine also replenishes moisture levels, which tend to dip in the evening, with emollients designed to create a rich texture.
You can consider bedtime as the time to start the second stage of your daily skincare routine.
Unlike overnight masks, the nighttime routine requires daily repetition – as part of your healthy habits – and a skin care routine.
The nighttime skincare routine is the perfect time to ensure your skin gets as many active ingredients and healthy nutrients as possible.
---
STEP 1
/12
Morning Skincare Cleanser
The first step in any skincare routine, morning skincare cleansers are used to clear away impurities and excess oil that can clog pores and dull skin.
However, those with dry or sensitive skin should be gentle, cleansing every other day and instead rinsing with water every morning.
Look for gentle cleanser formulas with hydrating ingredients like ceramides, glycerin, hyaluronic acid, niacinamide, salicylic acid, and botanical oils for face.
Use a cotton pad on your morning skincare routine to gently cleanse the skin without stripping it of healthy oils.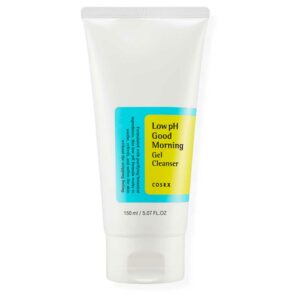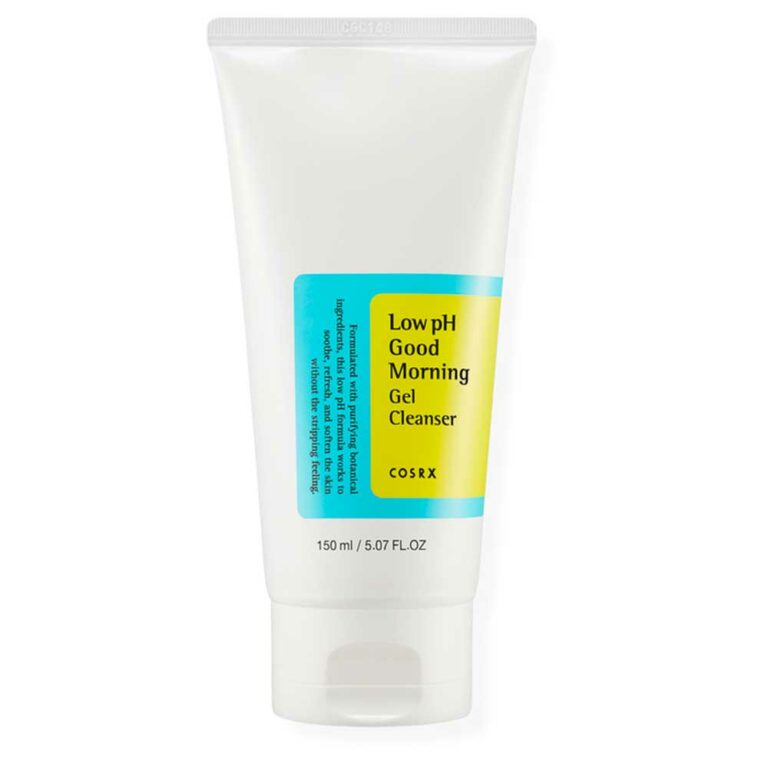 Low pH Good Morning Gel Cleanser (5.07 oz)
AMAZON | $12
ULTA | $14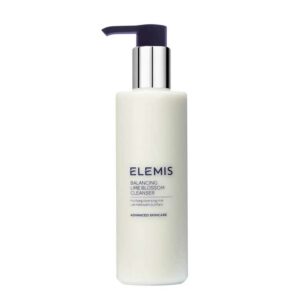 ELEMIS Balancing Lime Blossom Cleanser (6.8 oz)
DERMSTORE | $36
SKINSTORE | $36
Caudalie Vinoclean Micellar Cleansing Water (6.7 oz)
AMAZON | $26.6
SEPHORA | $28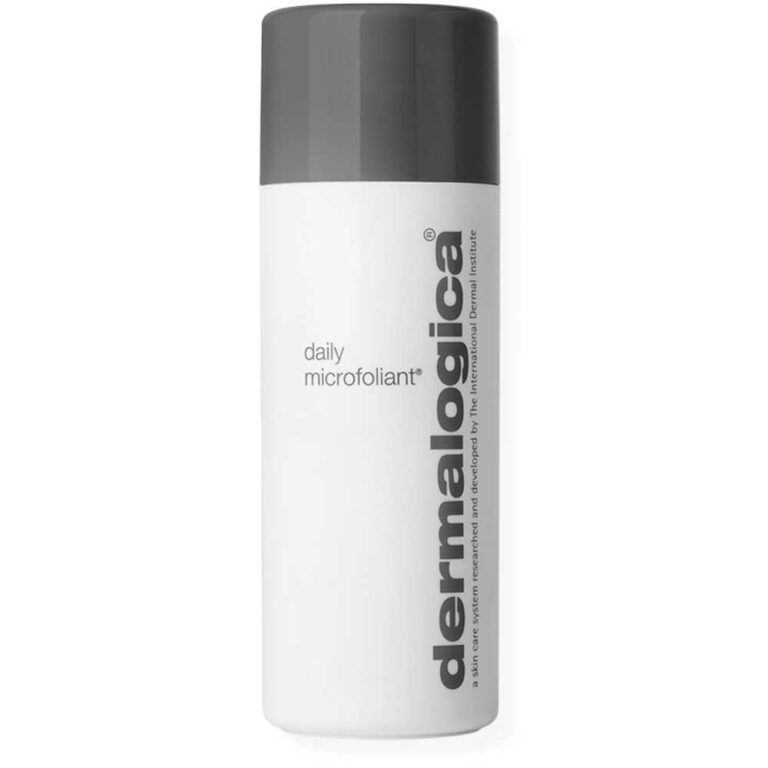 Dermalogica Daily Microfoliant Cleanser (2.6 oz)
ULTA | $64
SEPHORA | $64
---
STEP 2
/12
Morning Skincare Toner
Toners are water-based skincare liquids you must apply to your skin, in the morning, after the face cleansing routine.
Morning toners are designed to ensure your asking gets the much-needed dose of active ingredients.
You can apply the tonner with your fingers, a cotton ball, or a cloth.
Apply in the morning before any other leave-on skincare treatments like serums and moisturizers to refresh skin, remove any residual debris, and balance pH.
Packed with complexion-purifying and skin boosting/brightening benefits, a good morning toner will leave your face glowing.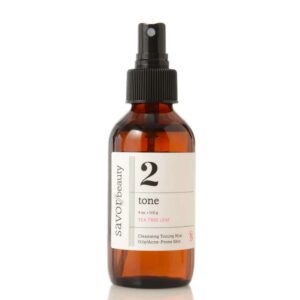 Savor Beauty Hydrating Toning Mist (4.0 oz)
SAVOR | $36
AMAZON | $36
Fenty Skin Fat Water Pore-Refining Toner Serum (5.0 oz)
FENTY | $30
SEPHORA | $30
Renée Rouleau Elderberry Soothing Toner (6.0 oz)
RENÉE ROULEAU | $38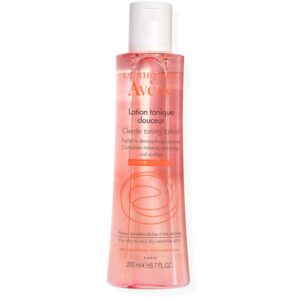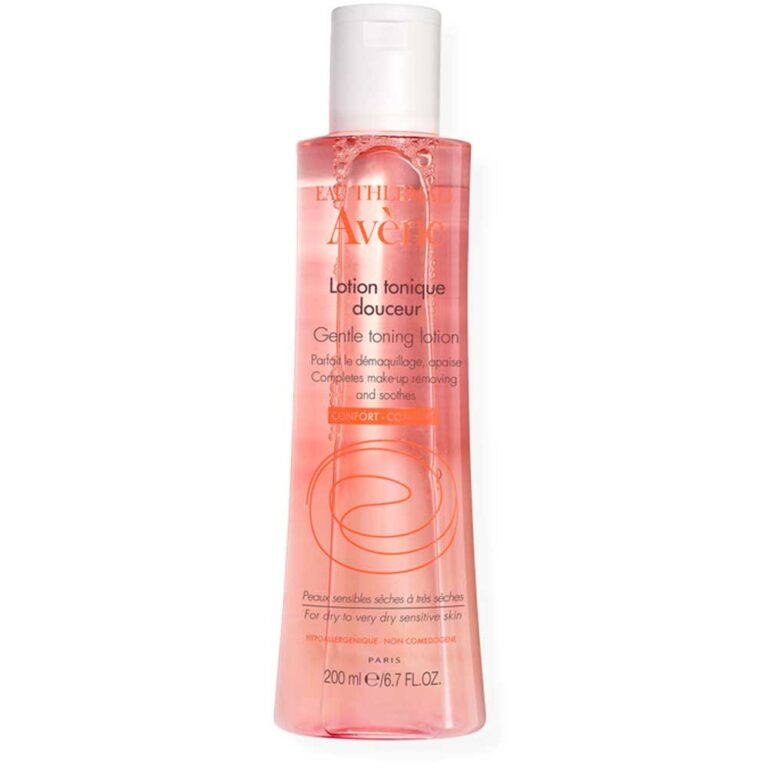 Avène Eau Thermale Gentle Toning Lotion (6.7 oz)
ULTA | $22
DERMSTORE | $22
---
STEP 3
/12
Morning Serum Treatment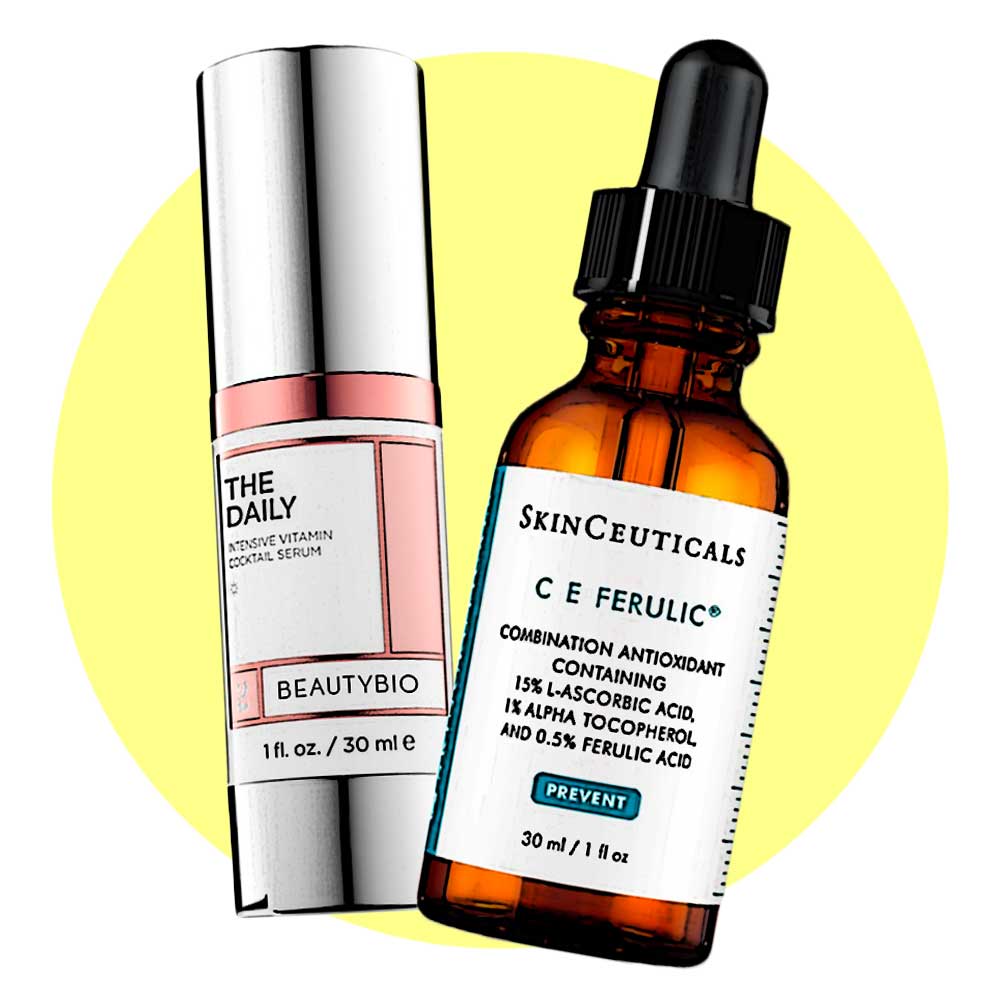 Morning serum treatments are tailored to tackle skin concerns such as complexion issues, wrinkles, and dark spots.
By delivering concentrated amounts of powerful ingredients right to your skin, morning serums treat and protect even darker skin tones.
Some of the best morning serums contain high levels of antioxidants such as Vit C, ideal for preventing the formation of free radicals and lessening signs of aging over time.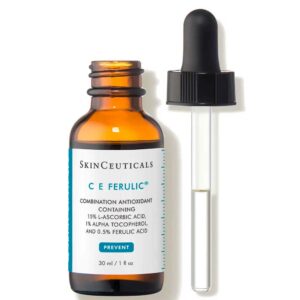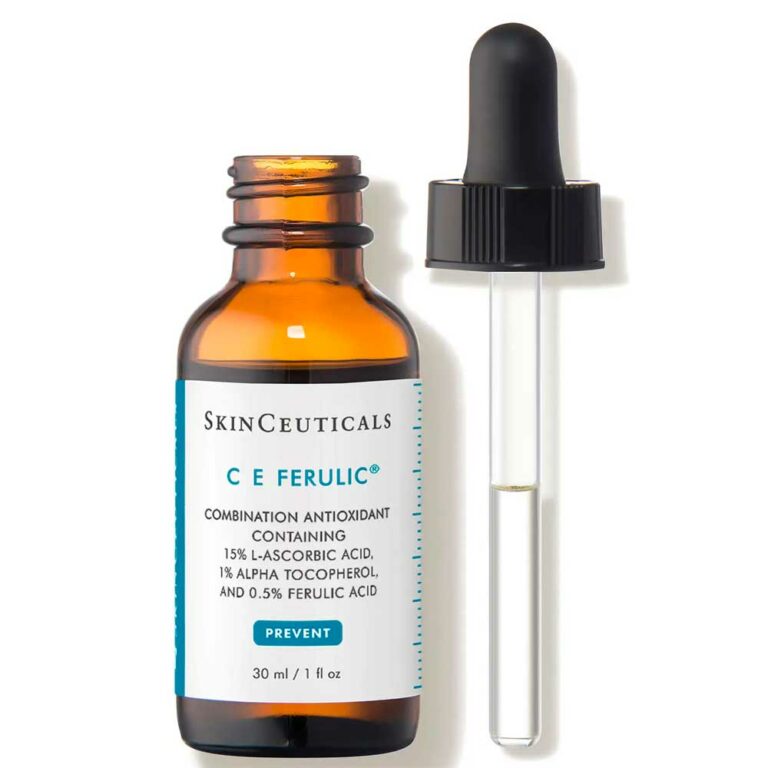 SkinCeuticals C E Ferulic Serum (1.0 oz)
DERMSTORE | $169
SKINSTORE | $169
BeautyBio The Daily Vitamin C Day Serum with Antioxidant Complex (1.0 oz)
SEPHORA | $75
CULT BEAUTY | $117
Paula's Choice Clinical Discoloration Repair Serum (1.0 oz)
SEPHORA | $48
AMAZON | $48
FaceGym Hydro-Bound Hyaluronic Acid + Niacinamide Serum (1.0 oz)
SEPHORA | $68
CULT BEAUTY | $82
---
STEP 4
/12
Morning Eye Cream Treatment
Formulated specifically for the delicate area around the eye, eye creams are not to be confused with face creams.
The delicate area around the eye ages faster than the rest of your face, requiring treatment creams.
Eye cream treatments are great for combating fine lines, wrinkles, a lack of firmness, dark circles, and undereye bags.
Some of the best morning eye creams contain niacinamide, vitamin C, or a unique formulation of plant sterols with caffeine.
Look for eye cream formulas with peptides and retinol for wrinkles and sagging.
Finally, hyaluronic acid eye creams are a must for hydration, while creams with vitamin K are for dark undereye circles.
Apply in the morning by lightly tapping the preferred formula targeting the eye area.
Use your ring finger (the weakest) to avoid tugging on delicate skin and causing damage.
The Ordinary Caffeine 5% + ECGC Depuffing Eye Serum (1.0 oz)
ULTA | $7.5
AMAZON | $10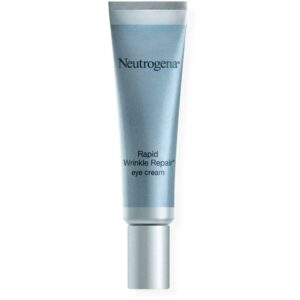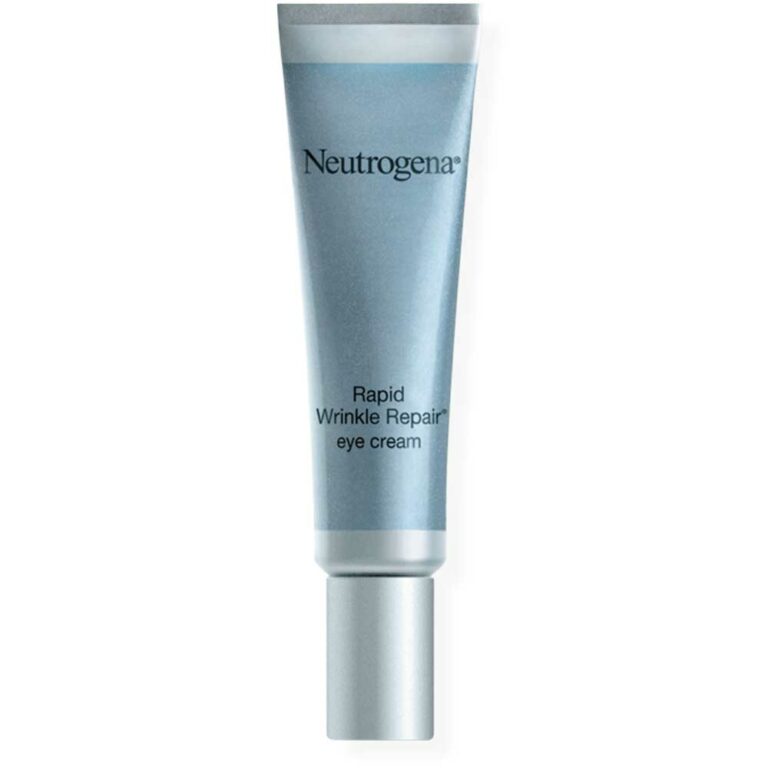 Neutrogena Rapid Wrinkle Repair Eye Cream (0.5 oz)
ULTA | $30.99
AMAZON | $14.7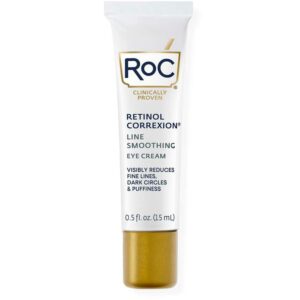 RoC Retinol Correxion Anti-Wrinkle + Firming Eye Cream for Dark Circles & Puffy Eyes (0.5 oz)
ULTA | $27.99
AMAZON | $17.94
Colorescience Total Eye™ 3-in-1 Renewal Therapy SPF 35 (0.23 oz)
DERMSTORE | $74
AMAZON | $74
---
STEP 5
/12
Daytime Skincare Moisturizer
Face moisturizers keep your skin soft and hydrated while strengthening the skin's natural protective barrier.
Moreover, dermatologists recommend moisturizers for all skin types, all year-round, as hydrating is crucial for keeping skin youthful and healthy.
If you have oily or acne-prone skin, opt for a lighter moisturizer during the daytime, such as a lotion or gel that will soak in quickly and won't pill under makeup.
If your skin is drier, use a thicker formula with a cream-like consistency.
The best day moisturizers contain critical ingredients like ceramides and hyaluronic acid since these ingredients are the building blocks of moisture retention in the skin.
Augustinus Bader The Cream Face Moisturizer (1.7 oz)
AUGUSTINUS BADER | $280
SEPHORA | $280
Glow Recipe Plum Plump Hyaluronic Acid Moisturizer (1.7 oz)
AMAZON | $39
SEPHORA | $39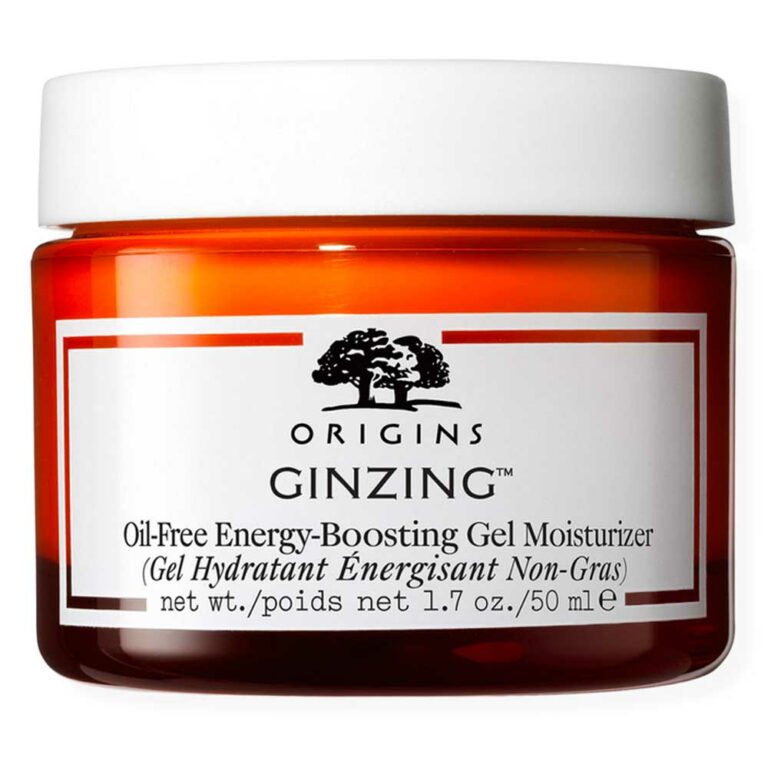 Origins GinZing Oil-Free Energy-Boosting Gel Moisturizer (1.7 oz)
ORIGINS | $36
ULTA | $36
Origins GinZing Oil-Free Energy-Boosting Gel Moisturizer (1.69 oz)
DR.JART+ | $49
SEPHORA | $49
---
STEP 6
/12
Daytime Skincare Protection
Dermatologists agree that wearing sunscreens is the most crucial step in any skincare routine for every skin type and age.
The sun is the number one reason skin ages prematurely, and If you don't wear sunscreen, you might also ignore all the other steps above.
Moreover, no matter your skin color, the damage is more than just cosmetic, as even people of color get skin cancer.
And, if you're treating hyperpigmentation without daily SPF use, it's like taking two steps forward and one step backward.
But the most important scientific fact is that even if you're spending your days indoors, the UV rays can affect your skin as they penetrate through the windows.
Use a coin-sized dollop of broad-spectrum SPF 30 or higher face sunscreen as the last step in your morning-to-day skincare routine.
Cover your face, neck, and back of your hands 30 minutes before you head outside.
Supergoop Play 100% Mineral Lotion SPF 50 with Green Algae (x oz)
SUPERGOOP | $36
DERMSTORE | $36
Murad Correct & Protect Serum Broad Spectrum SPF 45 (1.0 oz)
MURAD | $69
SEPHORA | $69
SkinMedica Total Defense + Repair Broad Spectrum SPF 34 (2.3 oz)
DERMSTORE | $70
AMAZON | $70
Burt's Bees Renewal Firming Day Lotion with SPF 30 (1.8 oz)
AMAZON | $18
WALMART | $14.96
---
STEP 7
/12
Night Skincare Cleanser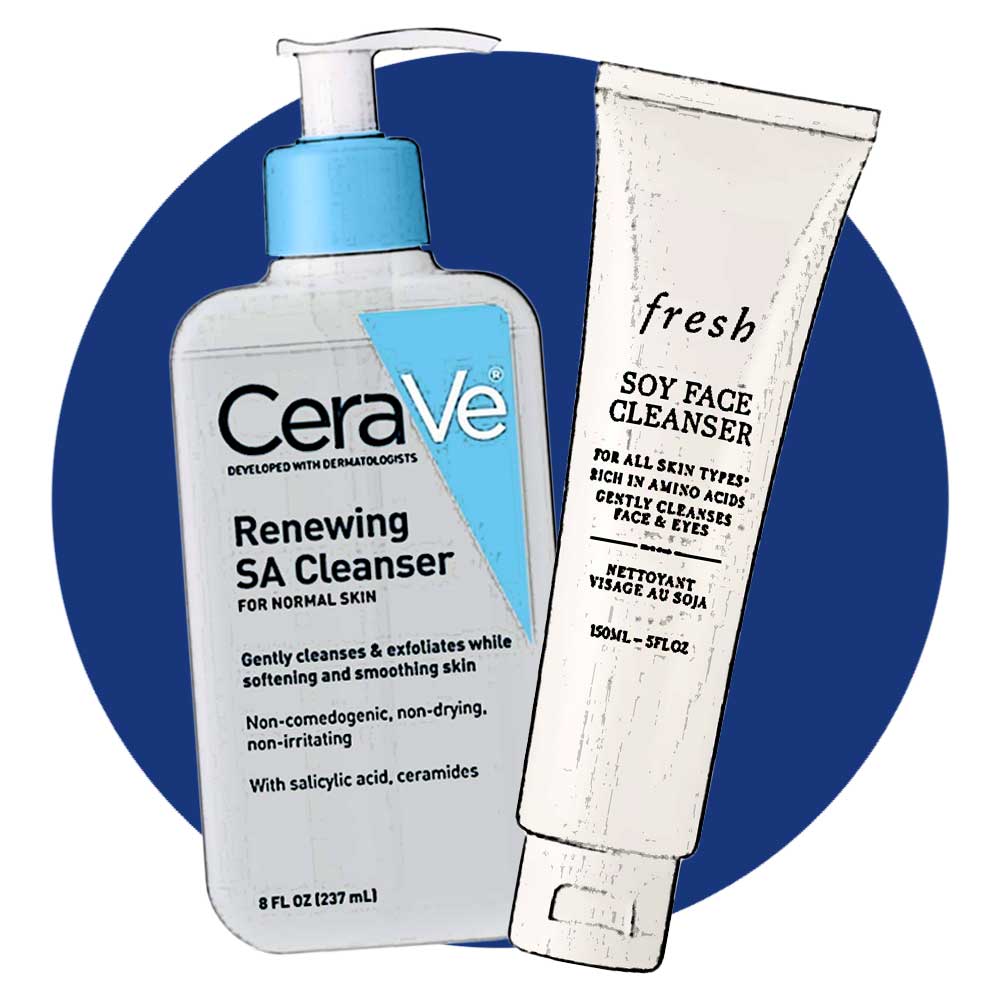 Every day, your skin comes in contact with makeup, environmental pollutants, dirt, and other factors.
First, remove any makeup and grime by applying a makeup remover to avoid clogged pores, dullness, and acne.
That's because skincare cleansers are not designed to dissolve makeup, especially around the eyes.
You can use the same morning cleanser, but ideally, you'd use a dedicated evening cleanser with skin nourishing and relaxing properties.
Avoid chemical exfoliants and alcohol-based products, and choose an oil-based cleanser that retains the skin's natural barrier.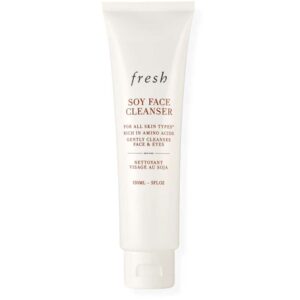 Soy pH-Balanced Hydrating Face Wash (5.0 oz)
FRESH | $38
ULTA | $38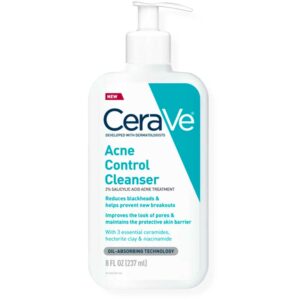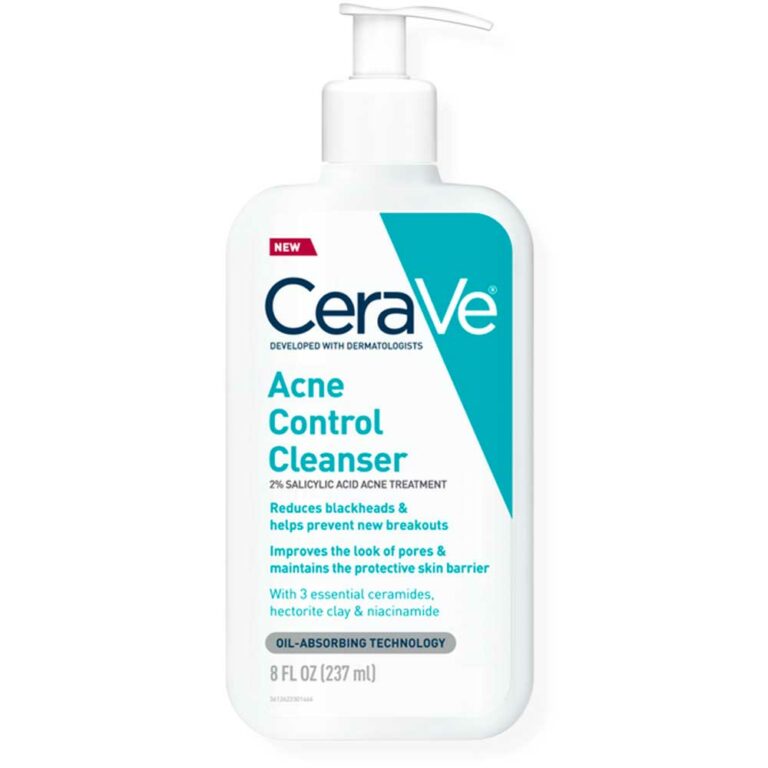 CeraVe Acne Control Face Cleanser, 2% Salicylic Acid Acne Treatment (8.0 oz)
ULTA | $15.99
AMAZON | $12.80
Glossier Milky Jelly Cleanser Conditioning Face Wash (6.0 oz)
GLOSSIER | $19
AMAZON | $26
Skin Regimen Cleansing Cream (5.07 oz)
DERMSTORE | $40
AMAZON | $40
---
STEP 8
/12
Night Skincare Toner
Think of your night toner as a boost of supplements that hydrate and feed your skin while protecting the outer layer.
Usually marketed as liquids, toners deliver nutrients to the skin, help other products to absorb better, and balance your complexion.
Some of the best nighttime toners comprise alpha and beta hydroxy acids to gently remove dead skin cells that can clog pores, improve sun-damaged skin and minimize dullness.
Hyaluronic acid is also used in toners to boost hydration, seal in dewiness, and plump skin to treat fine lines subtly.
Rose water, green tea, and Vitamin E and C are also used to calm irritation, reduce redness, and fight daily exposure to free radicals that can age your skin.
Pixi Glow Tonic Exfoliating and Brightening Toner (8.5 oz)
PIXI | $29
AMAZON | $29
The Ordinary Glycolic Acid 7% Exfoliating Toning Solution (8.0 oz)
ULTA | $10
AMAZON | $15
Paula's Choice Skin Balancing Pore-Reducing Toner (6.4 oz)
PAULA'S CHOICE | $22
AMAZON | $20.90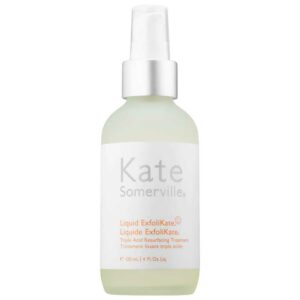 Kate Somerville Liquid ExfoliKate® Triple Acid Resurfacing Treatment (4.0 oz)
KATE SOMERVILLE | $68
SEPHORA | $68
---
STEP 9
/12
Night Serum Treatment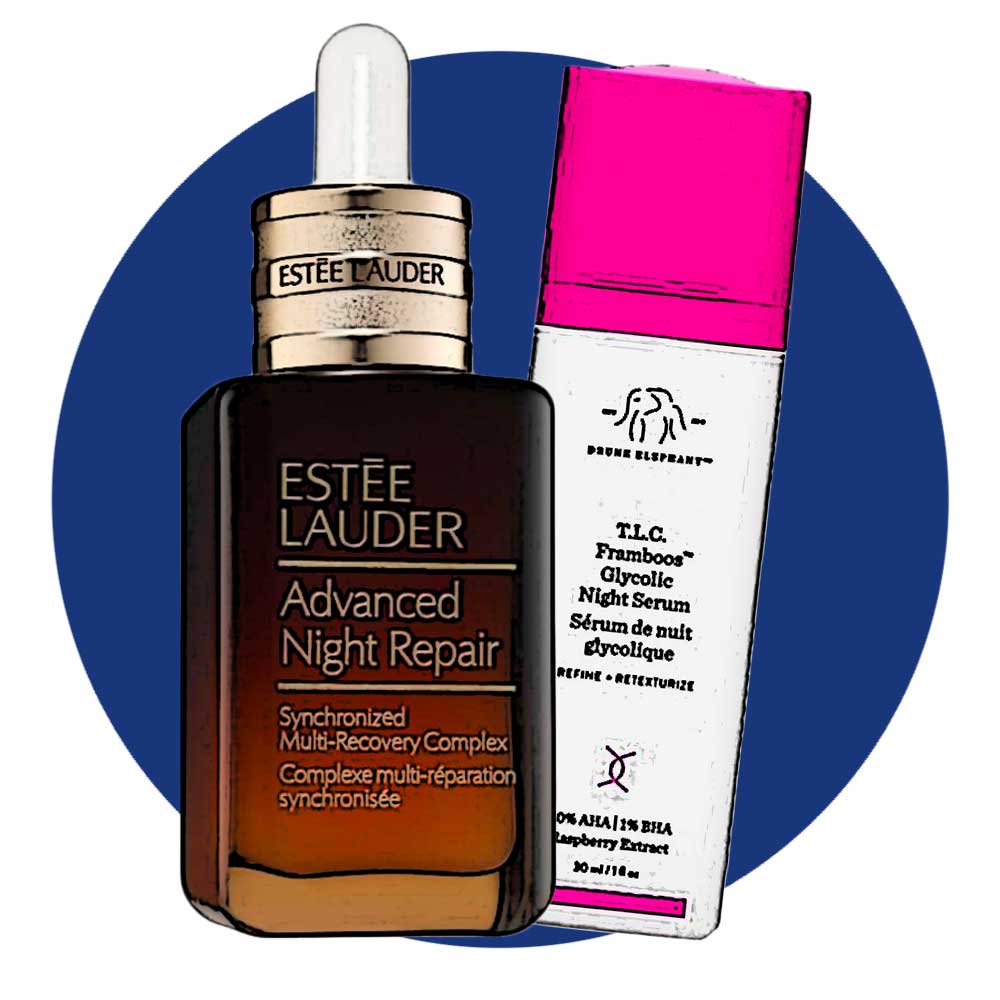 Simply put, serums are powerful skin allies.
Filled with concentrated doses of active ingredients, these elixirs can mitigate several issues, from dark spots to wrinkles.
The night is the ideal time to apply products with ingredients that remove dead skin cells and stimulate cell turnovers, such as alpha hydroxy acids like glycolic acid or retinol.
Those treating hyperpigmentation should alternate between the spot-fading active ingredient hydroquinone and a retinoid.
Vitamin C serum at night is excellent for minimizing pores, smoothing textures, and brightening skin.
Vitamin C is also an excellent ingredient for nighttime spot treatment and acne treatment support – usually found in acne patches.
While there are "limitless ingredients options," some of the best nighttime serums contain hyaluronic acid to seal in hydration, strengthen the barrier function (the top layer of your skin), and prevent moisture loss.
Retinol, vitamin B3, and peptides are best to stimulate the production of collagen and elastin, proteins in the body that help prevent lines and skin sagging.
Finally, colloidal sulfur and niacinamide are excellent night-time serum ingredients used to calm redness and irritation while decreasing inflammation and acne flares.
Estée Lauder Advanced Night Repair Synchronized Multi-Recovery Complex Serum (1.0 oz)
ULTA | $79
DERMSTORE | $75
Drunk Elephant T.L.C. Framboos Glycolic Night Serum (1.0 oz)
ULTA | $90
AMAZON | $89.90
The Ordinary Lactic Acid 10% + HA 2% Exfoliating Serum (1.0 oz)
ULTA | $8
AMAZON | $11.31
Olay Regenerist Wrinkle Serum Max (1.3 oz)
OLAY | $34
ULTA | $46.99
---
STEP 10
/12
Night Eye Cream Treatment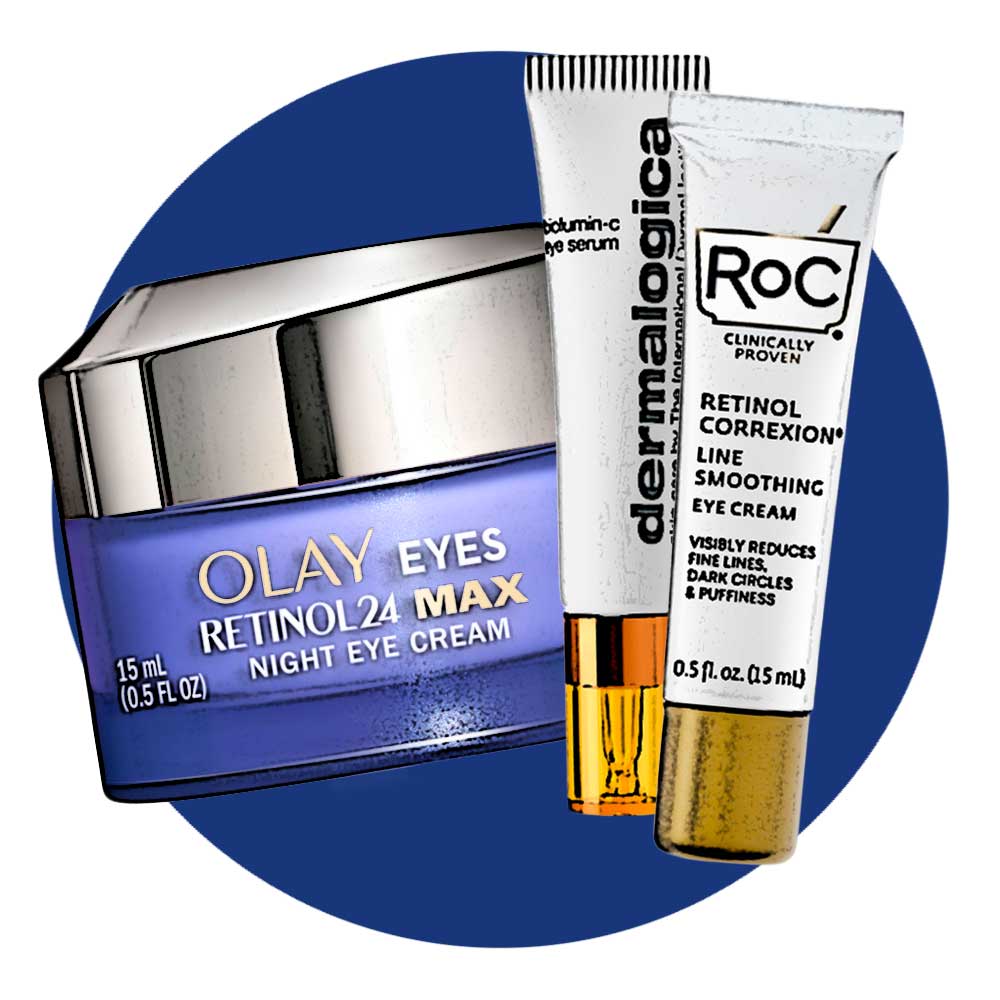 Nigh eye cream is a must-wear for undereye bags and inflammation.
The best nighttime eye creams have caffeine, peptides, and hyaluronic acid as active ingredients.
The appearance of dark circles is caused by veins and capillaries that become visible around the eye, combined with skin discoloration.
Best night eye creams for dark circles contain brightening ingredients like vitamin C, kojic acid, and niacinamide.
To avoid eye irritations, it is best to skip potent retinol (stings and create redness) and fragrances.
For more specific concerns like hyperpigmentation, dryness, or puffiness — you might want to try eye creams with collagen peptides.
RoC Retinol Correxion Line Smoothing Eye Cream (0.5 oz)
ULTA | $27.99
AMAZON | $17.94
Dermalogica BioLumin-C Eye Serum (0.5 oz)
DERMALOGICA | $69
ULTA | $69
Olay Regenerist Retinol 24 MAX Night Eye Cream (0.5 oz)
OLAY | $34.99
ULTA | $46.99
Advanced Night Repair Eye Supercharged Complex (x oz)
AMAZON | $49.24
DERMSTORE | $66
---
STEP 11
/12
Night Moisturizing Cream
Able to create a barrier that seals in the skin's natural hydration while stopping moisture loss that happens as you sleep, moisturizing is crucial at night.
Designed to contain targeted anti-aging benefits and repair sun and pollution damage, night moisturizers are not to be confused with day ones.
Whereas day moisturizers focus on improving the natural moisture barrier of the skin only, night creams contain active ingredients that assist with enhancing the skin beyond adding moisture.
Night moisturizers also complement the natural, protective skin oils and other building blocks within the skin, such as ceramides.
As the skin naturally loses the ability to retain moisture as we age, doctors recommend using nighttime moisturizing cream all year-round for all skin types.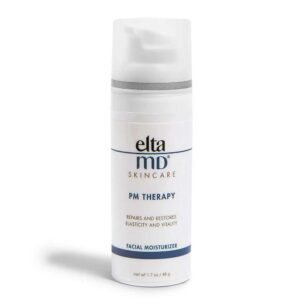 EltaMD PM Therapy Facial Moisturizer (1.7 oz)
DERMSTORE | $39
AMAZON | $39
CeraVe Skin Renewing Night Cream (1.7 oz)
ULTA | $19.99
AMAZON | $14.97
Neutrogena Hydro Boost Gel Moisturiser for Dry Skin (1.7 oz)
NEUTROGENA | $23.99
AMAZON | $17.19
Eve Lom Time Retreat Intensive Night Cream (1.6 oz)
DERMSTORE | $140
BLOOMINGDALES | $140
---
STEP 12
/12
Good Sleep!
Daily stressors, pollution, sweat and grime, and UV rays – all play havoc with your skin, and sleep is the only natural remedy that brings everything to baseline.
Once you fall asleep, your body starts producing growth hormones, ensuring your skin remains tight and bouncy, repairing acne and scarring across your body.
At night, your skin is five times more receptive to active ingredients and healthy products, as they absorb into the skin and do all the work for you overnight.
Also, while sleeping, your skin produces three times more collagen, a key ingredient for keeping the skin plump and smooth.
Getting your beauty sleep is not a joke but honest, expert dermatologist advice.
A lack of sleep increases your cortisol levels (the stress hormone), putting your skin in a pro-inflammatory state.
This can mean sullen-looking skin and puffiness around the eyes, compromising overall skin health.
Having at least eight hours of sleep per night limits cortisol levels and prevents these symptoms from appearing.
Sleep reduces skin inflammation, repairs, and regenerates skin cells up to five times faster than during the day.
Sleep is also why most anti-aging products are recommended to be applied at night – skin absorption triples at night.
ZIMASILK 100% Mulberry Silk Pillowcase for Skin Health
AMAZON | $23.99
Saatva Weighted Silk Eye Mask
SAATVA | $75
Estée Lauder Advanced Night Repair Concentrated Eye Treatment Mas
SEPHORA | $42
---
Skincare Routine FAQs
What Are the Best Steps in Skincare?
These are the most critical skincare routine steps you must perform daily to protect and nourish your skin.
Step 1: Use a skin cleanser in the morning and before bed.
Step 2: Use specific toners for day and night.
Step 3: Use different function serums for morning and night.
Step 4: Use sunscreen during the day.
Step 4: Use eye creams morning and before bed.
Step 5: Apply moisturizer at all times.
Step 6: Use a face mask – at least once a week.
What Should Be the Daily Routine for Face Care?
Every night, use a makeup remover to clean your face and eliminate impurities, oil, and makeup.
Every morning and evening, use a good face cleanser.
Every morning and before bed, use a hydrating eye cream.
Every morning and evening, use a nutrient-rich face toner.
Every morning and evening, apply serum to your face.
Every morning, evening, and even during the day, apply face moisturizer.
Conclusion
Sun exposure, pollution, dry skin, oily skin, and blue light are some of the daily elements your skin is exposed to.
An antioxidant serum and a daily moisturizer are critical to keeping your skin hydrated and avoiding unexpected skin issues.
A daily routine focusing on achieving clean skin with warm water and a regular moisturizer is critical for those with inflamed skin.
Everyday cleansing reduces sweating, dark spots, dry patches, clogged pores, flaky skin, and UV damage.
A day and night skincare routine is critical to provide your skin with a clean, nutritious environment, safe against detrimental environmental factors.
In the long run, a well-implemented skincare routine will form a healthy skin barrier and keep your complexion in tip-top shape.
Weekly Newsletter
Keep up with the latest in fashion, beauty and style!
Now it's your turn…
Which one of these steps are you going to try next in your skincare routine and why?
Which skincare routine do you think we've missed and should include in our next article update?
Please leave your comments below; we always appreciate your comments and use them to learn, improve, and update these articles.