The Perfect Black Tie Code For Gentlemen, Why & How
So you're invited to a black-tie dress code event and don't know what to wear.
Worry no more; the black-tie dress code is simple – well, if you follow these basic aesthetic principles.
Before we start, put on hold 'later on' questions such as:
What kind of socks should I wear?
How do I wear my hair?
Do I need a cummerbund or even, what is a cummerbund?!
In very simple terms, a black-tie dress code is the pairing of a slim-cut black suit, a box-fresh white shirt, and a perfectly tied bow tie.
That being said, remember that black-tie events are all about following key dressing rules.
The devil is in the details; the bow tie style, the cufflinks, even the shine level of your vegan shoes.
When worn right, black-tie outfits are excellent opportunities to look rich and the best you ever will.
In this article, I'll detail all the constituent parts of a black-tie outfit.
I'll then guide you step by step on how to dress best according to the black-tie event you're about to attend.
Without further ado, let's get you dressed up and ready for your black-tie evening:
What is A Black Tie Event?
A black-tie invitation denotes the following two things:
The event is of high importance; awards ceremonies, a milestone birthday party, a grandiose wedding, a prestigious ball, a black-tie dinner, a wedding reception, or even a wedding cake event.
The event where organizers expect you to follow a particular dress code; in this case, a black-tie dress code.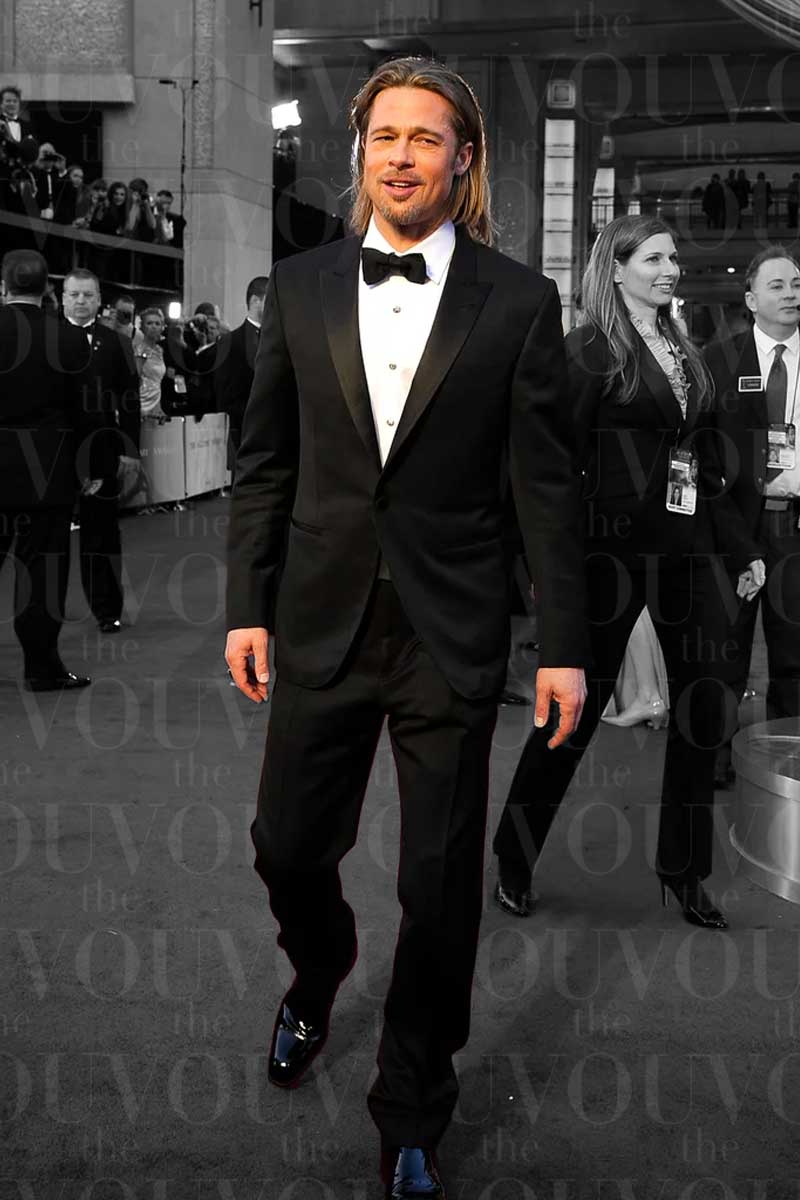 What Does Black Tie Dress Code Mean?
Dressing up for evening events has been popular for centuries.
However, the white and black-tie dress codes first came into force in the Edwardian era.
The Edwardian era (1901-1914) was the last period in British history to be named after the monarch who reigned over it.
The default after-dark look of those times was plain trousers, a waistcoat, a dinner jacket, and a black bow tie.
Coined in 1885, the term black tie symbolized a 'loosening of ties,' so to speak, among the aristocratic social class.
It all started with Edward VII's decision to swap his tailcoat for a blue silk smoking jacket and matching evening trousers, supposedly made by Henry Poole & Co of Savile Row.
The 'black tie dress' choice granted the sovereign a far more comfortable alternative to the formality of evening tails.
From that point on, Edward VII's dressing style inspired what we now know as the black-tie dress code.
Nowadays, a black-tie code describes a formal type of outfit, usually worn at social functions and events that commence after 6 pm.
The black dress style has retained some formal royal attire elements such as tails, a black-tie shirt's winged collar, and a bow tie.
Inspired by Beau Brummell's early 19th-century cravat, the bow tie (often confused with the black-tie dress code) is just a vestimentary accessory, part of the black-tie dress code.
And here's something I bet you did not know; the traditional tie was not even black.
The color of choice was midnight blue because it looked even darker than black in artificial lighting.
The black-tie dress code was quickly adopted by members of the Tuxedo Club in New York, several of whom were Henry Poole customers (tuxedo = Americanism).
What to Wear to a Black Tie Event
Let's get to the core of the matter – what to wear at a black-tie event.
From the dinner jacket to the patent shoes and waistcoats to cufflinks, here's everything you need for a perfect black tie outfit.
The black-tie dress code means different things for men and women.
According to Debrett's etiquette guide, a proper black-tie outfit for a man must be made of silk and black wool (barathea).
The jacket should be single-breasted or double-breasted with no vents, silk peaked lapels (or a shawl collar), and covered buttons.
1. The Black-Tie Jacket
The centerpiece of your black-tie outfits, the dinner jacket is a must-have.
In fact, together with the color of the bow tie, the silk-lapelled jacket is the central part of the black-tie dress code.
---
LAPELS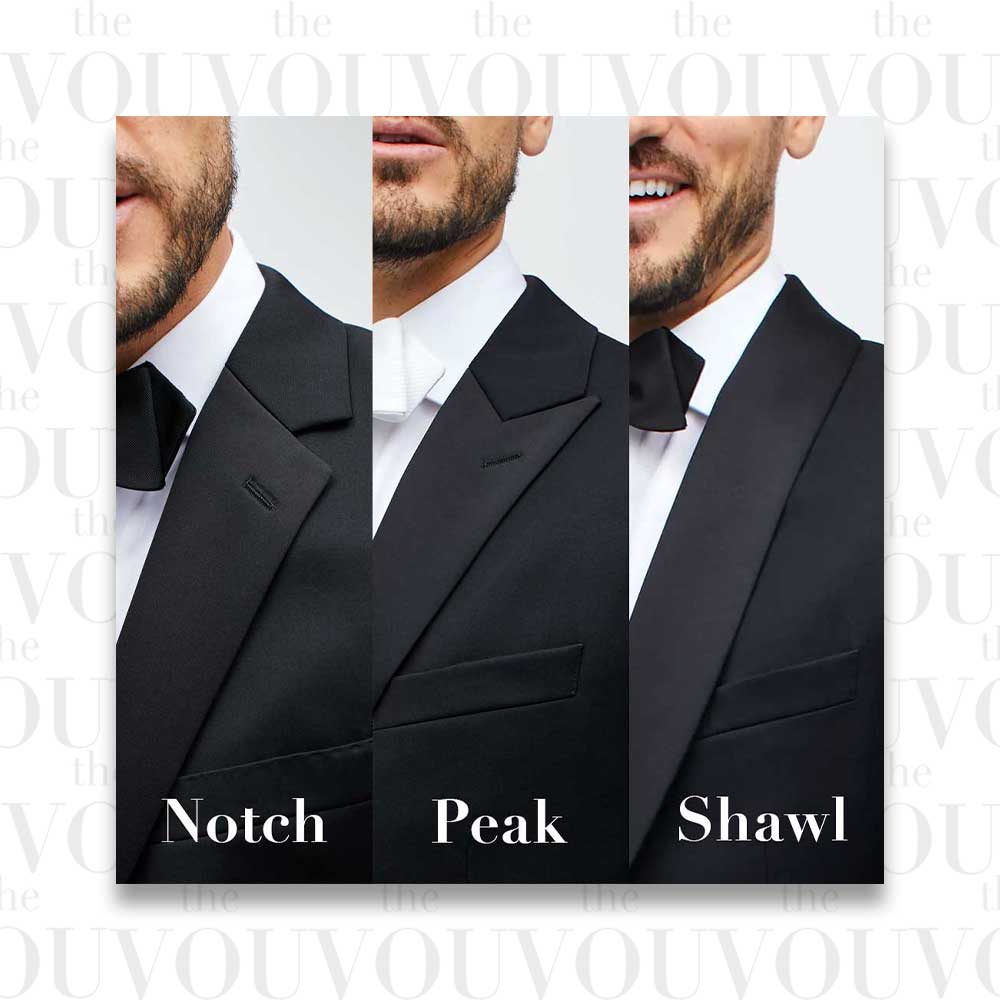 Guided by the increasing V depth, there are three different types of lapels:
Notch Lapel
Peak Lapel
Shawl Lapel
With the 'deepest' V shape on this list, the latest (shawl lapel) is commonly found on tuxedo suits.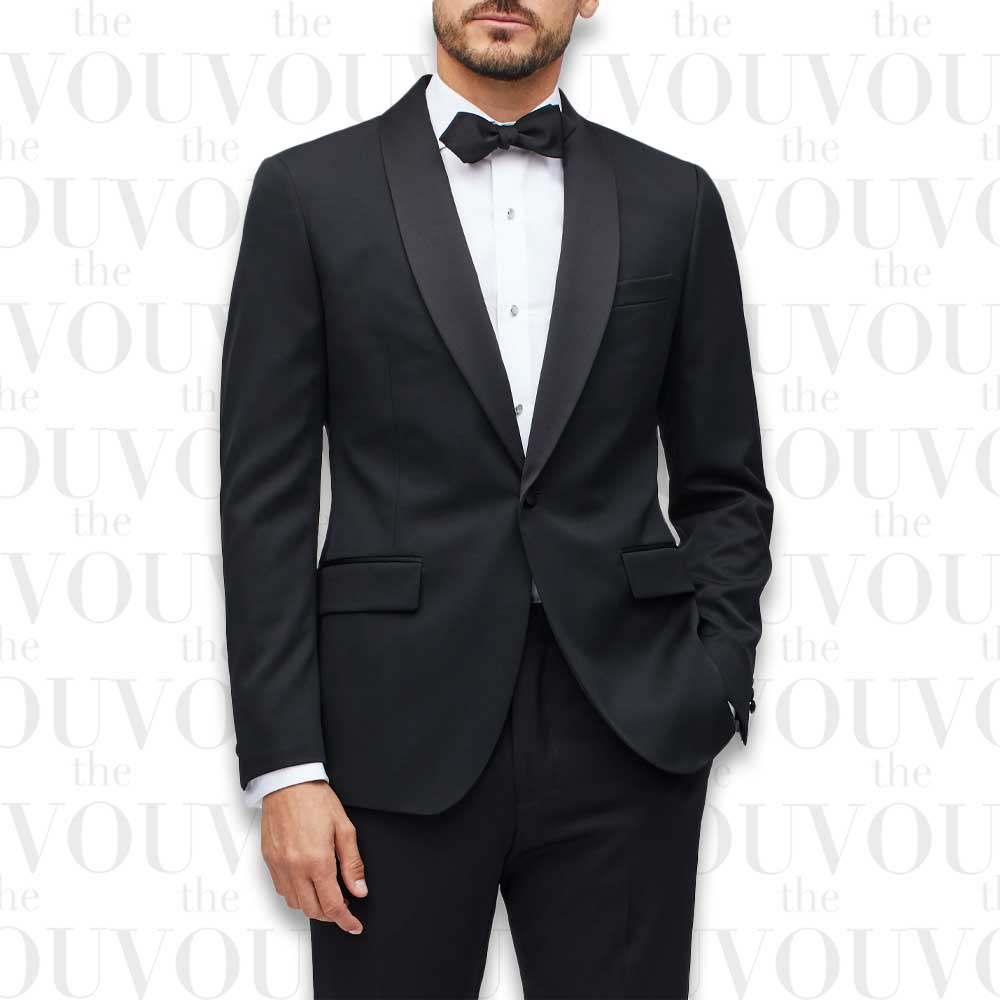 Shop on Bonobos
It is also perceived as the most traditional style and arguably the smartest of all.
---
MATERIALS
Material-wise, traditional dinner jackets are made from silk.
However;
"Wool barathea is equally fine today. Velvet is also acceptable and even favored at times for a more relaxed look"
explains Simon Cundey, Director of Henry Poole & Co.
---
COLORS
The most accepted (and used) color at black-tie events is black.
And while white dinner jackets are sometimes worn at black-tie events, that's acceptable in hot climates, but not in countries like Britain.
While white tuxedos are tricky to match, I've seen stunning combos of off-white with black lapels and black trousers.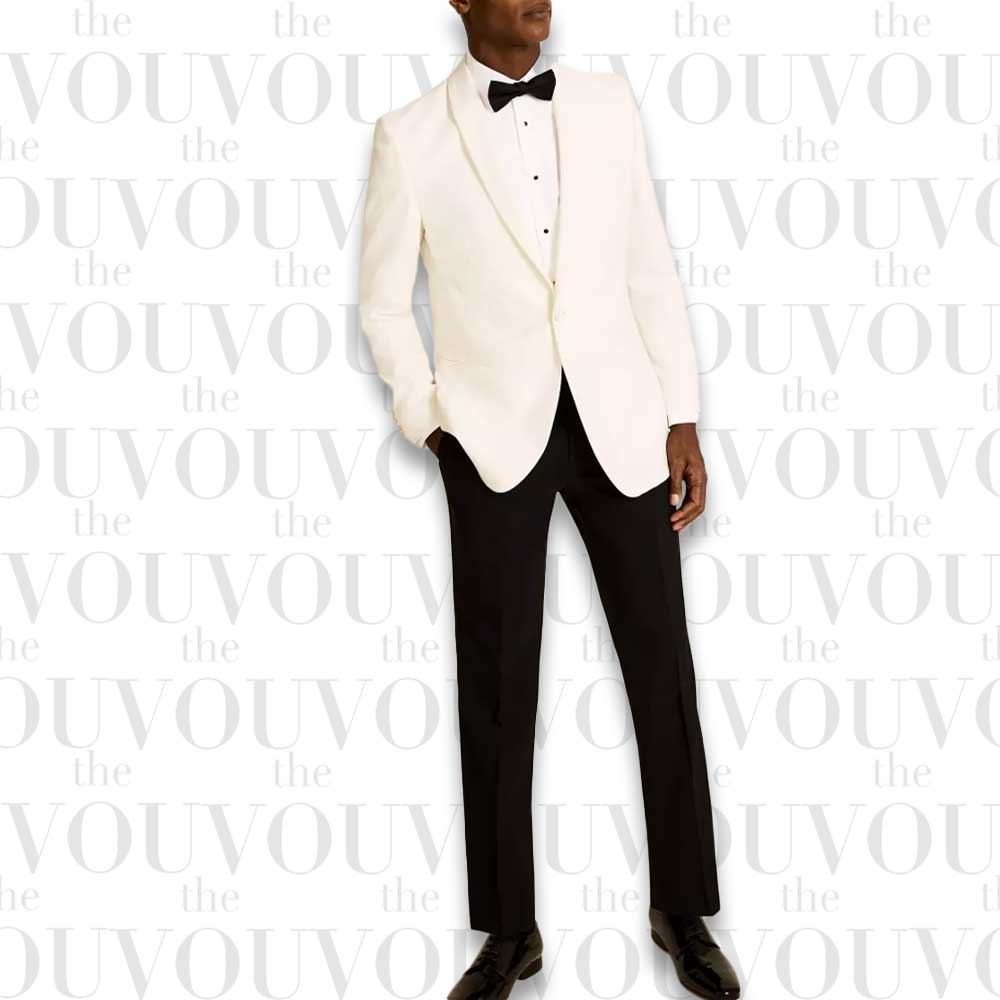 Shop on Moss Bros
If you plan on experimenting with black tie dress code colors, you might want to google Donald Glover's black-tie tuxedos, in particular the brown Gucci one!
Or, David Gandy's grey dinner jacket for good examples of "not-so-black" black tie in velvet.
And, for an edgy look, google Henry Golding veering from tradition in ostentatious style in a metallic Tom Ford jacket.
And to top it up, you can wear a double-breasted jacket as a brilliant stylistic touch.
But remember, double-breasted jackets are not something you'd see in traditional black tie dress codes.
2. Black Tie Trousers
The choice of trousers for a black-tie event is quite simple.
As long as the trousers are dark, fitted, match the jacket's cut, and don't end up legless during the event, you'll be fine.
Shop on Moss Bros
Here's one key tip from Simon Cundey, the 'lord of black-tie attire':
"The BLACK TIE trousers should have braces to give you vertical lines and the comfort needed to indulge yourself."
Whether you opt for a break at the hem is up to you; just make sure there's no more than one, please.
Oh, and avoid anything that clings, anywhere, at all costs.
3. Black Tie Dress Shirt
Black tie shirts are also known as dress shirts.
Traditional black-tie shirts are pleated, and have a winged collar, and holes for cufflinks on the sleeve.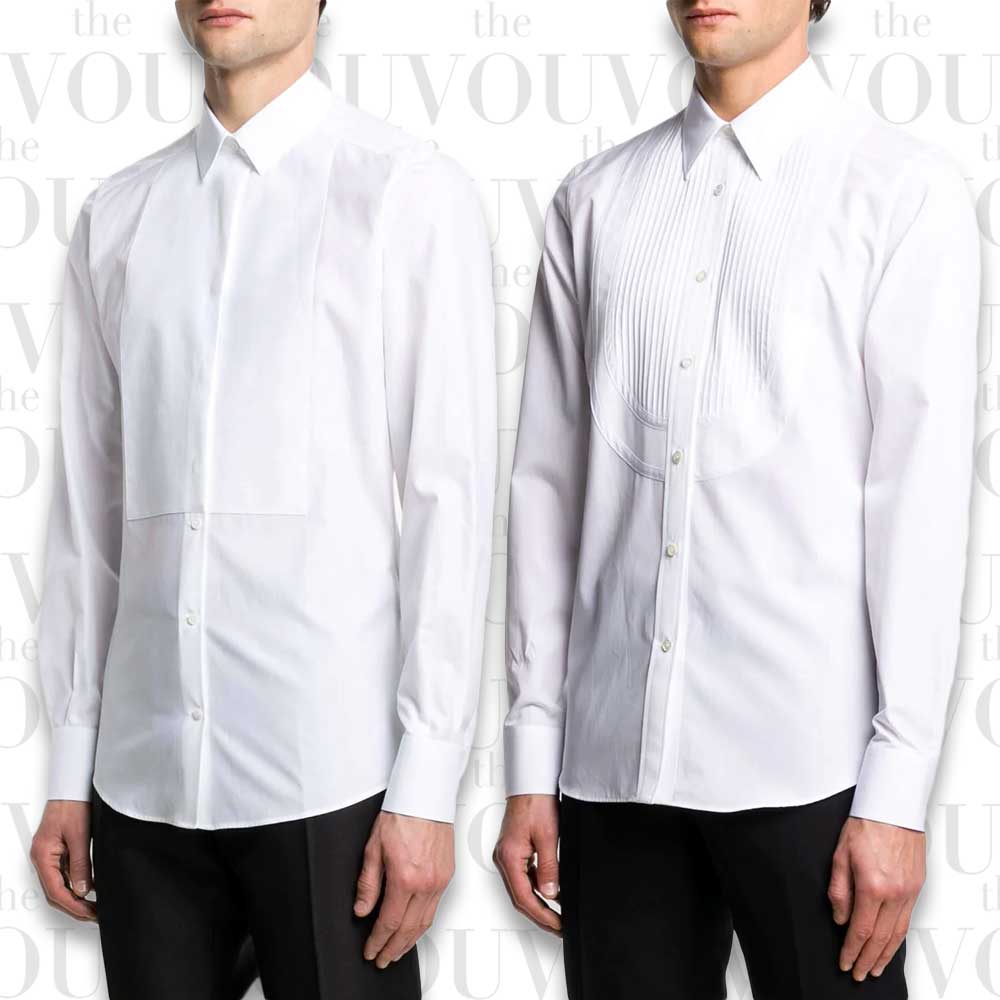 Shop on Farfetch
You can also go for cummerbund (nothing to do with Benedict Cumberbatch! – we'll get to what cummerbund is in a moment).
If so, it is advised you also wear black buttons to break up the white space.
And, if you're going to wear a waistcoat, choose white buttons over black.
4. Black Tie Shoes
Never wear your black office shoes at a black-tie event.
A black-tie dress code requires at least a step up from the smart outfit you wear every day; it is an evening, formal wear, after all.
Classic, elegant, and matching well against the suit's formality, black patent shoes are preferred for any black-tie event.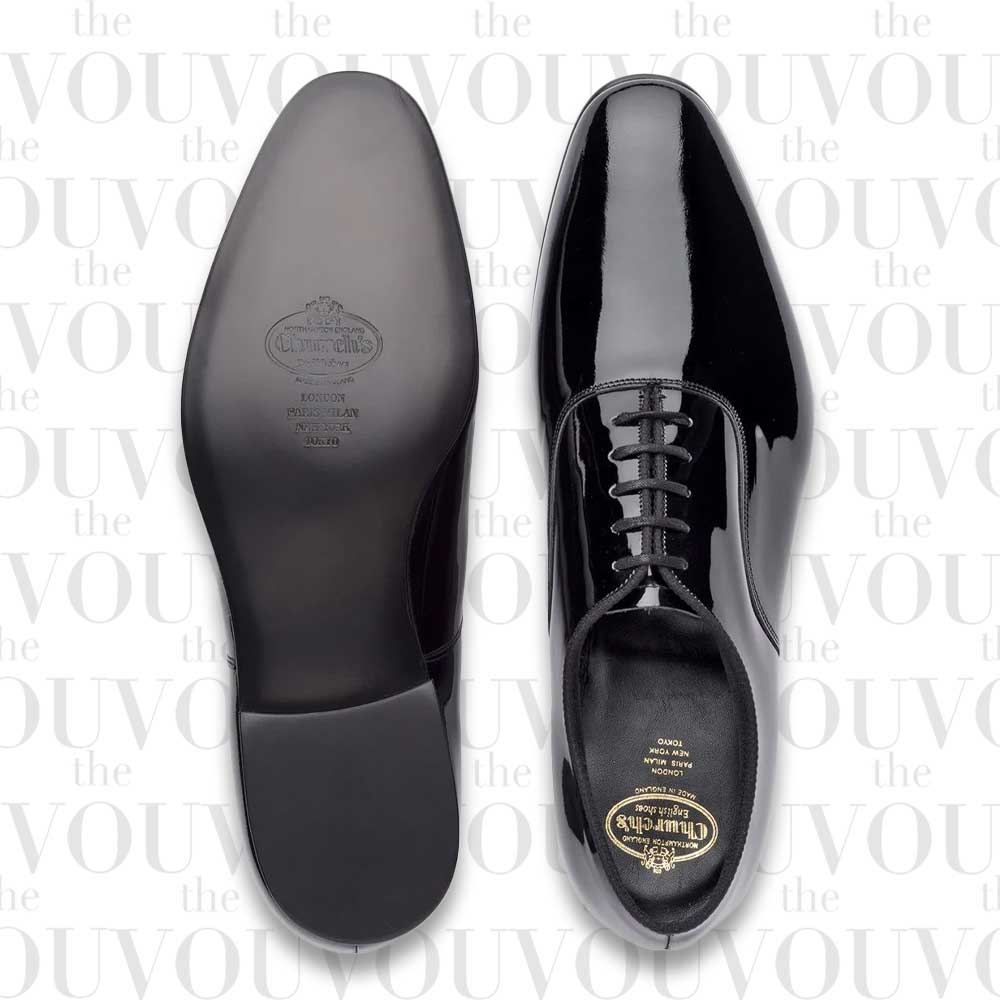 Shop on Farfetch
Black suede shoes are not advised as suede looks dusty under artificial light.
However, if you decide to wear a velvet jacket or a jacket style with a velvet collar, you must match it with velvet slippers as well.
Overall, the combo might give you that extra casual-cool factor that modern celebrities try to pull off nowadays.
5. Socks for Black Tie Occasions
When choosing your black-tie socks (or socks for any formal occasions), there are two main things to bear in mind:
Showing your leg skin is crude so wearing 'evening socks' is a must.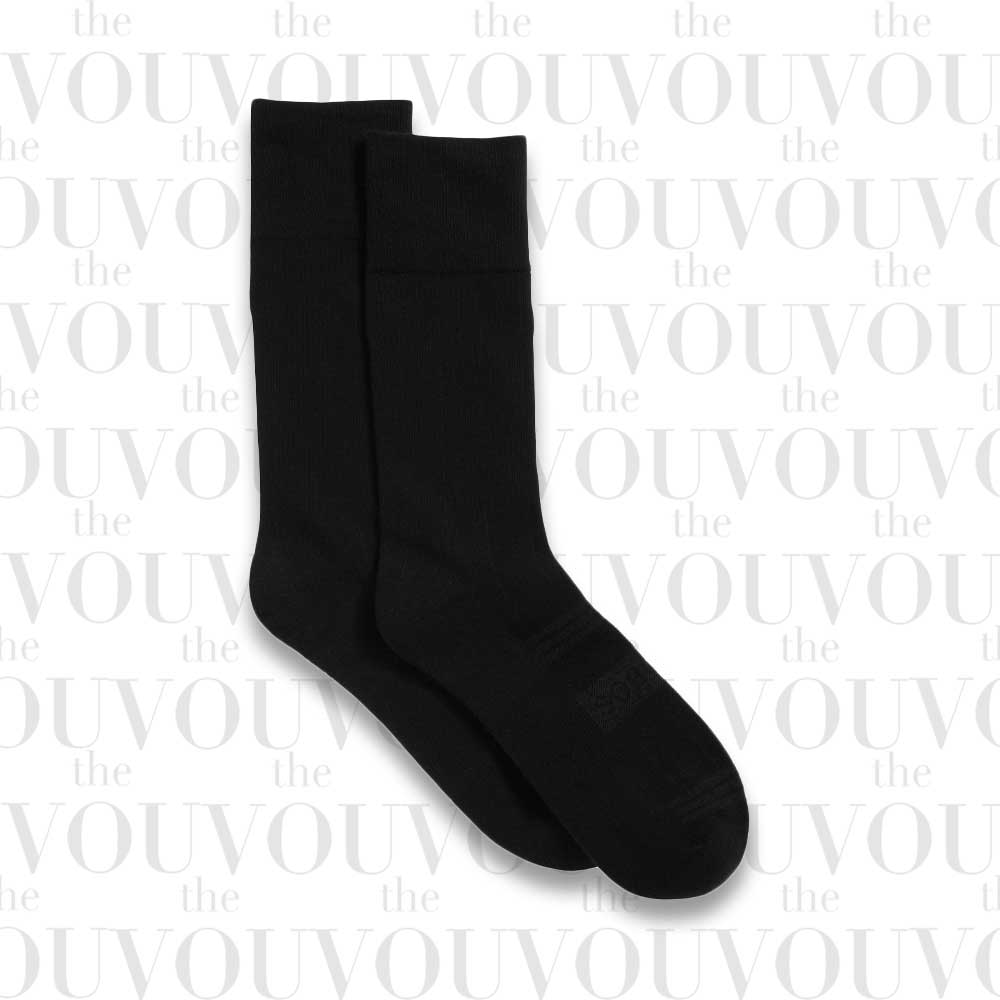 Shop on Bonobos
However, pay attention not to wear evening socks made of thin material as it'll show the skin if the trouser leg strays upwards.
Equally, if you choose a sock thicket than the standard evening style, make sure you can still fit your shoes.
Finally, unless you're a black-tie dress code expert and know how to handle the controversy of wearing colored socks, always wear black.
6. Bow Tie for a Black Tie Dress
All requirements regarding the dinner jacket choice apply to the bow tie as well.
Your bow tie should always be hand-tied, so give yourself some extra preparation time.
Shop on Moss Bros
Now, you might have seen Timothée Chalamet attending a black-tie event without wearing a tie (pic below).
Timothée's stylistic choice is also known as 'air tie," and it works only if the rest of your outfit is perfectly balanced and impeccably smart.
You also might need to look better or at least like Timothée Chalamet, but that's another story.
Bow tie color deviations are accepted as well.
However, don't do it unless it works, stylistically-wise.
What do I mean by that? Well, unless it matches with the shoes, jacket, trousers, and so on.
Above all, never wear a white bow tie at a black-tie event.
White bow ties are to be worn (as the name suggests) only at white tie events – some of the most elevated dress codes – more about this in a future article.
Black Tie vs. White Tie
White tie attire is also known as 'full evening dress,' 'full dress,' 'evening dress,' or, informally, as 'tails.'
As one of the rarest dress codes you'll ever see on an invitation, even celebrities struggle to nail the look.
Speaking on Late Night with Seth Meyers, Anna Wintour revealed that many of her 2014 Met Gala male guests barely scraped by with their white tie outfits.
Unlike black tie, there's very little room for style maneuvering, as a white tie dress code comes with strict guidelines.
Men have to ensure their outfit includes a black, single-breasted tailcoat in a black wool (barathea) or ultra-fine herringbone with silk peaked lapels, which must be worn unbuttoned.
The coat must be custom fit, shorter at the front than a morning coat, and paired with black trousers with a natural taper and two lines of braids down the outside leg.
A man's black-tie look is usually finished off with a white handkerchief in the left breast pocket and polished black shoes.
Optional pieces of black-tie attire include cummerbunds and waistcoats – though the two should never be worn together.
7. Cummerbund
The word cummerbund entered the English vocabulary in 1616 from India.
The word is a combination of the words 'kamar', which translates as waist, and 'band,' meaning strap or lacing.
As such, a modern cummerbund is a broad waist sash of various designs, including pleats.
Shop on Mr Porter
In the past, cummerbunds were worn with double-breasted tail coats but nowadays are worn with single-breasted dinner jackets (or tuxedos).
Cummerbunds are not a black-tie dress code staple, but it does show you respect the dress code and have done your research.
However:
"The most important rule of the black tie dress (forgotten nowadays) is hiding the waist, which leads to the construction of a powerful V at the chest.

Shooting up towards the shoulders, framed by silk, peaked lapels…your figure is flattered"
…argues Simon Crompton, author of 'The Finest Menswear in the World: The Craftsmanship of Luxury.'
8. Black Tie Waistcoat
According to Henry Poole, a bespoke tailor located at Savile Row in London, wearing a cummerbund is not the only solution.
A smart waistcoat keeps things sophisticated while providing the same functionality as a cummerbund.
Shop on Moss Bros
Nevertheless, you might want to wear a deeper, U-shaped waistcoat to retain an aristocratic air regarding your overall look.
9. Accessories
What black tie accessories do you need? Here are some good examples:
---
WATCH
Shop on Mr. Porter
The watch must be slim, ideally made of gold, and on a black alligator strap.
Some of the most popular black-tie watches right now are Cartier, Omega, Jaeger-LeCoultre, and Patek Philippe.
That being said, I've recently seen the advent of luxury smartwatches at black-tie events as well.
---
CUFFLINKS
Shop on Mr. Porter
Cufflinks are a must when it comes to the black-tie dress code, obviously!
However, don't go for anything too fancy; the simpler, the better.
---
RINGS
Shop on BLACKHEAD
Jewelry is a great (and subtle) way of showcasing where your allegiance lies. Not often discussed when it comes to a black-tie ensemble, rings are a must.
The rings are created by BLACKHEAD, a unisex jewelry brand founded by the LGBTQ+ advocate Black Liu, in collaboration with MISHKA, a Brooklyn-based streetwear brand.
---
POCKET SQUARE
Shop on Mr. Porter
Wearing a pocket square is optional.
But, if you do, keep it simple.
Above all, no cartoon pocket squares, please.
---
EAU DE PARFUM
Shop on Mr Porter
This is the most ignored part of a black-tie ensemble and, yet, one of the most important ones.
You must wear a good quality, ideally a custom-made, Eau de parfum.
Most, if not all, people attending a black-tie event are wealthy and able to sense an expensive (and genuine) fragrance from a cheap or, even worse, a fake one.
Don't make that mistake! A high-quality perfume it'll make a phenomenal good impression and last you for years.
However, if you're on a budget, go for a genuine eau de toilette, cologne, or even a splash of aftershave.
Subtle is the main word here, as you don't want to smell like you work in Lush.
---
HAIR
Shop on Mr. Porter
Clean cut; keep your hair off the face.
If you have long hair, try to sweep it back or put it in a ponytail.
5 Celebrities That Wear Black Tie To Perfection
Here are the top 5 celebs known for wearing black ties to perfection.
Roger Federer
Pictured above is a wild Roger Federer at ease in his natural environment, casually donning his pristine black-tie outfit; no qualms, no troubles, only smiles.
After attending so many black-tie events in his life, the tennis player is the epitome of high class, silky smoothness, and effortless style.
By sticking by the rulebook and executing them to perfection, Federer's black-tie outfits (and not only) are always immaculate.
Donald Glover
The fantastic thing about Donald Glover is that he can wear a traditional black tie and look like a greek god.
On the flip side, if he strays from the norm, he looks just as elegant.
For example, that brown velvet dinner suit you see him wearing in the pic above takes massive sartorial knowledge, professional help, and of course, charisma to pull it off.
Timothée Chalamet
The art of black tie, black shirt, black blazer, black trousers, black shoes, all-black.
When unsure, take the color signifier in the dress code excessively literally.
Although Timothée's choice of black-tie outfits is unconventional, to say at least, his dressing sense is very trendy and fashionable.
James Corden
The silvery-white sheen of Corden's jacket here is a 50/50 split of attention-grabbing and suave.
Corden proves you don't need to have the metabolism of a rake nor a Hollywood personal trainer to give you incredible style when attending a black-tie event.
David Oyelowo
If you've seen a sharper white dinner jacket, please let us know. Genuinely!
I love the black peak lapel detail as it brings a subtle consistency to a bold black-tie jacket choice.
The 43-year-old actor, most famous for his role in Selma as Martin Luther King, matches it with a patent leather slipper.
James Bond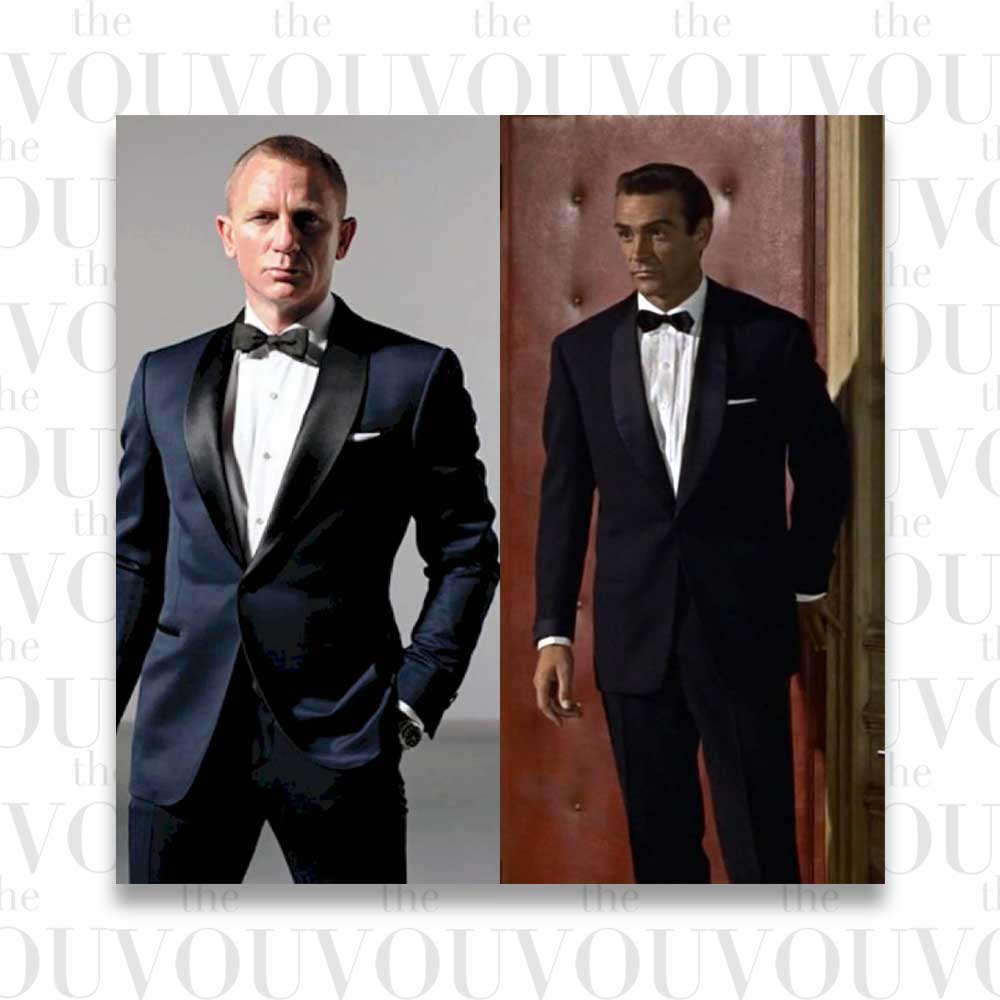 Alright, a fictional character, and yet, the actors playing the special agent have armies of black-tie experts dressing them up, so there's a lot to learn here.
To me, the best-dressed James Bond was Sean Connery in Dr. No in his 19th-century smoking jacket.
Wearing a black dickie bow, shawl lapel jacket in midnight blue, and a midnight blue satin detailing, Sean Connery looked out of this world.
And after almost three decades of Bond films, it looks like the directors are taking it back to the original style.
From the 'No Time To Die' poster, we see the return of the midnight blue shawl lapel dinner jacket but with pronounced stitching this time.
It's a vintage black tie. It's a vintage Bond.
Black Tie Etiquette Explained
There are a few black-tie etiquette elements that you should be aware of:
For example, never refer to your black-tie jacket as a DJ – (short for dinner jacket).
And please don't make jokes about your dinner jacket having an excellent musical taste.
Remember that it is a formal event, and a certain amount of formal behavior is required.
Don't get drunk, stretch over the table, shout expletives, or throw food on the floor just because you're wearing a black-tie outfit. Don't be arrogant; smile and be kind.
At the same time, Sathnam Sanghera from the Times argues that:
"The worst type [at a black tie event] is the guy who takes it all too seriously"
Black Tie Dress Code Around the World
While the black tie dress code epitomizes formality, there are dressing variations worldwide based on weather, culture, etc.
Cultures worldwide interpret black-tie codes differently, depending on their culture, weather, and more.
Black Tie in America, the UK, and Europe
The classic black-tie dress code is the most prevalent dress code at dinner events in the UK, US, Canada, and Europe.
For men:
Dinner jacket with matching trousers
Pleated white shirt or a white evening shirt
Black socks (long)
Black formal shoes
Bow Tie
Cufflinks
Cummerbund or Waistcoat (optional)
For Women:
Full or knee-length dress, but no shorter
Costume jewelry or simple bracelets (nothing too bling)
A pantsuit that is not form-fitting
Evening bag
(The dress does not necessarily have to be black unless the invite states explicitly so.)
Black Tie in Asia
For men: Men in Asia wear a black tuxedo with a bowtie.
The color of the jacket and bowtie should be black, as the name suggests.
However, one can experiment with colors as long as it is done tastefully.
For women: Ladies must wear floor-length dresses or skirts.
You can show some flesh with a high slit or a little décolletage as long as you keep it classy.
In Japan, ladies should wear a bolero or a shawl over sleeveless dresses to cover their shoulders – culturally seen as a sign of respect.
Black Tie in Africa
Compared to the traditional views of the UK, African black-tie outfits often encapsulate prints, especially at notable events.
For men: Men can wear black suits and add African print bowties or pocket squares that match their partner's dress or put on a whole matching jacket.
For women: African ladies often experiment with different prints and colors, but you'll mostly find Ankara (batik-inspired wax-print) dresses.
Accessories range from classy headgear to chunky beads and bracelets, mostly resembling traditional dresses.
The fabrics and styles may differ here and there, but the formality it commands still exists.
Also, back in the day, a black tie was to be worn strictly after 6 pm.
However, nowadays, many afternoon events require black-tie attire.
Conclusion
I hope this black-tie dress guide has provided you with the much-needed historical background on why we wear the way we wear black ties.
Also, by now, you should have the basics of what is traditionally allowed and not on this strict dress code.
You've learned what to look for in a tuxedo, what shirt to wear, how to choose your bow tie, and many other black-tie rules you need to know.
Finally, regardless of your choice – a classic style black-tie outfit or a more modern and relaxed one – just remember to have fun.
Weekly Newsletter
Keep up with the latest in fashion, beauty and style!
Now it's your turn…
Which one of these black tie dress code tips are you going to try next?
Is there anything 'black tie' dressing code-related you think I should add to this article? Please let me know.
Are there any other black-tie outfits (or celebs wearing a black tie) you feel we should add to this article?
Comments below, please!
With an AA from the Fashion Institute of Design & Merchandising in Los Angeles and over five years of experience in the fashion industry, Susan Kim is the founder of Sum+Style Co. – a Seattle-based personal styling company turned online marketplace focused on innovative K-Fashion (Korean Fashion) styles. Kim's expertise in men's and women's styling for the most demanding occasions has her editorial pieces covered by top fashion and style magazines worldwide.