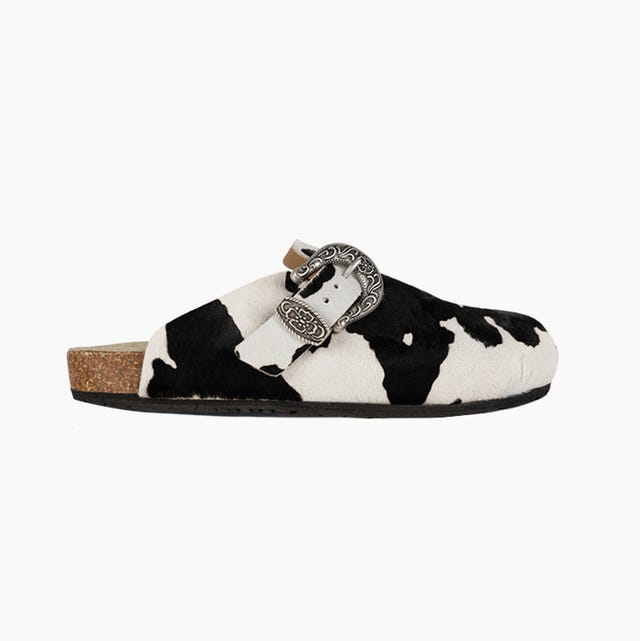 Courtesy
We could wax on and on about the importance of friendship and the value of sisterhood, but we don't want to bore you. Chances are you already have firsthand knowledge of the power of a good friend. Without your bestie, who would tell you the truth about that outfit? Who would egg you on to order another round of espresso martinis? Who would send you memes that are just a little too real to repost? She's simultaneously the best and worst influence in your life, your closest confidante, and the honorary daughter your family likes better.
All jokes aside, the Sex and the City ladies were onto something when Charlotte uttered the iconic words, "Maybe we can be each other's soul mates." Life just wouldn't be the same without your bestie. So, in the spirit of being the best possible friend, let's all commit to expressing gratitude for our friends a little more with some best friend Christmas gifts, shall we? And they'll be just as good for other special occasions like birthdays and milestones, obviously.
Whether it's an affordable, gift from Amazon, a handwritten card, an experiential gift or a high-end splurge for your most elegant gal, there's no shortage of ways to spoil your BFF with a token of your appreciation. Below, find the 50 best gifts for women almost as beautiful, interesting, and unique as your best pal. Almost.
Advertisement – Continue Reading Below
An It Girl shoe for the main character of your crew.
Go-To Earrings
Huggie Hoop Earrings in 14K Gold
Add to her ear adornments with quality gold huggies that will stand the test of time—just like your friendship.
Barbiecore Bather
Blaise One Piece Bikini
Every girls' trip starts with Riot Swim.
Perfume Sampler
Fragrance Library
Every time you see her, you ask her what fragrance she's wearing. Now, it's your turn to put her onto a new scent—one that smells delicious, feels expensive, and lasts long.
Subtle Stone(r)ware
Glass Tanjun Pipe
A sculpture or a pipe? No one will know the difference.
Mixologist Must-Have
Kiven Bar Cart
A great place to store all those empty bottles of liquor.
Shot O'Clock
Cantinero Wood 10-Piece Shot Glass Serving Set
To every friend group's resident tequila super-fan: You keep us young at heart.
Happy Feet
Customizable Name Shoe Charm
She loves shoes, and she loves jewelry, so why not jewelry for her shoes? For a truly one-of-a-kind gift, pick up a personalized beaded chain to adorn her favorites pair of kicks, whether it's her AF1s, Dr. Martens, or yes, even Crocs (these are available in jibbitz form!).
Functional Fashion
Whitney High Rise Leggings
All the hotties wear Gymshark. I don't make the rules.
On the Side
Ranch Dressing Ornament
We all have that one person in our circle who literally won't eat anything without ranch. IYKYK.
Techy Upgrade
Chromecast with Google TV
Now she has no excuse for being behind on shows.
Top Notch Handbag
Blue Jaguar Zaza Grande
"I have too many bags,"said no one ever.
Out of Office
Wander Ware Passport Wallet
A good travel buddy is invaluable. If your best friend is your favorite person to see the world with and shares your wanderlust, consider yourself blessed.
Snuggly Slippers
Disquette
She's into low-rise bootcut jeans and Von Dutch. Make her little Y2K heart happy with platform UGG slippers.
Party Pajamas
Feather Pajama Set for Women
A stunning feathered co-ord that's just as extra as she is.
Fancy Fragrance
Do Son Eau de Toilette
A fragrance as flirty and bright as your partner in crime.
Star-Powered Shades
Bolt Sunglasses
She might geek out when you gift her these sunnies from her favorite Peloton instructor, Kendall Toole. Also worth geeking out over? The fact that these frames biodegrade and were developed by NASA.
Flirty Rollerskates
Quad Skate
You know she wants to make her Malibu skater girl dreams a reality. Give her the boost she needs by showing you believe in her. (Maybe throw in a pair of kneepads and a helmet, too.)
Love Note on a Phone Case
Unsent Project Favorite Person Phone Case
She'll appreciate this endearing message every time her phone buzzes or dings.
Extra Charge
Extra Long Charging Cord
Nothing breaks her heart more than a dead phone.
Book Club Pick
Transcendent Kingdom
Considering you'll definitely want to borrow this after she's done, this is practically a gift for you, too.
Festive Candle
Holiday Stroll Candle
For the friend who's like, obnoxiously obsessed with Christmas… (Sorry, babe, but you know it's true.)
Zodiac Savvy
Seeing Stars
You love her, even if she is a Capricorn. Get your bestie a book full of info and wisdom regarding how her astrological sign influences her.
Strong & Sexy
Adjustable Dumbbells
It's just like Saweetie and Doja Cat said, I think that booty growin'…
At-Home Spa
Pro Facial Steamer
Dr. Dennis Gross Skincare
Warning: You might get jealous of her skin after gifting this.
Paws-itively Luxe
Black Barocco Robe
For the friend who'd rather you spoil her beloved pet.
She's more of a new Celine kind of girl.
Skin Savers
Hydro-Stars Party pack
You know it's real when can roll up to her house with your zit stickers on.
Shade That Lid
The Zulu Eyeshadow Palette
Her blending skills are unparalleled.
Wall Art Collector
Hang In There Boo Art Print by Justina Blakeney
Only you know what kind of art she'd hang on her walls.
Give your favorite heffer a pair of on-trend mules.
Grown-Up Drinkware
Waterfall Coupe Glasses, Set of 4
You two outgrew drinking Korbel in mugs years ago.
Table Book
The Rihanna Book
She's the Rihanna to your Beyoncé.
Stay Hydrated
Cotton Macrame Bottle Holder
She doesn't go anywhere without her emotional support HydroFlask.
Kitchen Gadget
Explorian Series E310 Blender
This is going to be the year she finally starts juicing.
Let's Manifest
Angel Number Hoodie
Is she super into angel numbers? She'll love this cozy, super soft hoodie.
Personalized Pendant
Zodiac Pendant
She's such a Cancer, she'll probably cry when you give her this.
Comfort Food
Signature Cookie Assortment
There's no bad time for a chocolate chip cookie. Sad? Stressed? Celebrating? This sweet gift is a reminder that your BFF should treat herself.
Organization Station
Charging Hub
The sound of her uttering, "Where's my phone?" shall never be heard again.
Sleep Tight
Cloud Comforter
Is there any better gift than the gift of good sleep? No. Plus, next time you two have a wine night that turns into a sleepover, you, too, will get to luxuriate in this deliciously comfy duvet.
Dose of Zen
Let That Sh*t Go
She could use a little peace of mind.
High Class Vase
Mondrian Vase
And just like that, bodega flowers are high art.
Friendship Bracelets
Sweet Nothing Bracelet
Get "zapped" at Catbird NYC where they'll weld a dainty gold chain right onto you and your bestie's wrists as a symbol of your never-ending bond. Or, if you can't make it IRL and prefer your arm candy with clasps, pick from their adorable online selection.
Watch Band
41mm Gold Milanese Loop
Give the gift of drip with an elevated strap for her Apple Watch. This goes with everything and is way more stylish than that rubber one she's been sporting.
Cozy Cookery
Enameled Cast Iron Dutch Oven
Maybe she'll treat you to butternut squash and chicken noodle soups if you gift her the perfect pot to cook them in. It's the perfect holiday present and one of the best hostess gifts she'll receive.
On-Trend Skincare
Kombucha + 11% AHA Exfoliation Power Toner
Someone has to test out this Kombucha toner, and it's not going to be you.
Self-Care Necessity
Lisse Luxe Hair Turban
She takes way too long to get ready. This ultra-absorbent towel should speed up at least part of her process.
Make a Wish
The 11:11 Necklace
To have a BFF who never misses an 11:11 is one thing. But to have a bestie who texts you every 11:11, that's next level.
House Plant
Money Tree Plant
Live plants are a wonderful addition to any home, but this lucky money tree, said to bring good fortune and prosperity, will be especially valuable to your ambitious bestie. Maybe money does grow on trees, after all.
Heartfelt Hobby
Personalized Jigsaw Puzzle
There's no better way to tell a puzzle lover "you complete me" than with a puzzle-ified handwritten letter.
This content is created and maintained by a third party, and imported onto this page to help users provide their email addresses. You may be able to find more information about this and similar content at piano.io
Advertisement – Continue Reading Below