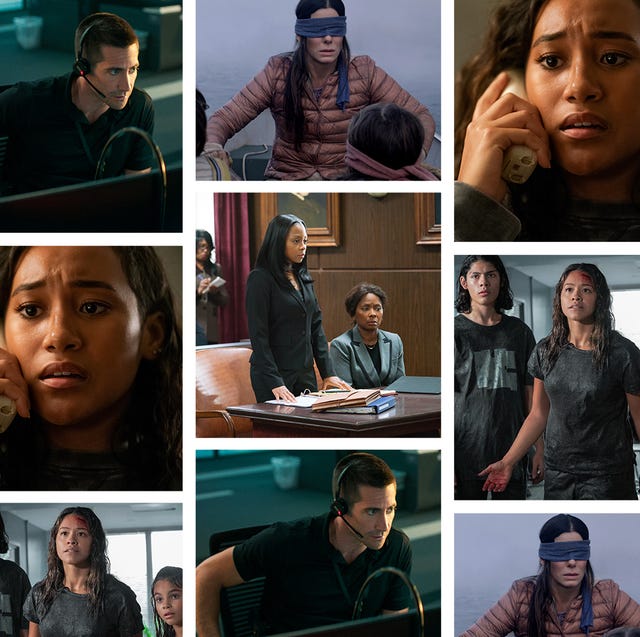 Netflix
The best movies are always the ones we become emotionally invested in, and that doesn't just mean heartwarming adventures or emotional dramas—that includes to thrillers too. Films in the genre can leave you feeling breathless, surprised, and on the edge of your seat. They're full of excitement, anxiety, jaw-dropping plot twists, and suspense. So, if you're on the hunt for an adrenaline rush, we've rounded up 30 movies that are perfect for thriller movie lovers, found right on Netflix. Grab your favorite snack, get comfortable, and prepare for a binge session like no other.
Advertisement – Continue Reading Below
The Gray Man
Led by Ryan Gosling and Ana de Armas, The Gray Man follows the CIA's former "top asset," a man named Court Gentry who is now working freelance as an every day killer. He attempts to expose company secrets, and ends up being chased as a target when his ex-colleague sends in the assassins to silence him.
Watch Now
The Guilty
Equalizer and Training Day director Antoine Fuqua does not disappoint in this plot-twisting thriller. Starring Jake Gyllenhaal, The Guilty follows a demoted police detective, Joe Baylor (Gyllenhaal), assigned to 911 operator duty. During a single morning, Baylor must try to save a caller who is in danger—but he soon discovers there is more to the story.
WATCH Now
Interceptor
Right in the middle of the Pacific Ocean sits a nuclear missile facility, and despite the safety protocols, villains have found a way to infiltrate the base. Elsa Pataky plays Captain JJ Collins, the woman in charge of the base who has to use her former military experience to stop the enemy forces from taking over and using these weapons to their own nefarious ends.
Watch Now
Operation Mincemeat
Starring Colin Firth, Operation Mincemeat is a historical thriller set during the year 1943, when much was hanging in the balance. The Allies wish to launch an all-out assault on a German fortress, but the logistics of getting around entrenched firepower look pretty complicated. Directed by John Madden, the film showcases action, suspenseful storytelling, and historical detail.
Watch Now
Spiderhead
This science fiction psychological thriller follows inmates who were experimented on with a mind-altering drug while locked up, and the man who administered the drugs, played by Chris Hemsworth. The real mystery of the film is who would do such a thing and to what purpose, but it makes the penitentiary a microcosm of the larger world and human relationships.
Watch Now
The Weekend Away
Beth, played by Leighton Meester, is heading to Croatia for a girl's weekend with her bestie, Kate. After one night out, she wakes to find Kate missing—and her friend recently revealed she's in a bad marriage. It turns out nothing about this trip is a simple fun getaway.
Watch Now
Intrusion
Intrusion is one of Netflix's newest thrillers starring Slumdog Millionaire's Freida Pinto as Meera Parsons. The film explores a story of a husband and wife who move into a smaller town, but a home invasion leaves the wife traumatized about her surroundings in her new neighborhood.
WATCH Now ON NETFLIX
Till Death
Megan Fox's comeback is in full force as she stars in the wintry survival thriller, Till Death. Fox plays Emma, who finds herself shackled to her dead husband as part of a revenge plot. Things quickly take a turn for the worse as two killers come after her to find the job.
WATCH Now ON NETFLIX
Things Heard & Seen
Things Heard & Seen stars Amanda Seyfried and is based on the critically acclaimed novel All Things Cease to Appear by Elizabeth Brundage. A woman and her family move into a quaint farmhouse, but she later discovers her husband and new home have sinister secrets.
WATCH Now ON NETFLIX
There's Someone Inside Your House
Based on the same-name horror novel by Stephanie Perkins, There's Someone Inside Your House is a teenage film that follows Makani (Sydney Park) and her high school friends as they try to identify and catch a masked killer who is exposing students' deepest secrets.
WATCH Now ON NETFLIX
Sightless
Sightless is the reason why you should still be afraid of the dark. Riverdale actress Madelaine Petsch stars as Ellen Ashland, who is blinded by a brutal attack. As she adjusts to her new life, she grows suspicious of her surroundings and the people she encounters.
WATCH NOW ON NETFLIX
Synchronic
Synchronic stars Jamie Dornan and Anthony Mackie as two New Orleans paramedics who begin to question their reality as they encounter bizarre deaths. The deaths are linked to a new drug that challenges the laws of time. When the drug crisis starts hitting close to home, what will the two have to sacrifice to save the people they love?
WATCH ON NETFLIX
Bird Box
The 2018 thriller, Bird Box, completely took over Netflix when it was released. Totaling about 89 million views, it became one of the streamer's most-watched original movies. The film stars Hollywood legend Sandra Bullock as a mother who desperately tries to bring her two children to safety in a post-apocalyptic world. Sarah Paulson, John Malkovich, Trevante Rhodes, and Machine Gun Kelly also appear in the film.
WATCH NOW ON NETFLIX
A Fall From Grace
Brace yourself for plot twists on top of plot twists in Tyler Perry's A Fall From Grace, a suspenseful drama where a gentle, law-abiding citizen, Grace (Crystal R. Fox), confesses to killing her husband, Shannon (Mehcad Brooks). But a skeptical lawyer assigned to the case sets out to uncover what really happened. Phylicia Rashad and Cicely Tyson star in the suspenseful thriller as well.
WATCH NOW ON NETFLIX
Fatal Affair
Fatal Affair is a psychological thriller that stars Best Man actress Nia Long as Ellie and Love & Basketball actor Omar Epps as her old friend David. The two's brief encounter turns terrifying when their reconciliation transforms into an obsession that jeopardizes everyone Ellie loves.
WATCH NOW ON NETFLIX
Hush
Hush is a heart-pounding film starring Kate Seigel as Maddie Young, a deaf author who lives in isolation. One day her world crumbles when a masked killer appears in her window. With no one around for miles, she must play a horrific game of cat and mouse to survive. Has the masked killer underestimated Maddie or will she become easy prey?
WATCH ON NETFLIX
Self/less
Deadpool's Ryan Reynolds stars in the 2015 critically acclaimed thriller Self/less. The film follows a wealthy man dying of cancer as he searches for ways to achieve immortality. He undergoes a medical procedure where he transfers his consciousness into the body of a healthy young man. But he quickly learns that immortality comes with consequences as he discovers the origin story of his new body and the twisted purpose of the organization behind it—and they'll kill to make her their secret is undiscovered.
WATCH NOW ON NETFLIX
Secret Obsession
Disney star Brenda Song leads as Jennifer, who is currently recovering from an accident that made her lose her memory. As her memory returns, she realizes she's in danger as she tries to return to the normal life she can't remember.
WATCH NOW ON NETFLIX
Takers
If high-stakes money heists are your thing, make Takers your next watch. The stellar cast includes the late Paul Walker, Idris Elba, Zoe Saldana, Michael Ealy, Michael Christensen, and Matt Dillon. A former associate persuades a group of professional bank robbers into one last job that could become one of their biggest heists. As the team gears up to rob an armored car, a detective and his partner plan to stop the group's crime. Will the group succeed, or will they lose everything?
WATCH ON NETFLIX
AVA
Do we need more red-headed assassins? Duh. Especially if one is played by Jessica Chastain. In Ava, the Oscar-nominated actress stars in the titular role—a kick-ass trained killer who works for the black ops, specializing in high-priority kills. When a hit goes wrong, she is forced to battle to survive and protect her estranged family.
WATCH ON NETFLIX
The Girl on the Train
Based on the bestselling novel of the same name by Paula Hawkins, and a remake of the 2016 film starring Emily Blunt, 2021's The Girl on the Train stars Parineeti Chopra as divorcée Mira Kapoor. She fixates on a seemingly perfect couple who live in a house that her train passes on her daily commute—until she witnesses something shocking that sends her straight into a murder case.
WATCH NOW ON NETFLIX
Deadly Illusions
Sex and the City star Kristen Davis stars in this twisted and steamy thriller. The story follows a bestselling novelist who hires a young nanny to watch her children. As the author focuses on completing her next big work, the line between reality and the story she is writing gets crossed.
WATCH NOW ON NETFLIX
Velvet Buzzsaw
Starring Jake Gyllenhaal, Velvet Buzzsaw takes place in the contemporary art scene in Los Angeles. It follows a feared critic, an icy gallery owner, and a determined assistant who gather a deceased artist's collection of paintings. Little do they know, the pieces have a life of their own.
WATCH ON NETFLIX
Freaks
Starring young actress Lexy Kolker, Freaks portrays a seven-year-old girl who lives hidden away from the world by her eccentric father (Emile Hirsch). The young girl uncovers her mysterious truths when she starts to explore the outside.
WATCH NOW ON NETFLIX
Dangerous Lies
Riverdale actress Camila Mendes stars in Dangerous Lies as a broke caregiver who unexpectedly inherits her patient's estate—along with dark secrets that entangle her into a web of deception and murder. She must question everyone around her, even the people she loves, to survive.
WATCH NOW ON NETFLIX
Level 16
For all the Handmaid's Tale lovers, Level 16 is a perfect dark thriller for you. In a boarding school that teaches girls the importance of passivity, two young girls uncover the truth behind their training and become determined to escape.
WATCH NOW ON NETFLIX
In the Shadow of the Moon
In the Shadow of the Moon is a 2019 American psychological thriller starring The Fugitive actor Boyd Holbrook. The film takes place in 1988, when a Philadelphia police officer, Thomas Lockhart, becomes obsessed with becoming a police officer. He begins to track a serial killer that resurfaces every nine years. When the crimes do not defy scientific explanation, Lockhart's obsession threatens his sanity, family, and job.
WATCH NOW ON NETFLIX
Stowaway
Stowaway takes you on an adventure as a three-person crew sets off to explore mars, starring Anna Kendrick, Toni Collette, and Daniel Dae Kim. The crew faces a challenging choice when an unplanned passenger jeopardizes everyone on the ship.
WATCH NOW ON NETFLIX
Nocturnal Animals
Nocturnal Animals stars Amy Adams as Susan Morrow, a wealthy gallerist, and Jake Gyllenhaal as Tony Hastings, author and Susan's ex-husband. This romantic thriller explores the couple finding out each other's secrets: Susan reads her ex-husband's manuscript that makes her confront her dark truths.
WATCH NOW ON NETFLIX
Oxygen
Oxygen will have you holding your breath as Liz (Mélanie Laurent) fights to survive after waking up in a cryogenic unit. She must remember who she is before she runs out of oxygen. She has no escape, no memory, and only 90 minutes to live. Will Liz escape in time?
WATCH NOW ON NETFLIX
I Care a Lot
If you are looking for a jaw-dropping, suspenseful thriller that will leave you speechless, I Care a Lot is the one. The film follows a crooked legal guardian who defrauds her client for personal gain and traps them under her horrific care. But, a woman she tries to cross leads to major consequences. The film stars Gone Girl actress Rosamund Pike and Game of Thrones actor Peter Dinklage.
WATCH NOW ON NETFLIX
Awake
Jane The Virgin actress Gina Rodriguez leads the suspenseful thriller Awake, which is set after a global event wipes out society's ability to sleep. Rodriguez stars as a troubled ex-soldier who fights to save her family as the world spirals out of control.
Watch Now on Netflix
Starr Savoy
Starr Savoy is a fellow at ELLE.com, where she writes about celebrity, culture, beauty, and fashion.
This content is created and maintained by a third party, and imported onto this page to help users provide their email addresses. You may be able to find more information about this and similar content at piano.io
Advertisement – Continue Reading Below