Labor Day is approaching, which means it's the perfect time to sit back, relax, and enjoy the long weekend after a week of hard work. Whether that involves gathering friends for a backyard party, sharing a dinner for two with your S.O., or treating yourself to some solo time, it's best to come prepared with Labor Day desserts that will satisfy your sweet tooth. We've rounded up 27 of our best Labor Day desserts to get you ready for a celebratory weekend—however you slice it.
I'm a little ashamed to admit that I haven't always understood the meaning of Labor Day. Maybe it's a generational thing, maybe it's an experience thing—but growing up, Labor Day meant a day off of school and the end of white pants. It wasn't until I had my first job that I began to understand what Labor Day actually represents. As I'm sure you know (though I'm going to share anyway), Labor Day commemorates American workers' contributions to improving our country through innovation, application, and good 'ol hard work, which is definitely something worth celebrating.
Feature image by Suruchi Avasthi.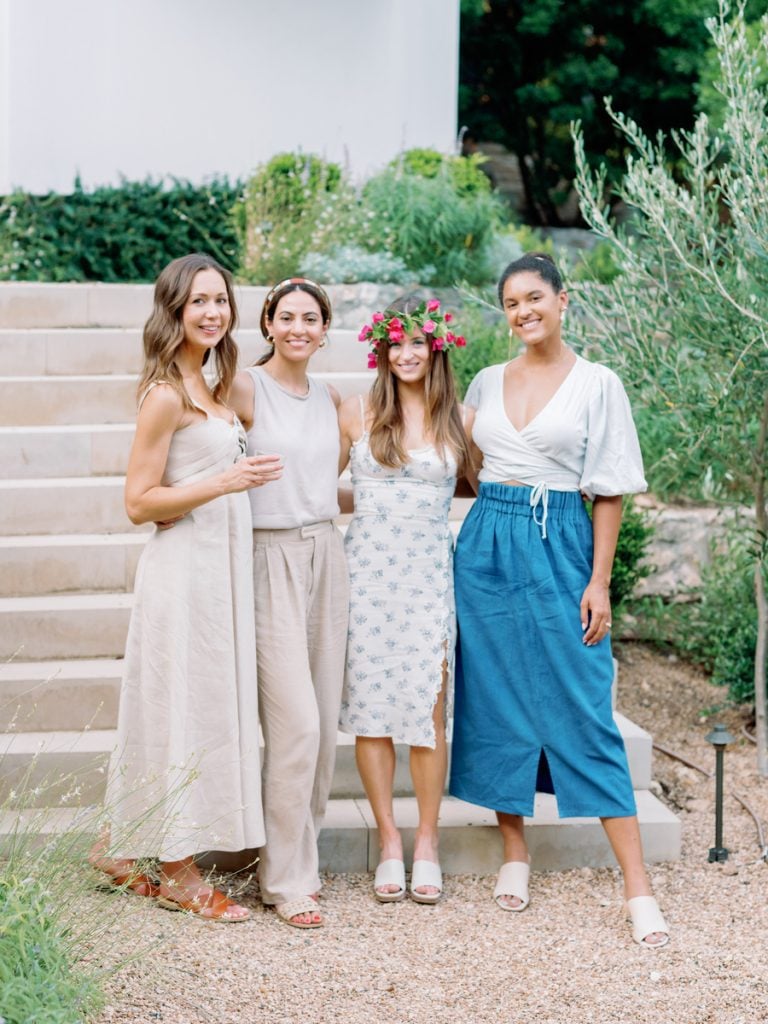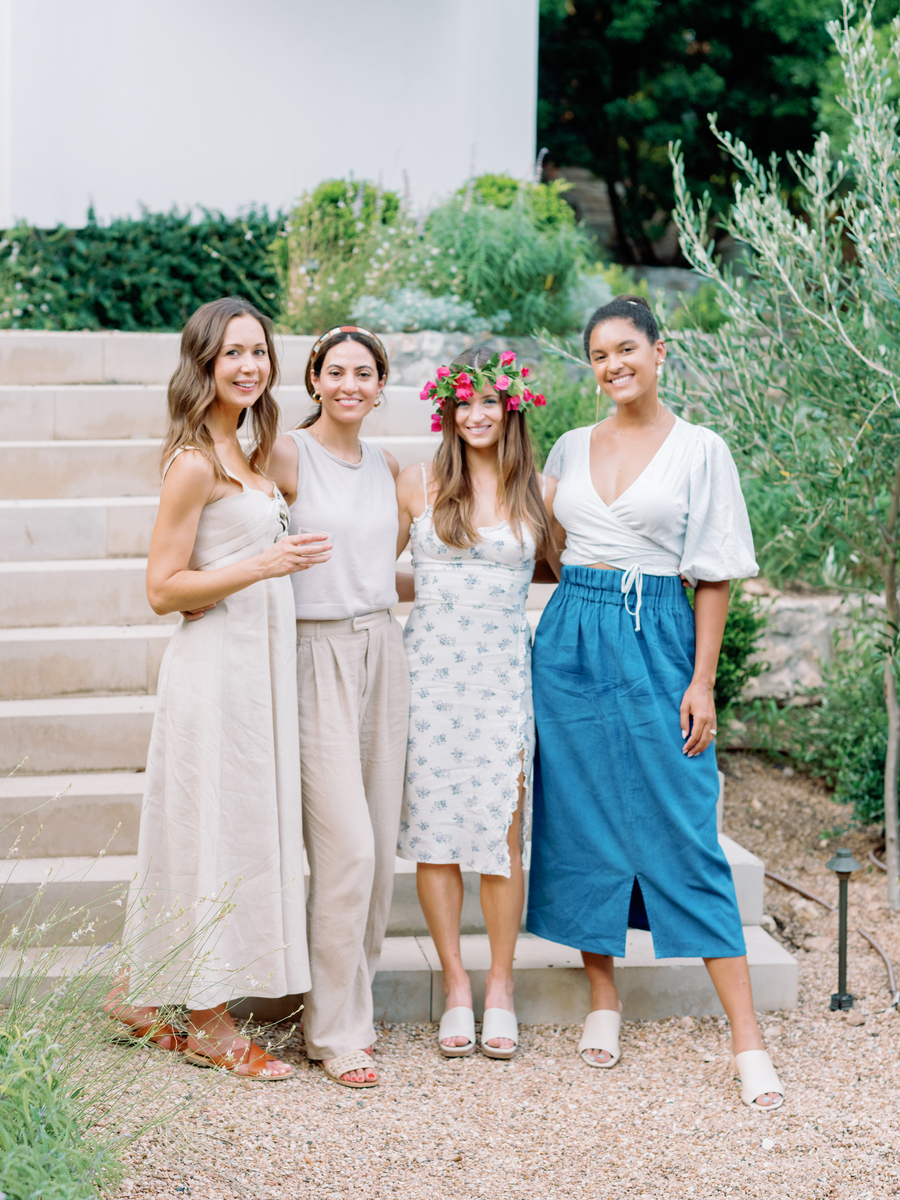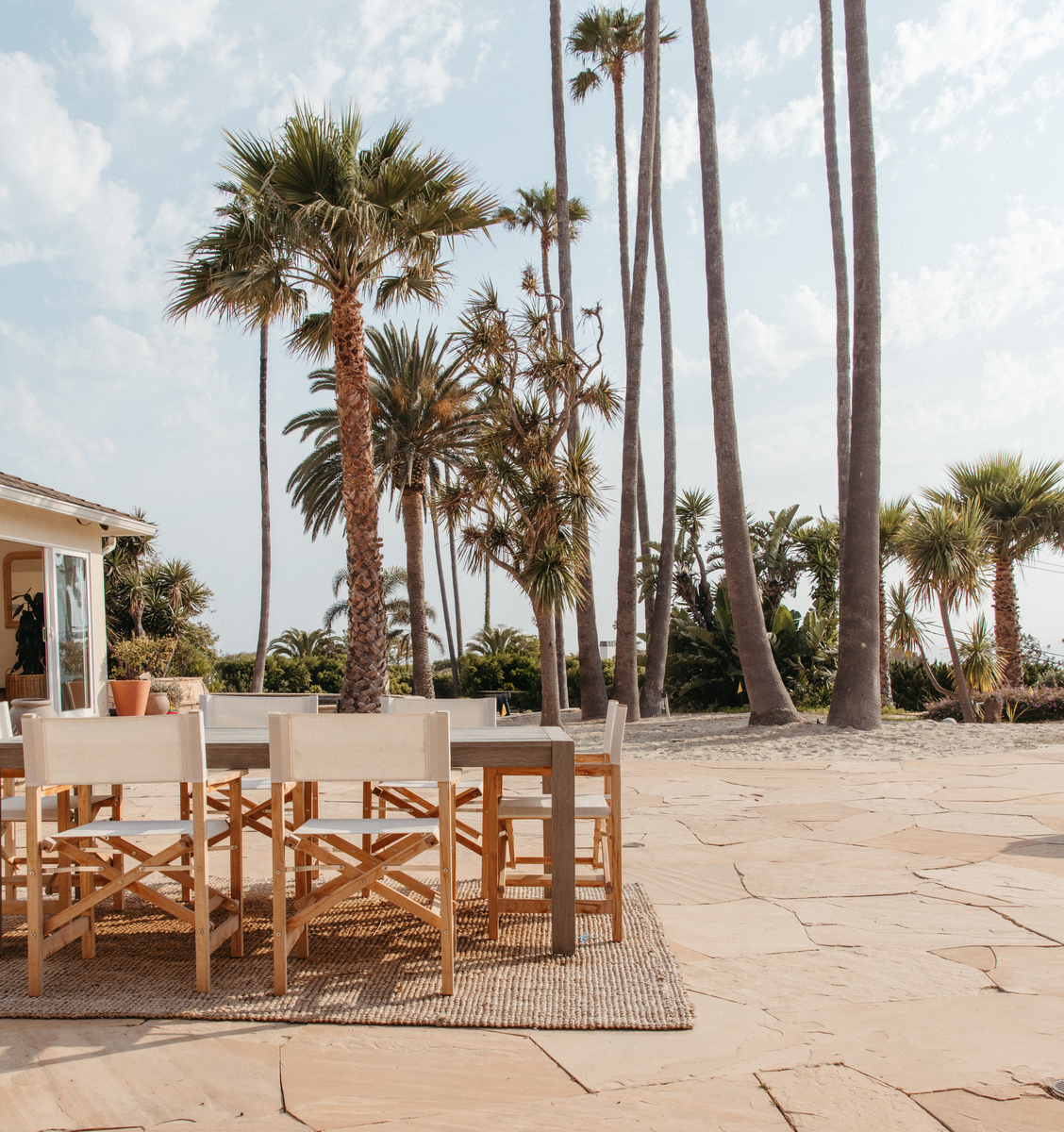 Subscribe
Design obsessed?
Sign up to get monthly #ZumaBeachHouse updates delivered straight to your inbox.
Thanks for Signing Up!
Oops!
Looks like you're already signed up or your email address is invalid.
Oops!
Looks like you unsubscribed before click here to resubscribe.
On the other hand, Labor Day represents the closing of summer and the reestablishment of a more demanding day-to-day. And while it may be bittersweet for those of us who are lucky enough to enjoy the dog days of summer, there's beauty in the ability to reflect on this chapter. It's the perfect time to say goodbye to those sweet summer days and kick off a successful working season.
However you choose to spend your Labor Day weekend, I hope (for your sake) that it includes some devilishly delicious Labor Day desserts. Ahead, you'll find a mix of easy-to-make sweets to recipes that are more involved (but totally worth the extra elbow grease). Whatever your Labor Day weekend vibe, we've got you covered.
27 Labor Day Desserts to Make Your Long Weekend Even Sweeter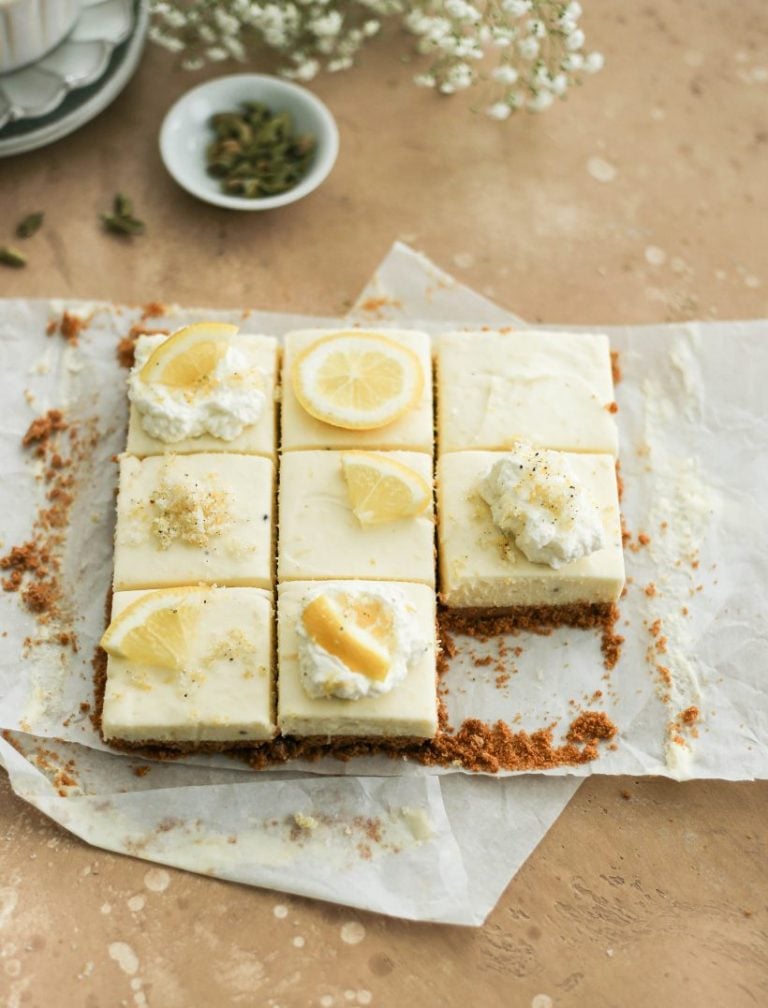 Why We Love It: This recipe is special because it takes a few simple ingredients and transforms them into something entirely different. White chocolate helps sweeten and bind the base together to create a smooth texture that's so satisfying to sink your teeth into, while lemon brightens up that flavor profile. Match that with a craveable cookie crust and you've got a dessert for the books.
Hero Ingredient: Cardamom wins the prize for the flavor it brings to these bars. It's warm, floral, and a little minty in the best way. As our food editor Suruchi Avasthi shares, grinding your own cardamom is "truly the best way to experience its spicy-sweet joy."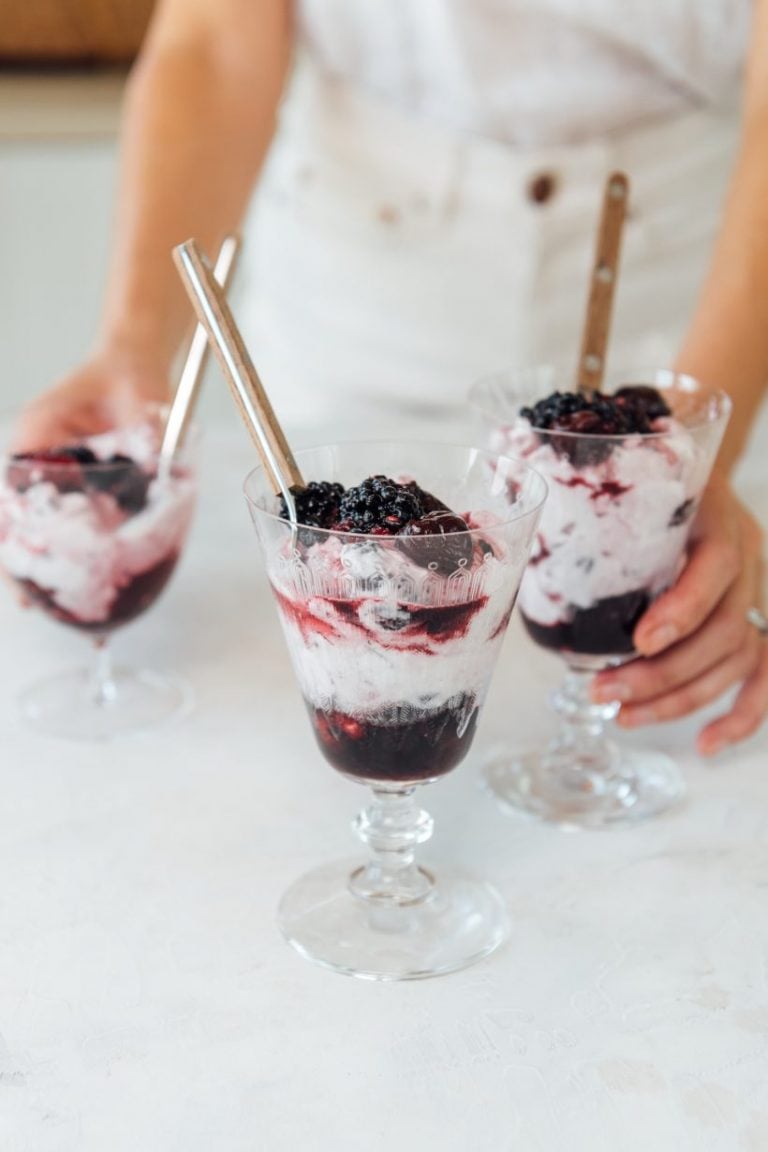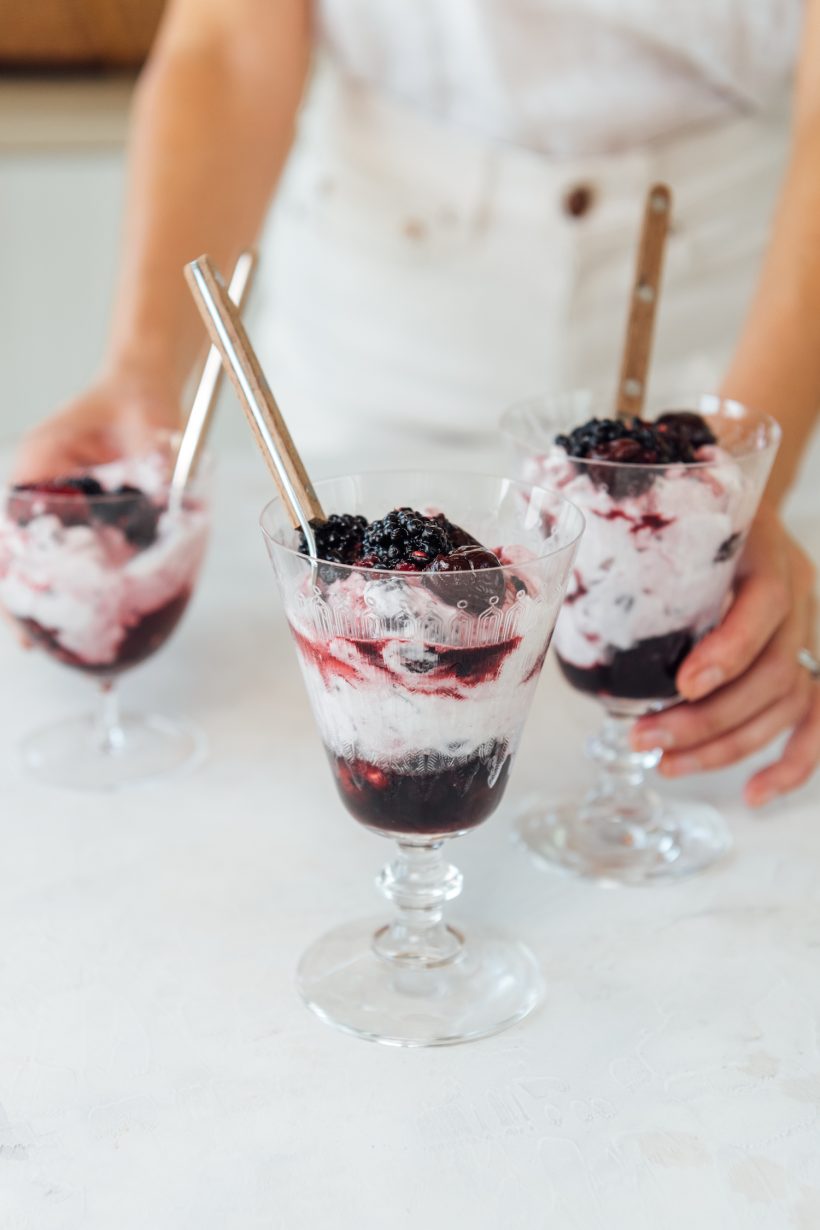 Why We Love It: Another simple-yet-satisfying recipe, this berry fool might just be the answer to your dessert queries. Macerated berries meet whipped cream to create a dinner party dessert that's blissfully easy on the host. One of the best parts? You can prep this beforehand and chill it in the fridge until you're ready to serve. Labor Day desserts made easy.
Hero Ingredient: A healthy dose of lemon zest introduces just the right amount of acidity to keep things light and interesting.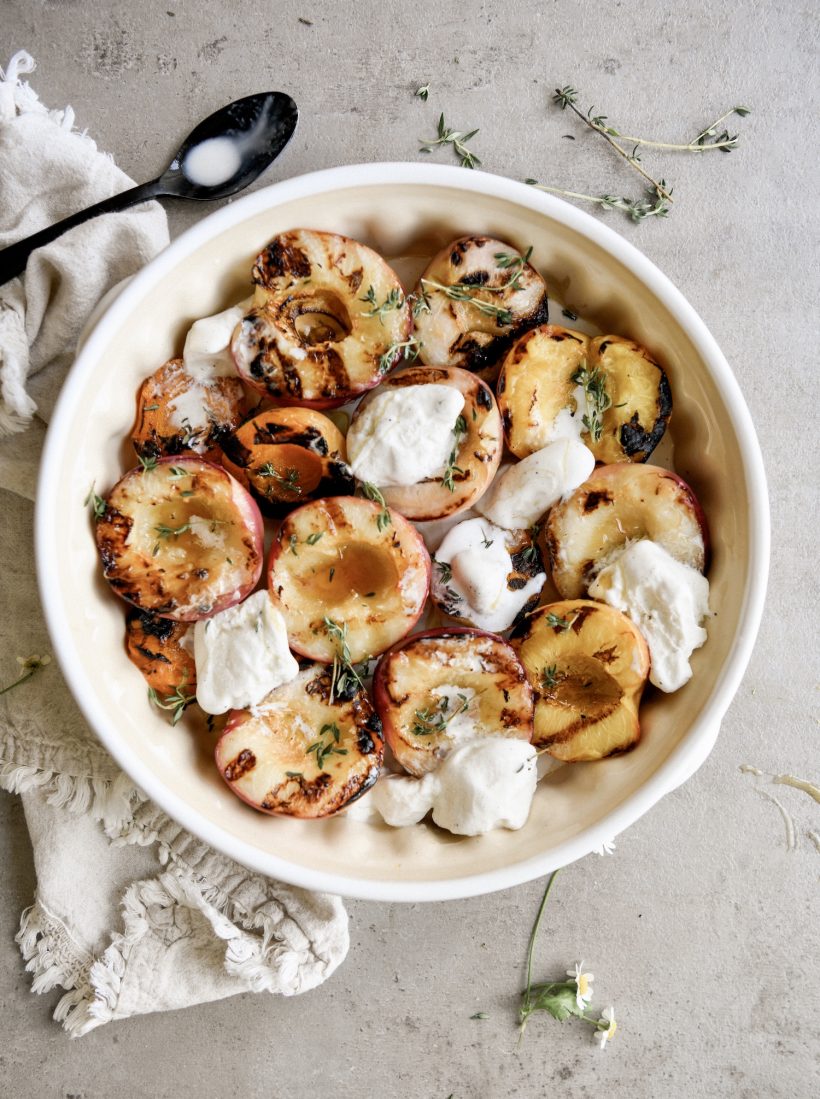 Why We Love It: If you've ever had a grilled peach, you're no stranger to the absolutely incredible profile it takes on. The sweetness gets ramped up with the charred edges' welcome bitterness. And for those of you who have never grilled peaches before, prepare to be amazed. All it takes are a few ripe peaches, a brush of olive oil, sprinkle of salt, and drizzle of honey to create this delightfully simple dessert you'll come to crave.
Hero Ingredient: A little fresh basil never hurt anyone. If you have some on hand, I highly recommend pairing the herb with these peaches. The earthy flavor is a perfect contrast to the juicy fruit.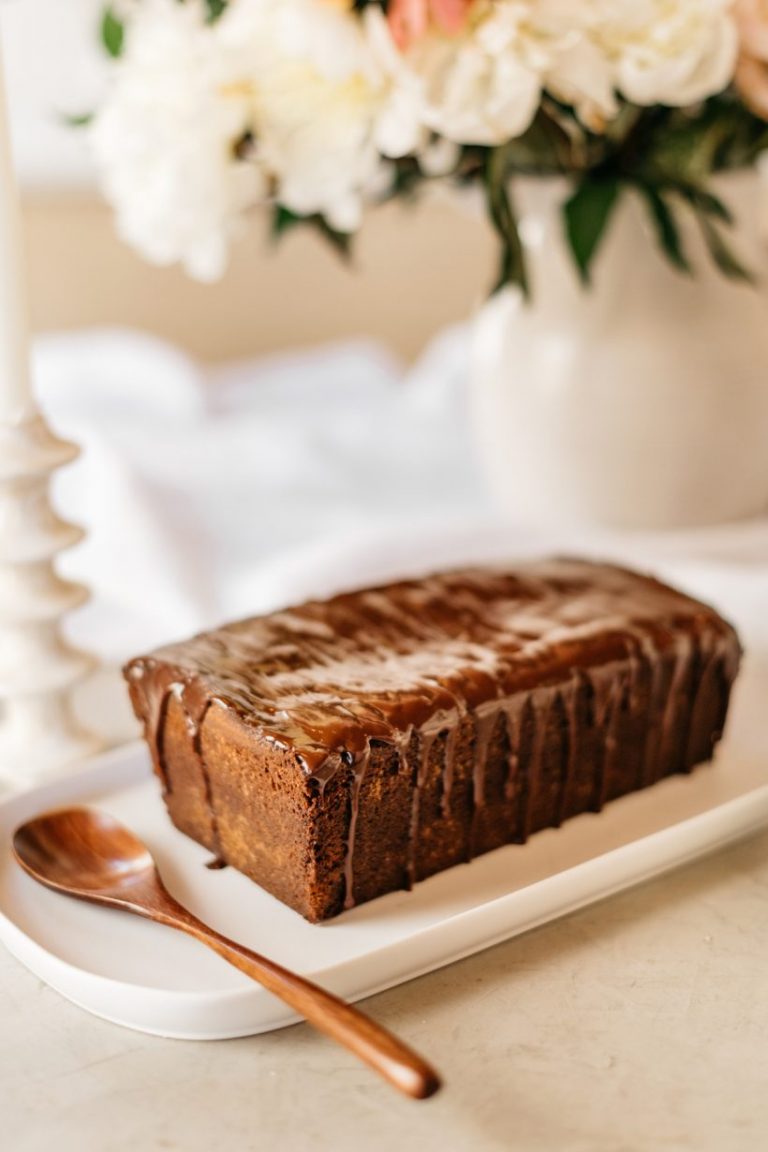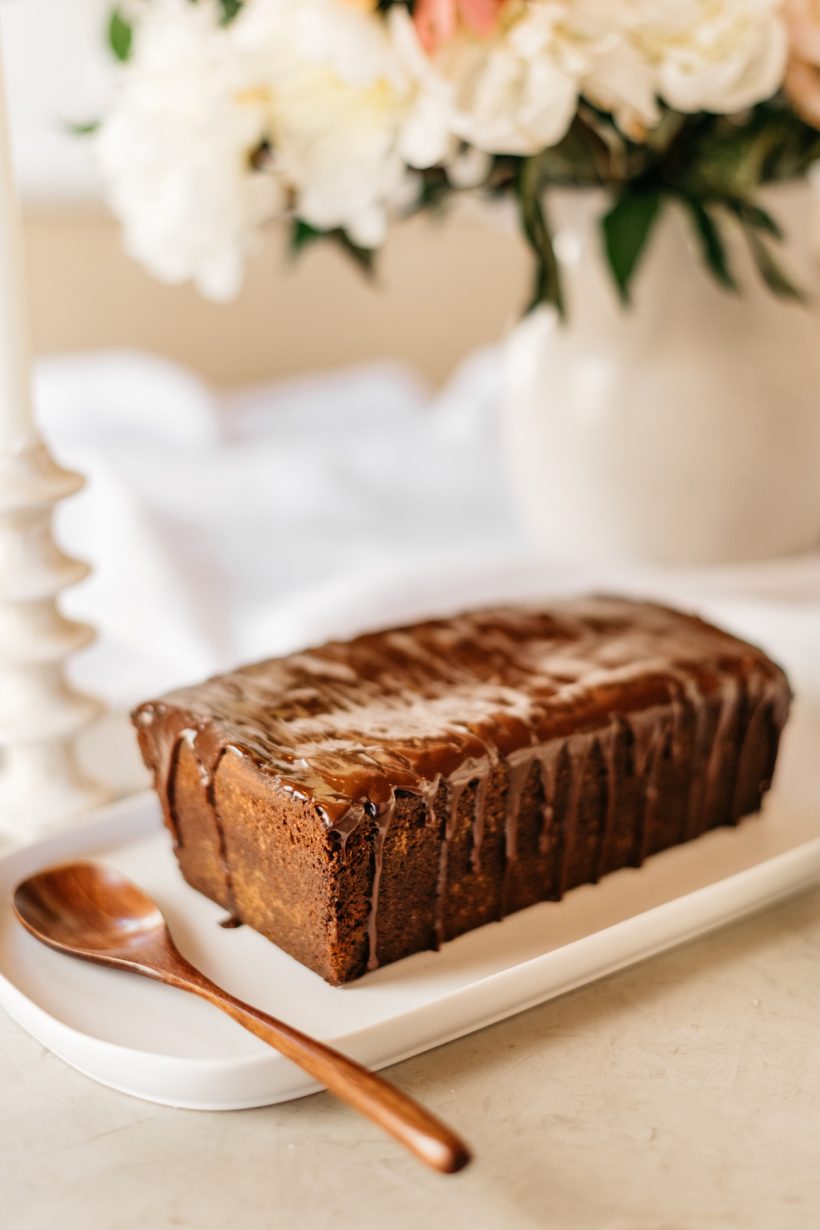 Why We Love It: Pound cake holds a special place in my heart. Holidays and birthdays in the Thompson household almost always involve my mom's classic pound cake, which I'll never not crave. And while my mom's recipe doesn't venture into chocolate territory, this pound cake is an equally indulgent variety that's perfect in every way. Eight ingredients plus one bowl equals immeasurable enjoyment.
Hero Ingredient: While some chocolate cake recipes call for cocoa powder, this one is pure milk chocolate. It keeps everything moist (sorry, had to) and decadent.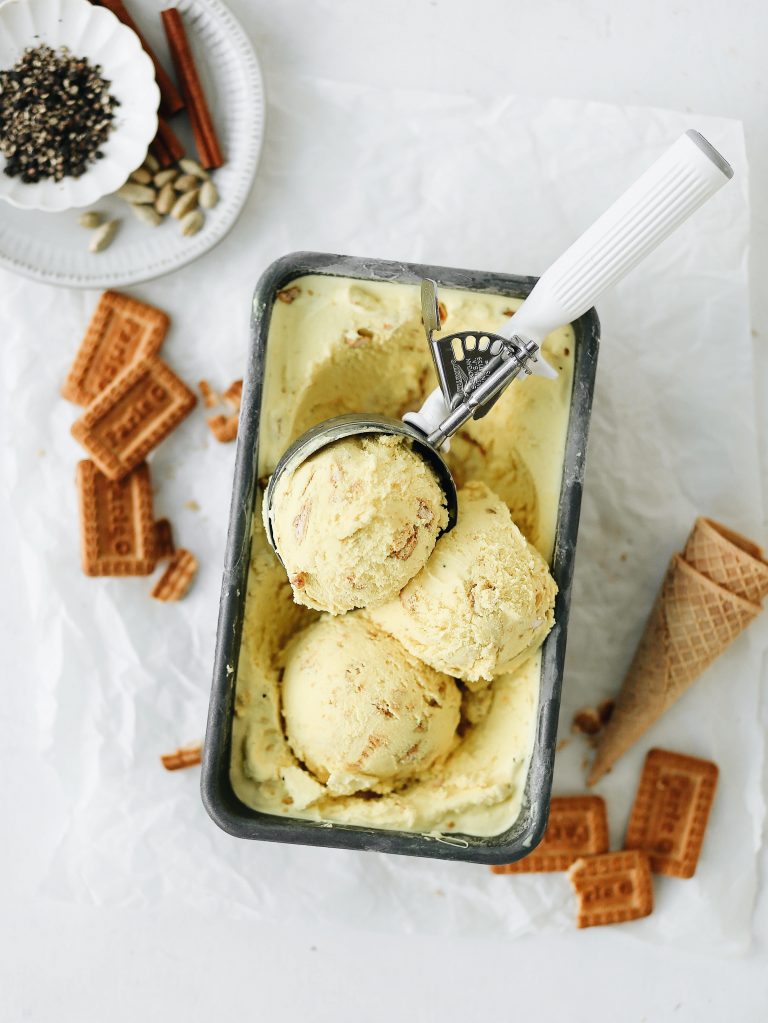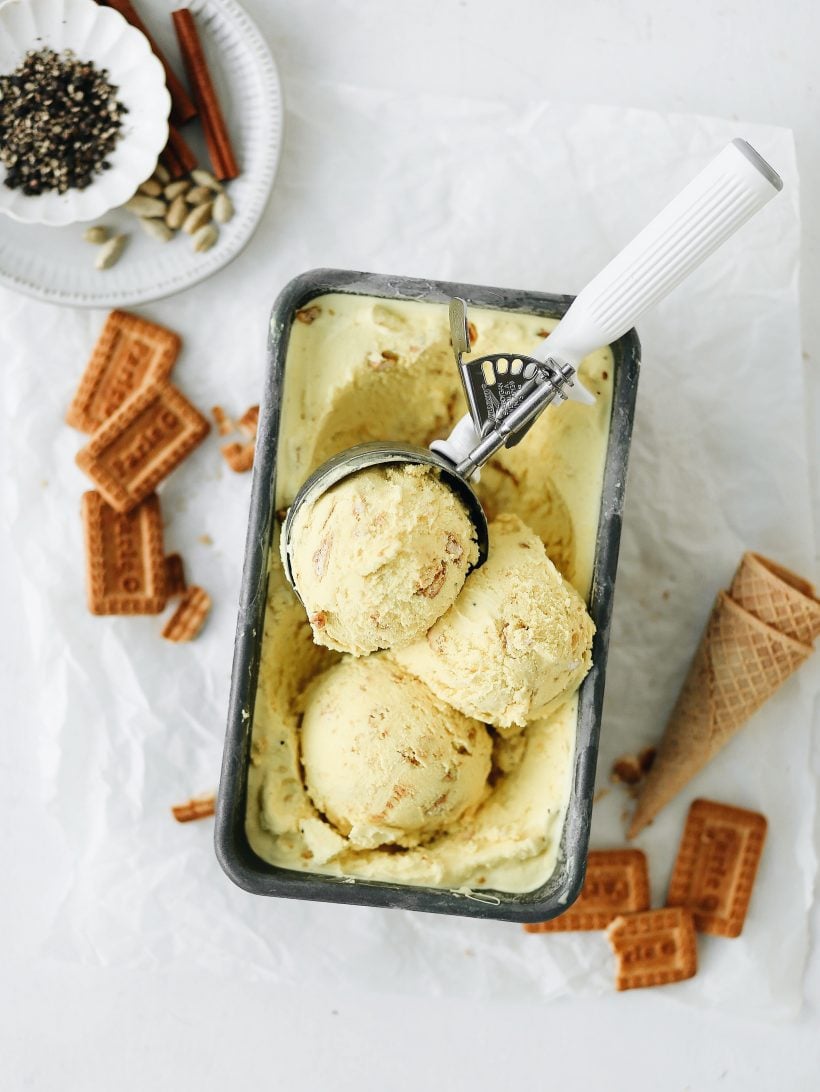 Why We Love It: Essentially a golden milk latte in ice cream form, this Haldhi Doodh ice cream is fluffy, creamy, and what sweet treat dreams are made of. Turmeric, candied ginger, cardamom, peppercorns, cinnamon, and Biscoff cookies unite under the creamy blanket of ice cream. This is not your traditional ice cream, but rather something that's interesting and complex. Labor Day desserts, meet your match.
Hero Ingredient: Black pepper adds an unexpected (but definitely appreciated) heat. Don't knock it 'til you try it.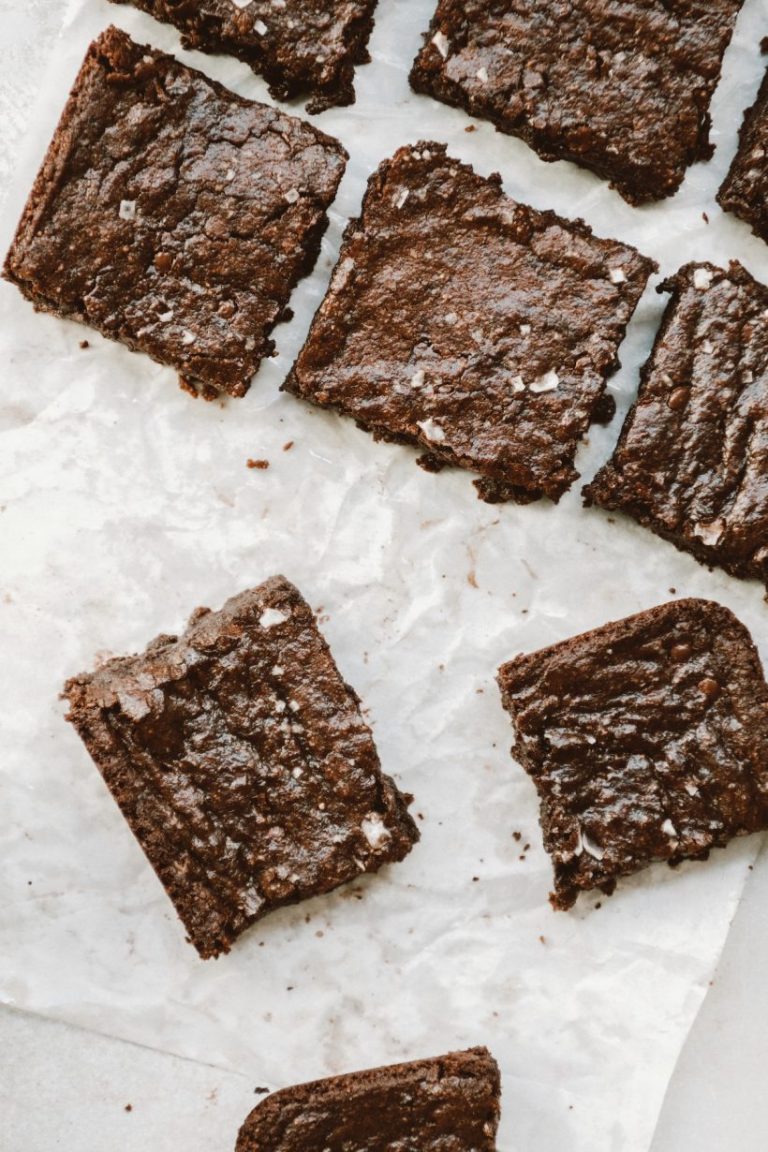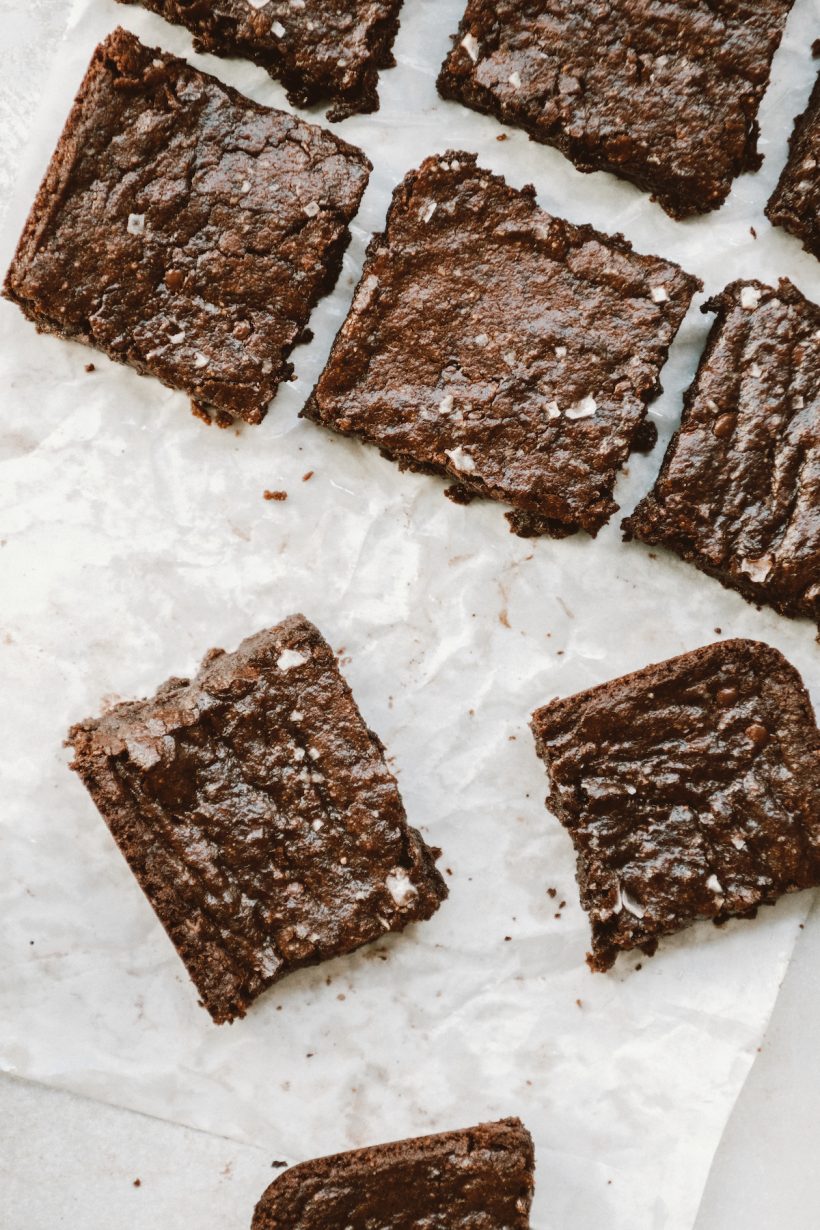 Why We Love It: Gluten-free/dairy-free people, rejoice! This is the ultimate vegan brownie recipe that checks all kinds of dietary boxes. And though it might sound too good to be true, I can assure you: this is the real deal. These brownies are in fact fudgy and capable of satisfying your post-dinner sweet tooth. And like any respectable brownie recipe, they'll appease both center and edge piece people. Perfect for any (Labor Day) party.
Hero Ingredient: Ground flax seeds mimic the texture of eggs, giving these brownies the ideal texture.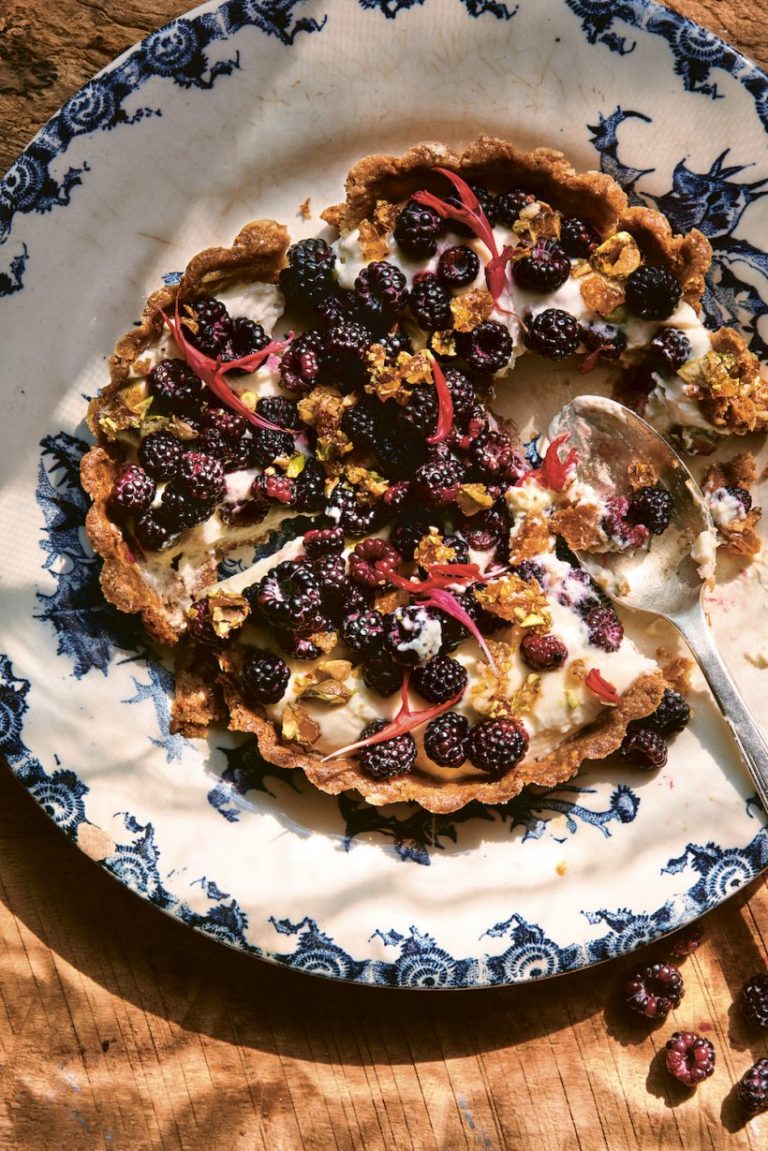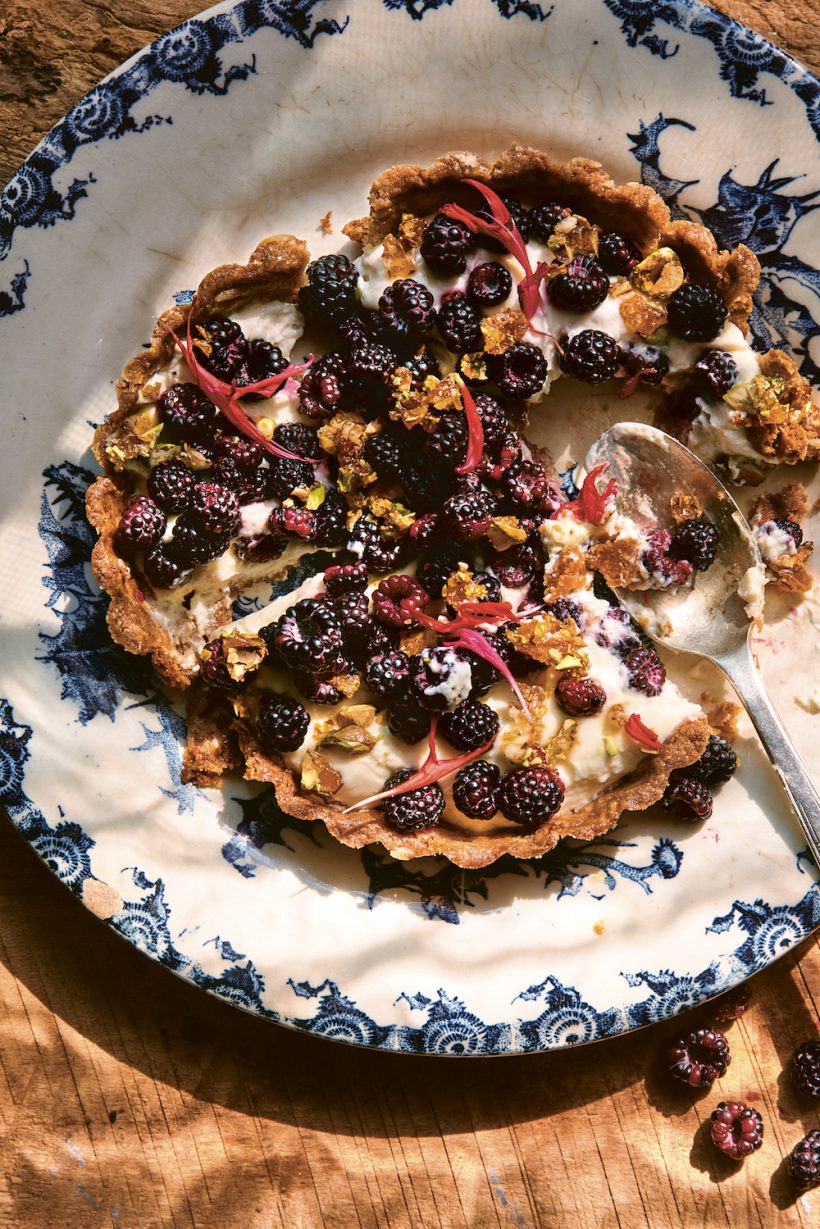 Why We Love It: Who doesn't love a cute little tartlet? These raspberry-bourbon mascarpone tartlets score in every category. They're elegant, visually appealing, and 100% enjoyable for you and your guests. While this recipe is a little more involved than some of the other Labor Day desserts on this list, you can divide the workload over a few days to make assembly as easy as pie, er, tart.
Hero Ingredient: The pistachio praline brings just the right amount of texture and nutty flavor to the mix that perfectly complements that creamy mascarpone underneath. It's to die for.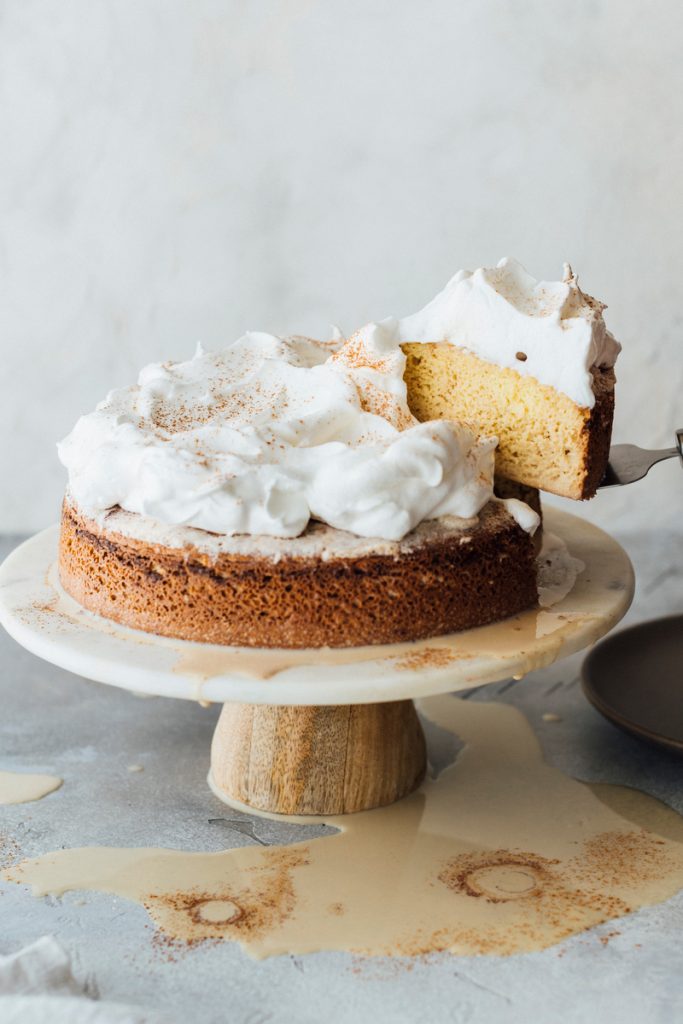 Why We Love It: Tres leches is the perfect gathering dessert because it can be made a few days in advance. And that time spent in the fridge only enhances its flavor! This rum and coffee version uses, well, rum and coffee to flavor the soaking liquid. With cinnamon, cardamom, vanilla, and three kinds of milk, you might be tempted to drink straight from the bowl. Please tell me I'm not the only one.
Hero Ingredient: A basic meringue elevates the entire cake and gives it some depth. Elegance made easy.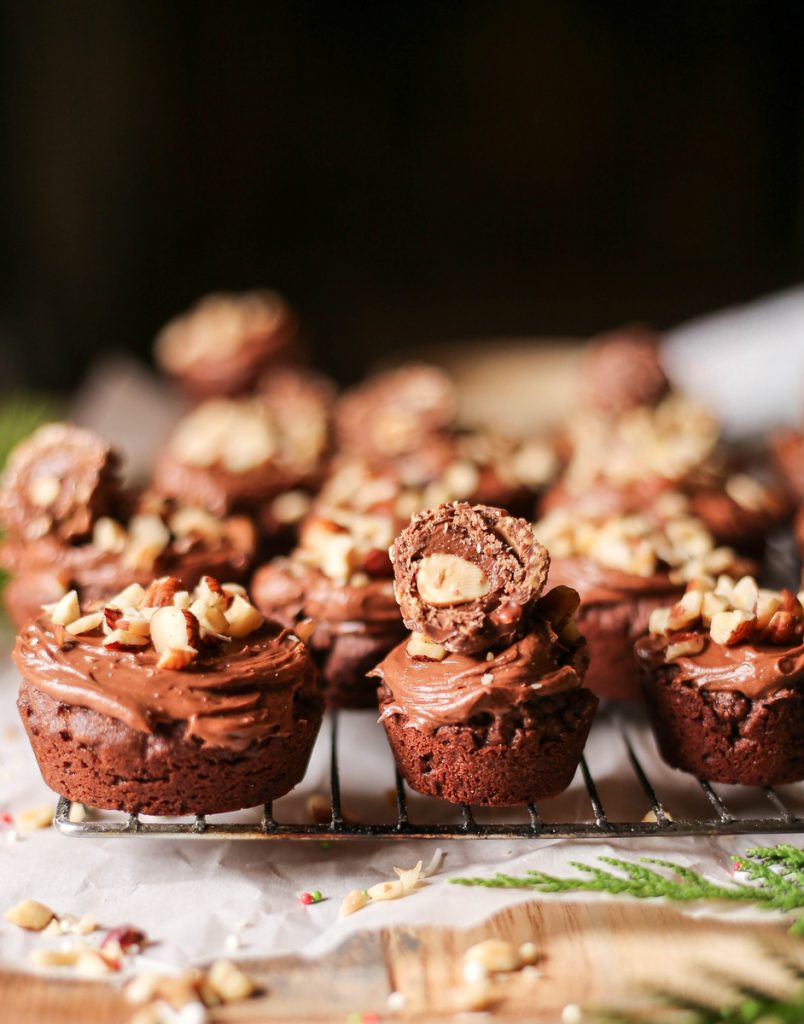 Why We Love It: These ferrero rocher-esque chocolate hazelnut cookies are ready and eager to amp up your weekend. The unique thing about these cookie/brownie hybrids is that they're made in a muffin tin, which makes them perfect for a Labor Day gathering! With this mash-up, you can expect a chewy exterior and cakey interior that's decadent and chocolatey through and through. For a little added flair, top each one with a Ferrero Rocher chocolate and watch everyone's face light up.
Hero Ingredient: Don't skimp on the salt. Salt in the dough and frosting may seem anti-dessert, but it keeps things from leaning too far on the sweet meter and amplifies the chocolatey flavor.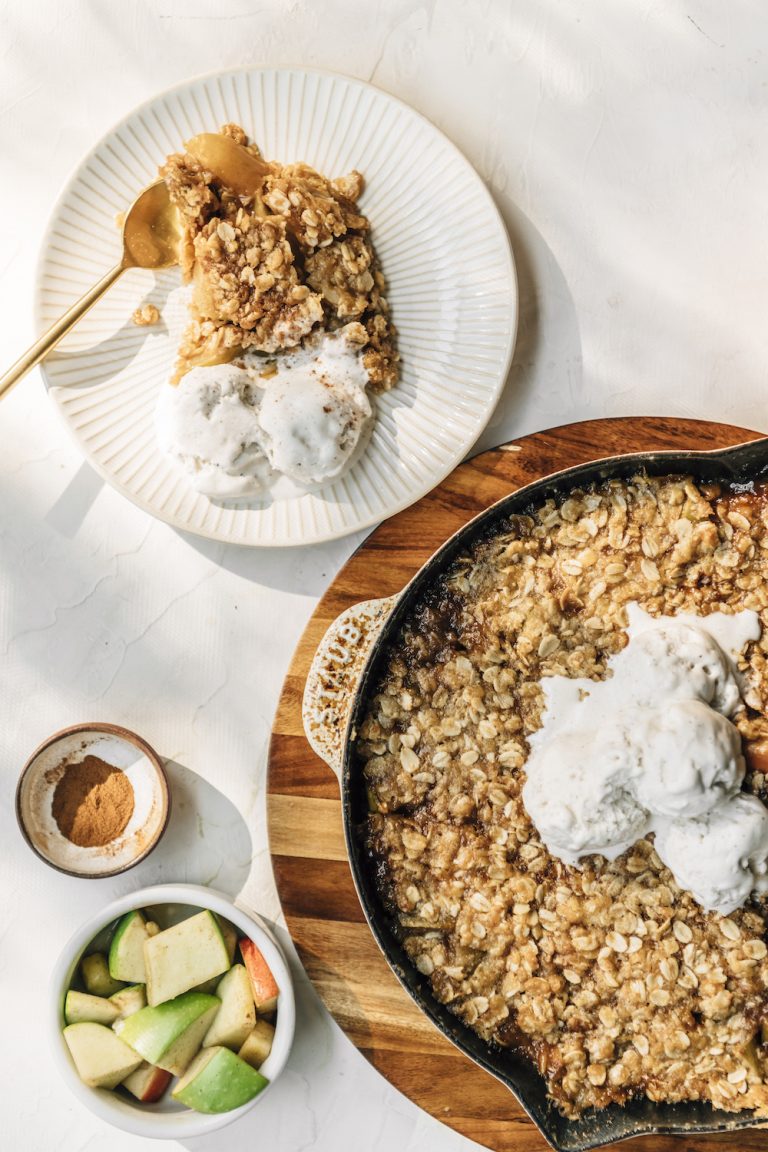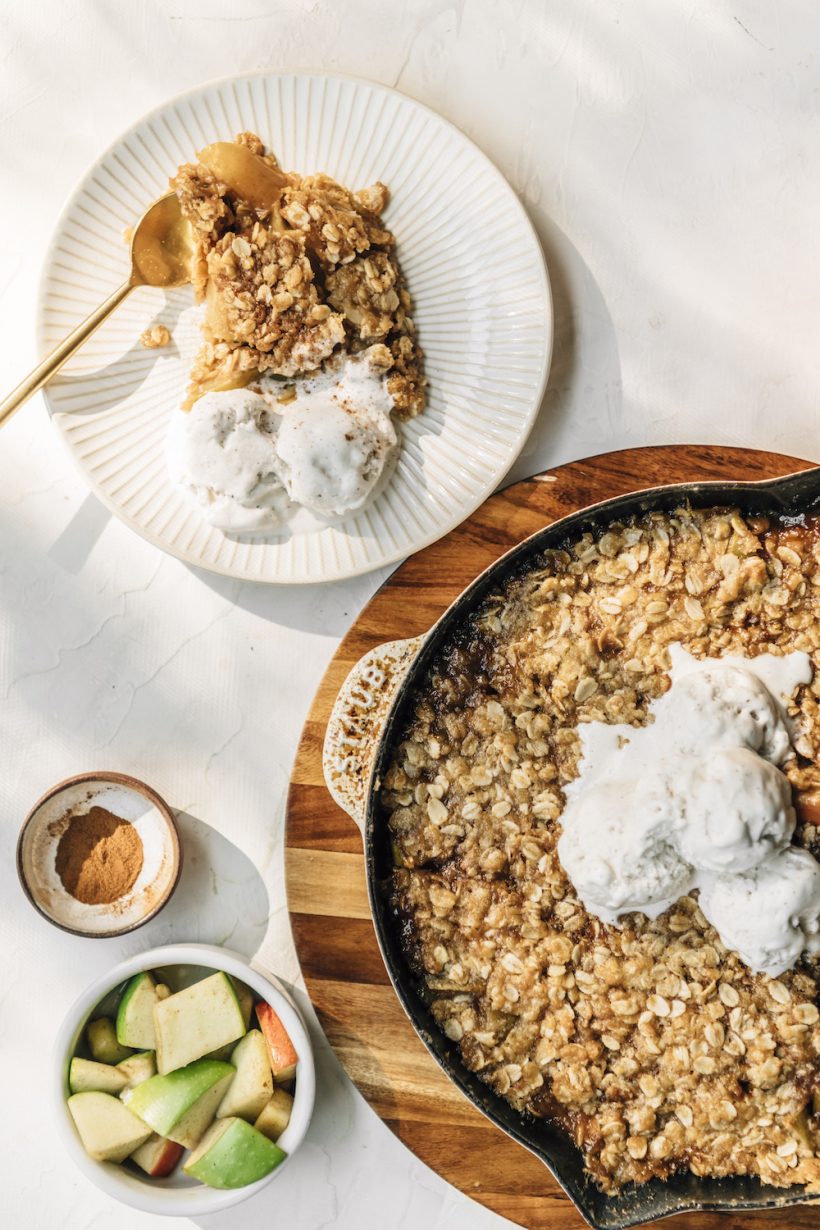 Why We Love It: Apple crisp is pure nostalgia. It's great for whenever you crave a comforting dessert that's simple to make and fun to enjoy. For this recipe, opt for Granny Smith and Gala/Pink Lady apples to avoid the dreaded mushy apple. Brown butter and a dash of bourbon send this apple crisp over the top—you definitely don't want to miss out.
Hero Ingredient: Lots of brown sugar flavors the entire crisp with a salty-sweet, caramelized bite.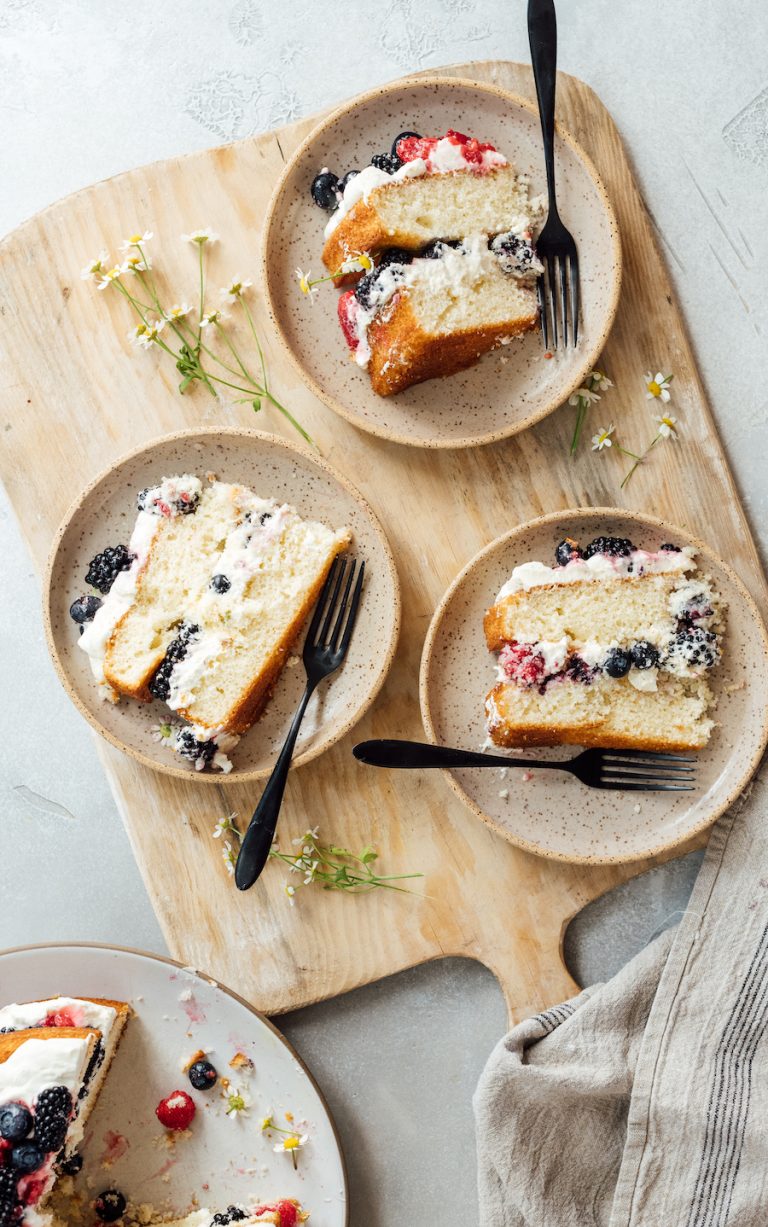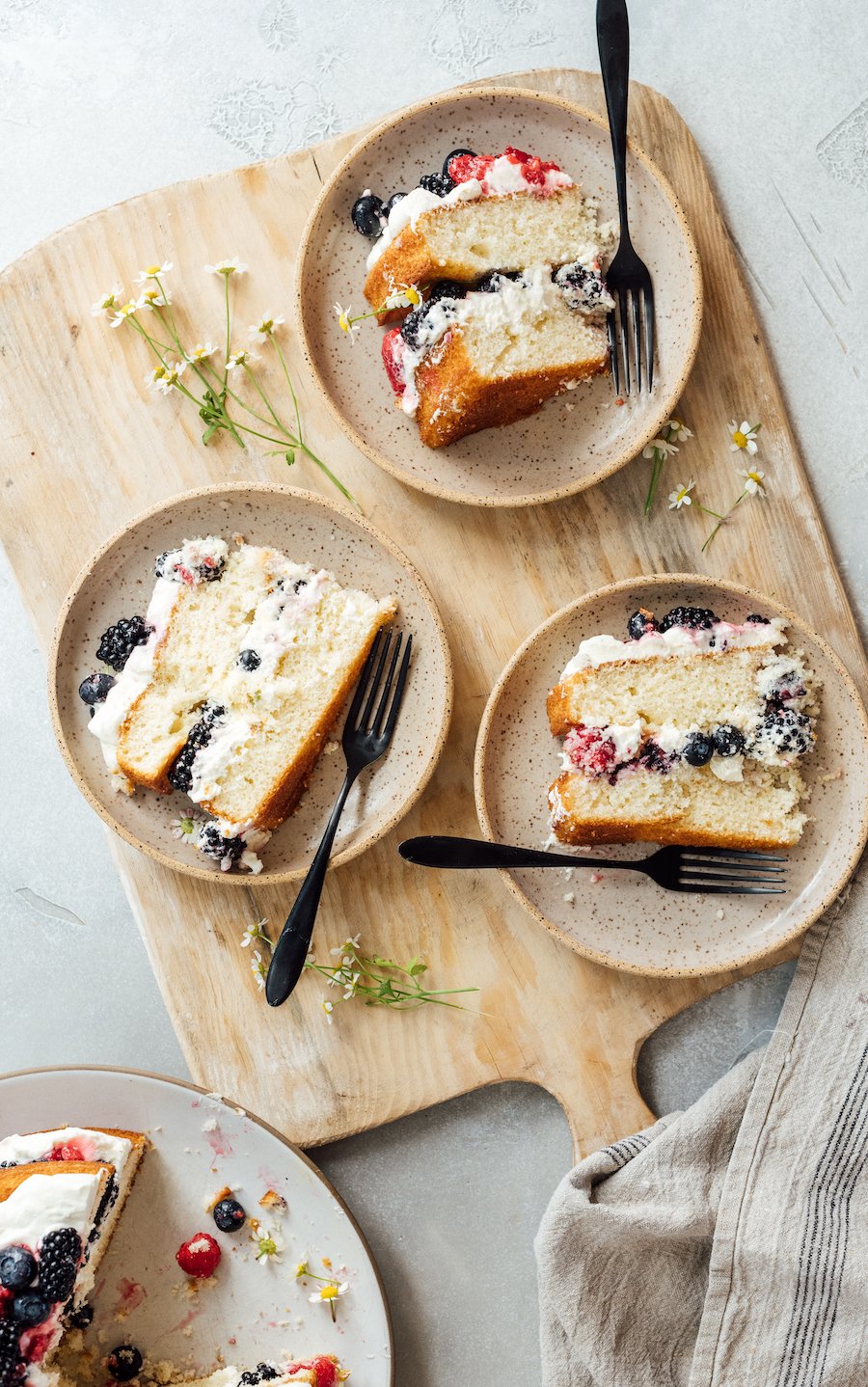 Why We Love It: This berries and cream layer cake just looks festive, does it not? Cake, berries, and cream form a mesmerizing masterpiece that could be the centerpiece of any table. Besides looking and tasting gorgeous, I love that this cake is customizable, too. This recipe serves as a formula for layer cakes that you can use to craft whatever culinary combination you crave. You can add cocoa powder and cherries for a black forest variation, or opt for lemon and blueberries for a brighter alternative. Any way you layer it, this cake deserves a spot in your recipe box.
Hero Ingredient: Because the ingredients are so simple, I'm going with a hero method here. Believe me when I say that building this cake is almost meditative. It's incredibly satisfying to watch otherwise-unassuming components amount to something so elegant.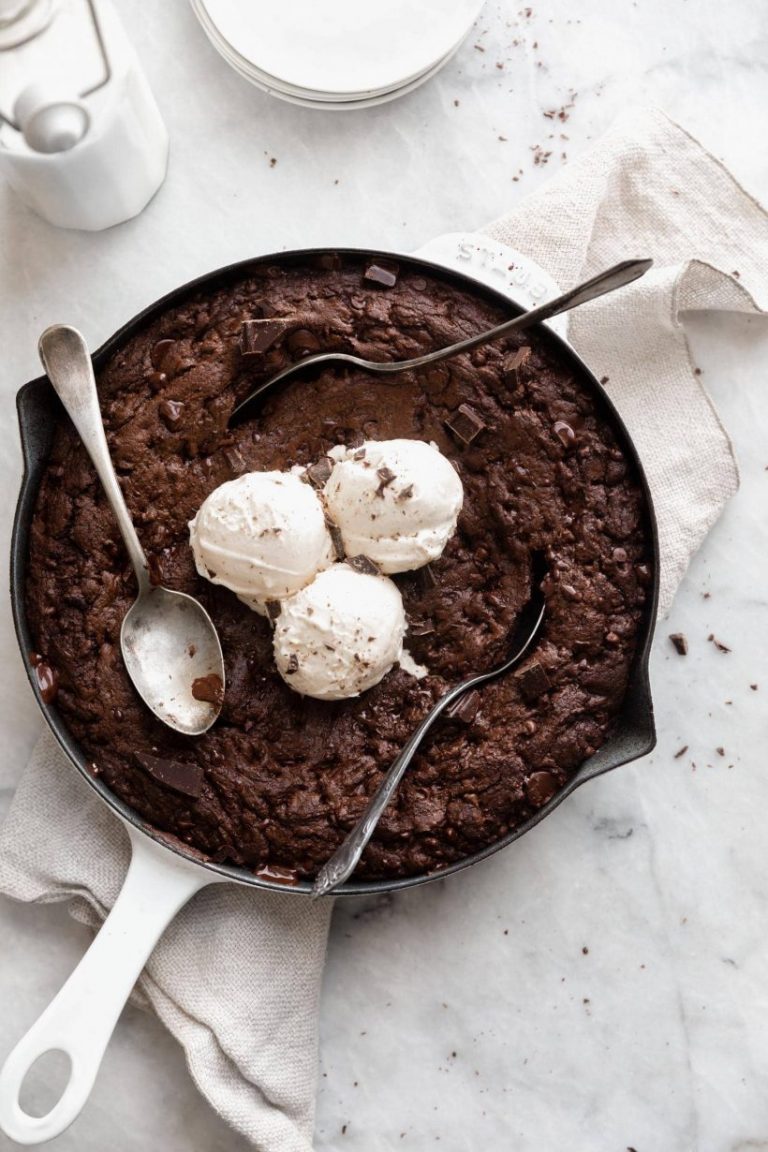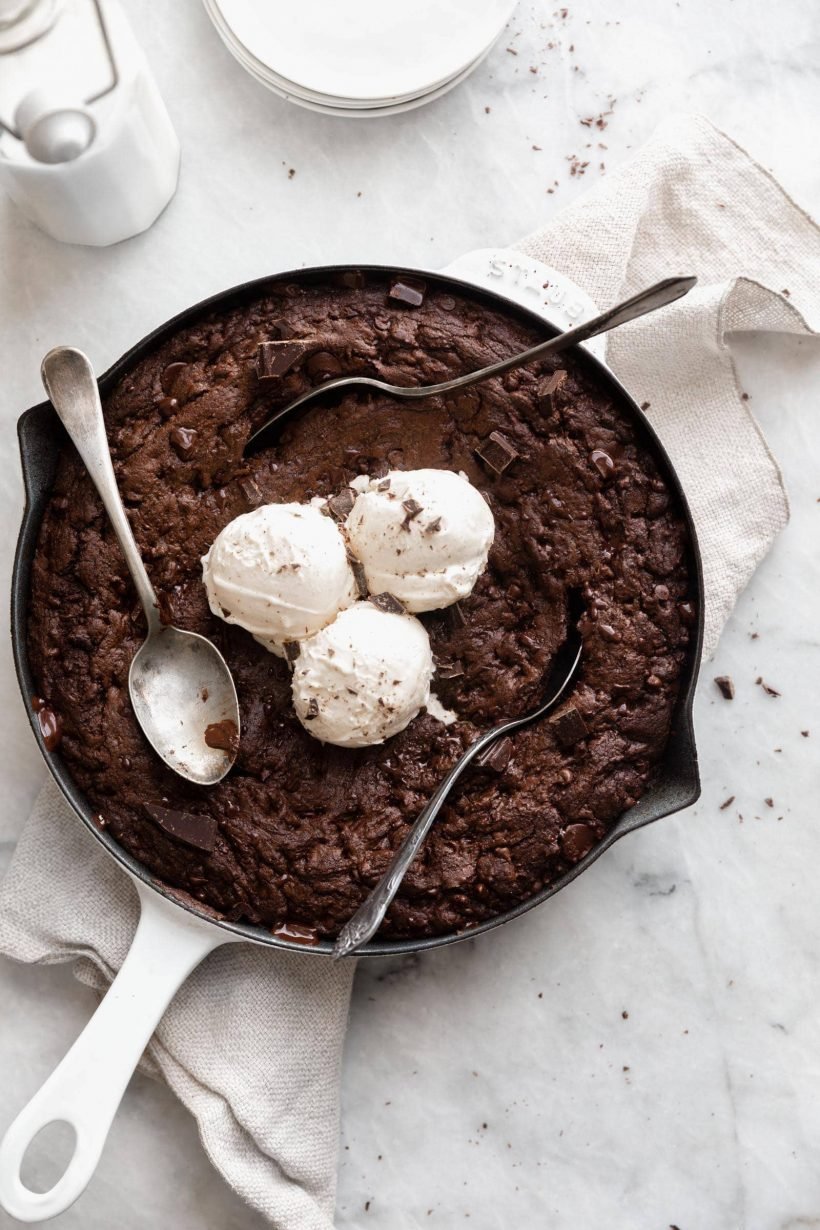 Why We Love It: I don't know about you, but I'm eating this with my eyes. What's better than a giant skillet cookie that everyone can sink their spoons into? Cocoa powder, espresso powder, and chocolate chunks supply the chocolatey flavor while brown sugar, butter, eggs, etc. build the chewy cookie base. Top all of that goodness with a few scoops of vanilla ice cream and you're on your way to dessert paradise.
Hero Ingredient: Espresso powder infuses this cookie with a hint of coffee flavor that complements the chocolate. While I'm never one to shy away from coffee, you can leave it out if it doesn't strike your fancy.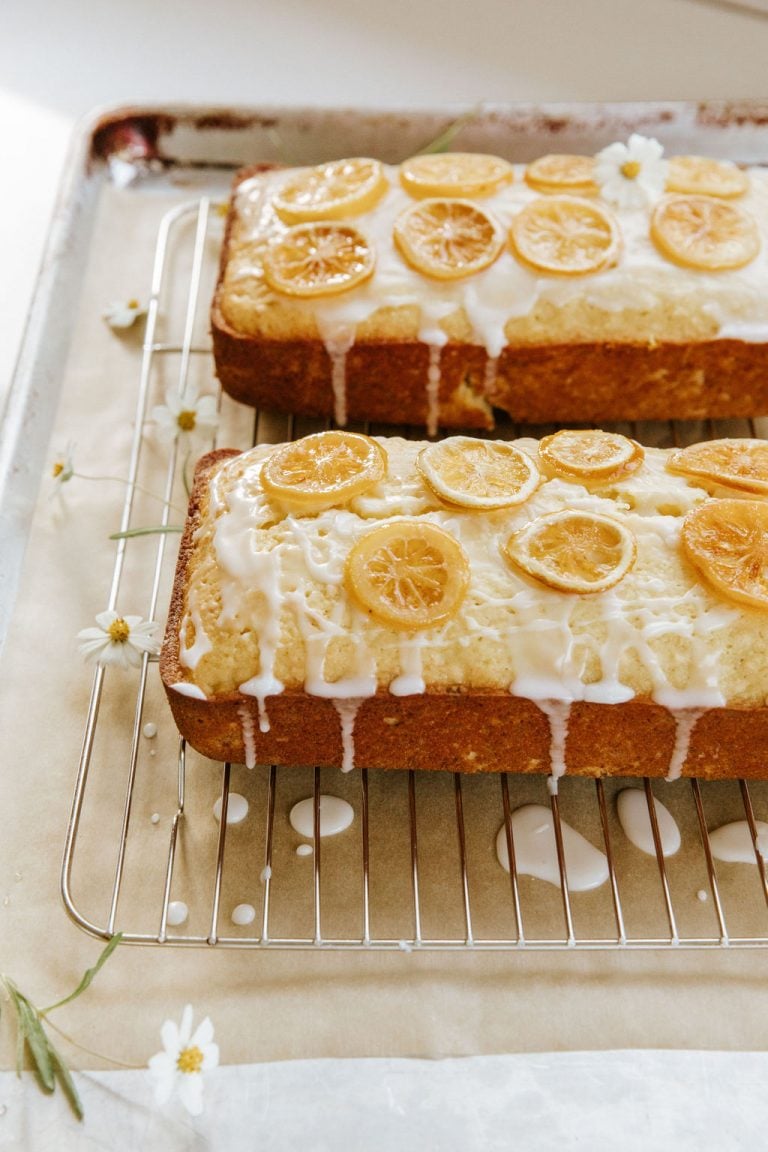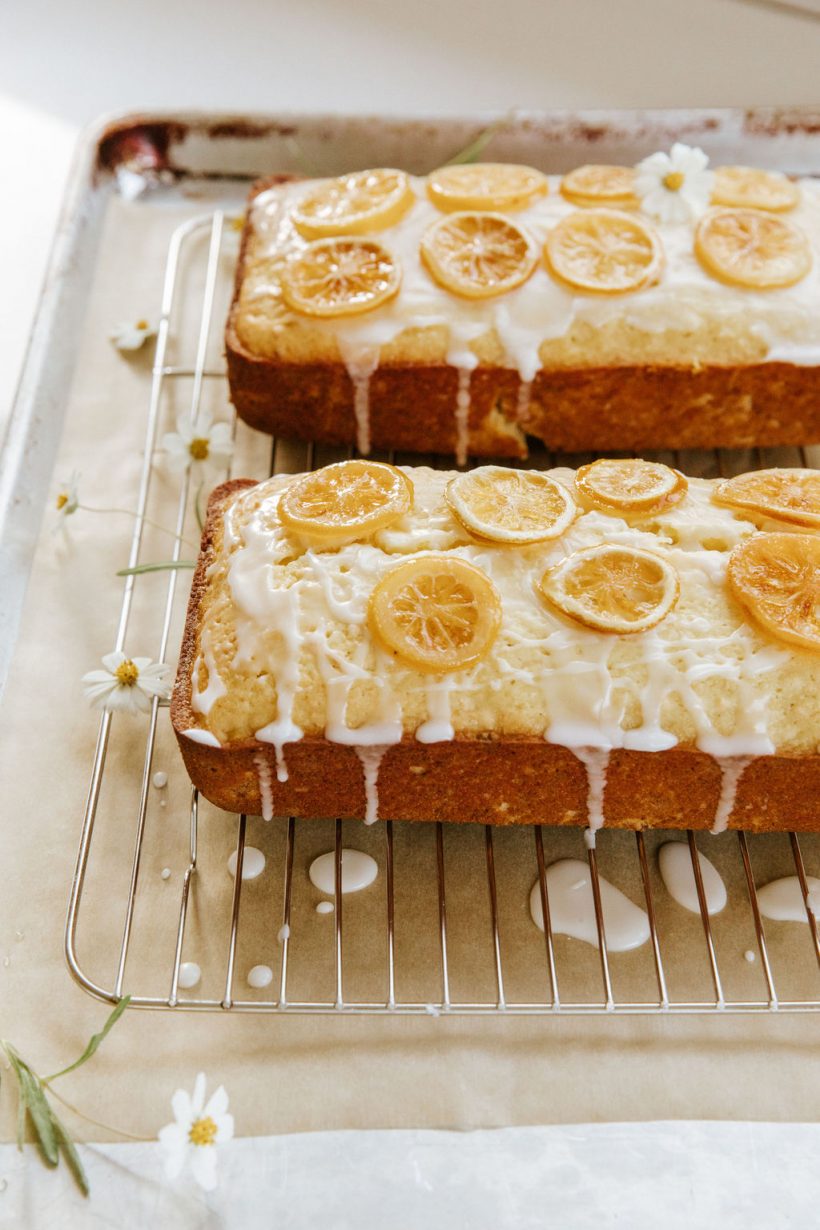 Why We Love It: Another classic pound cake, this lemon variety is bright, cheery, and everything you could want when it comes to Labor Day desserts. Biting into a slice of this loaf cake is a surefire way to brighten up your long weekend. End your meal with this easy pound cake for a crowd-pleasing dessert that you'll be making for celebrations all year round.
Hero Ingredient: Not only do the candied lemon slices look satisfying, but they also bring a slightly bitter acidity to the cake that drives home the beautiful lemon flavor.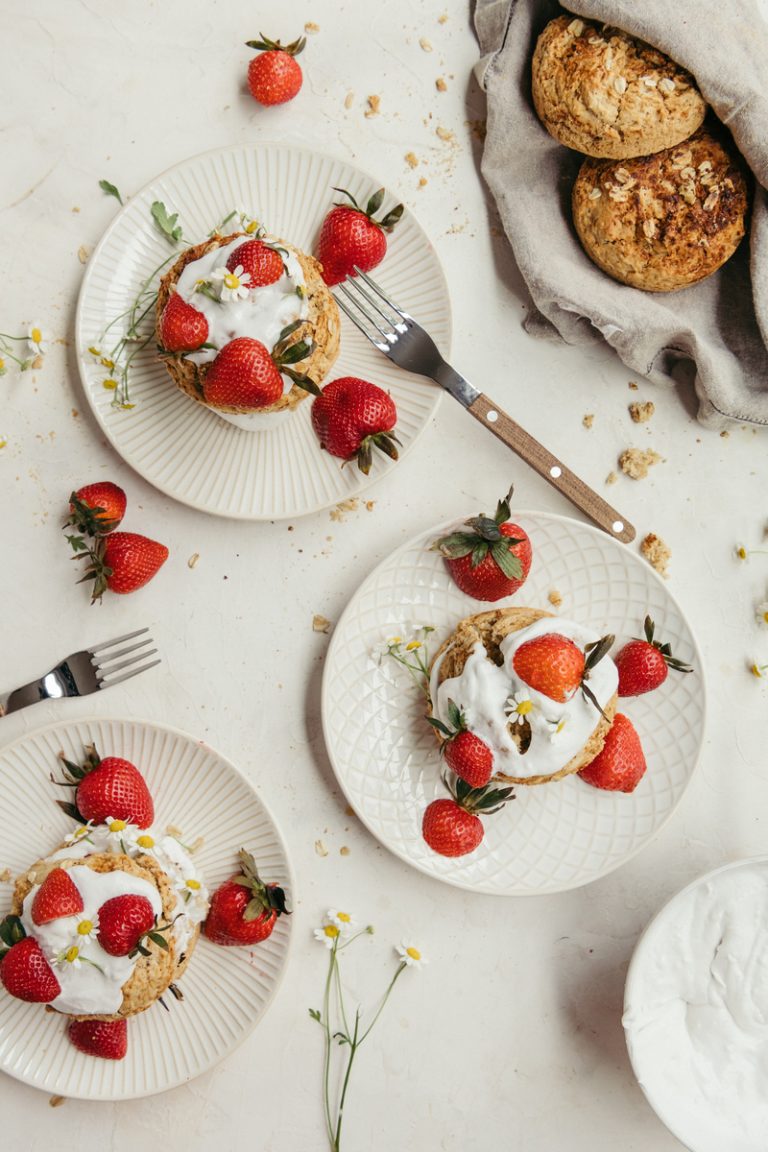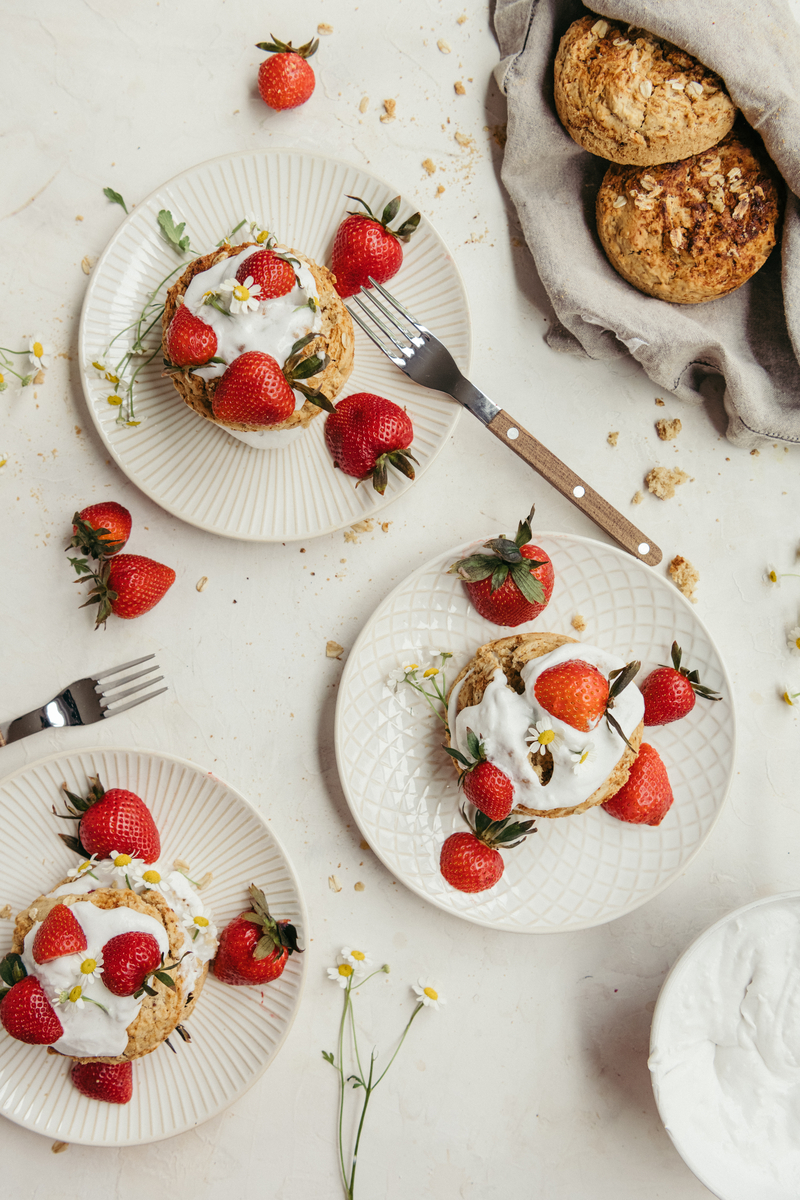 Why We Love It: Strawberry shortcake is another classic dessert you really can't go wrong with. This version is also vegan, gluten-free, and dairy-free—and yes, it tastes amazing, too. The only challenge? Keeping enough fresh-from-the-oven shortcakes out of your mouth to top with whipped coconut cream and macerated strawberries.
Hero Ingredient: Those shortcakes are just dreamy—they're crispy and browned on the outside, yet light and fluffy on the inside. Match that with a subtle sweetness ready to enhance any fruit, whipped cream, or ice cream you could dream of, and you're in business!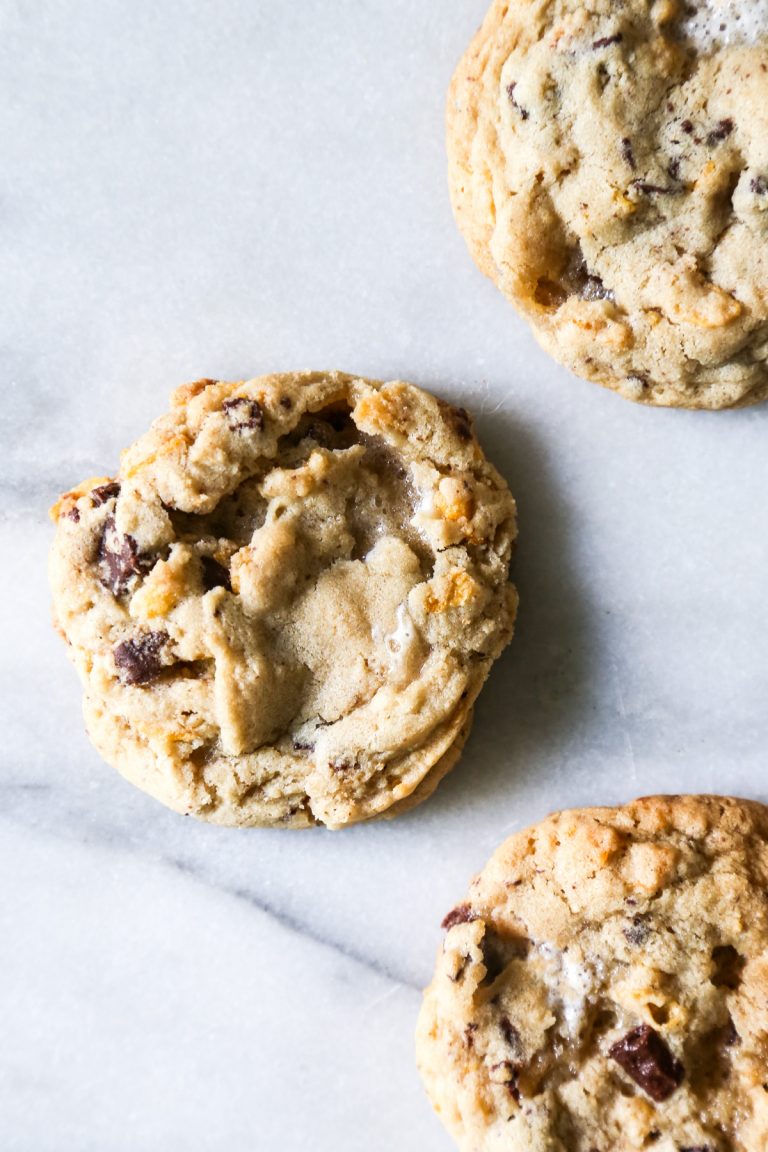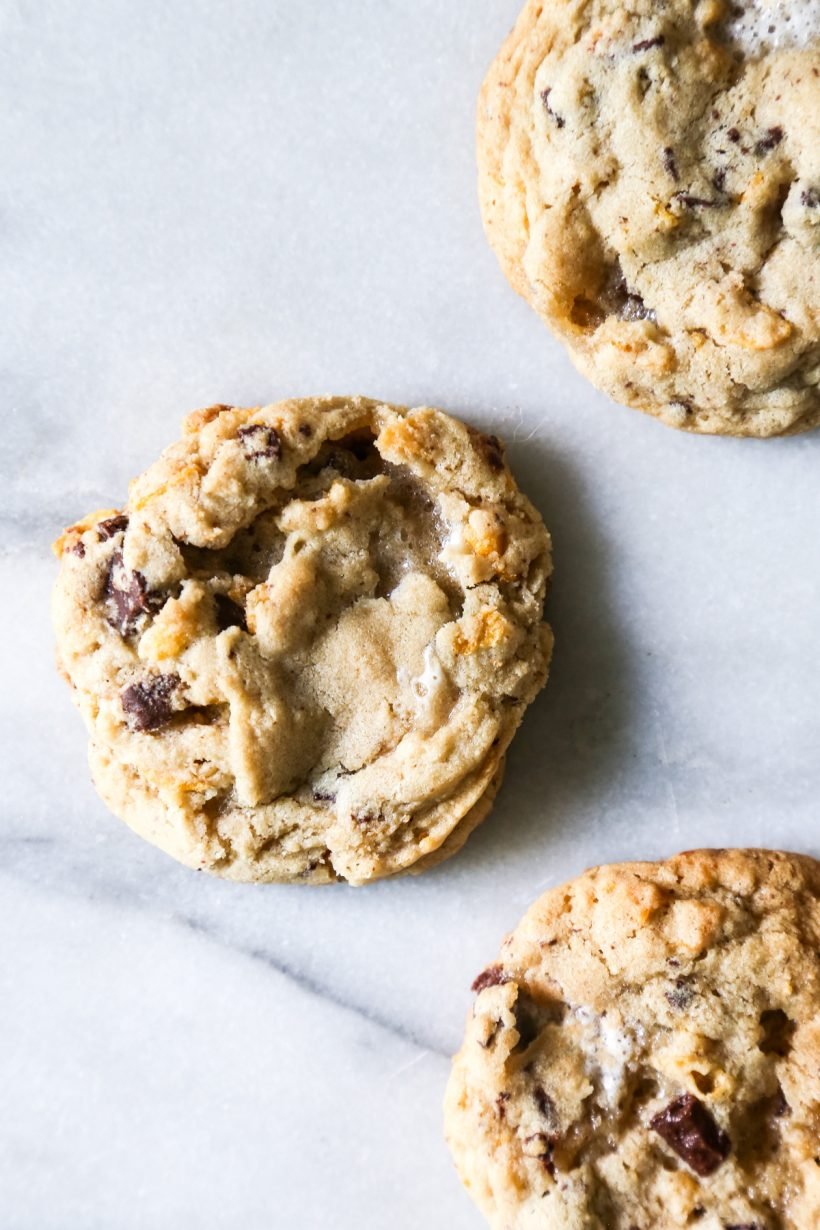 Why We Love It: These cookies highlight a harmonious union of two textbook favorite desserts: cookies and s'mores. They fuse two of childhood's most charming classics into a single unit ready to be savored. Basically, mom's homemade chocolate chip cookies joined forces with a critical campfire companion to create these masterpieces.
OK, I digress. But I'll tell you more about the actual cookie. A classic cookie base gets amped up by chocolate chunks, mini marshmallows, and cornflake cereal for oh-so-delicious, must-try cookies that you can't eat just one of. Trust me, I've tried.
Hero Ingredient: The texture contrast between chewy cookie, melty marshmallow, and crunchy cornflake cereal is seriously medal-worthy. But since that's not really a thing, I'll just strongly encourage you to give these a try. You won't regret it!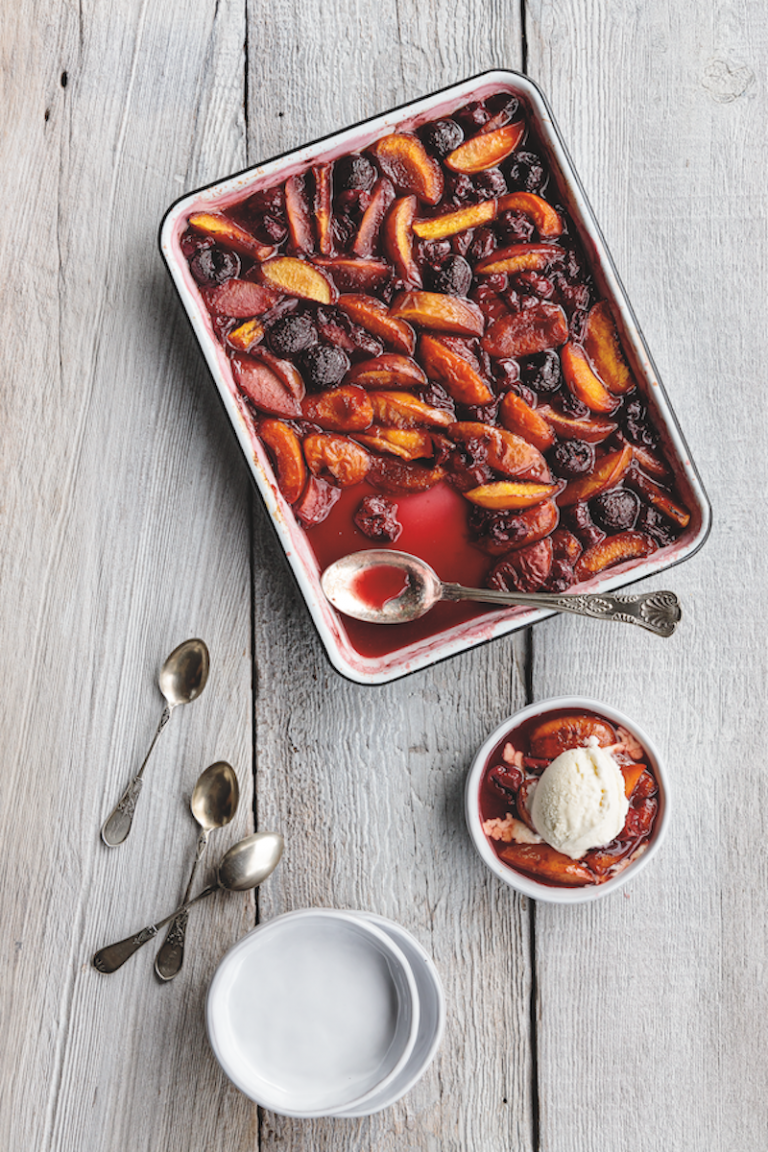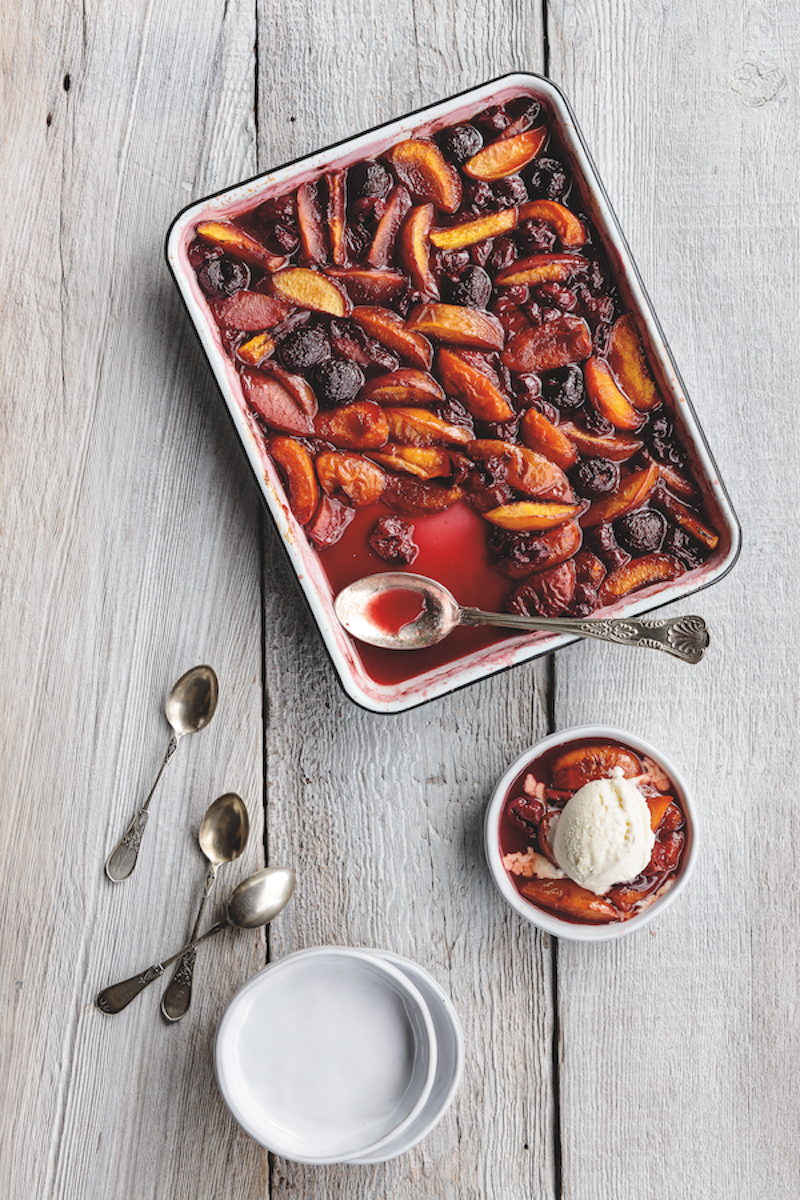 Why We Love It: This fruit-forward dessert uses Amarena cherry syrup to flavor stone fruits as each fruit flavor melds together as it roasts. The stone fruits' juices and sour cherry syrup combine to create a deeply rich and indulgent dessert. It's almost like a cobbler, crisp, or crumble (seriously, what's the difference?) without the pastry topping. Here, you're isolating the flavors of each tart fruit as they're married under that succulent cherry syrup.
Hero Ingredient: If you've ever wondered what to do after dropping your last Amarena cherry in a Manhattan or old fashioned, this is your answer. Don't you dare throw away that syrup—I'm begging you.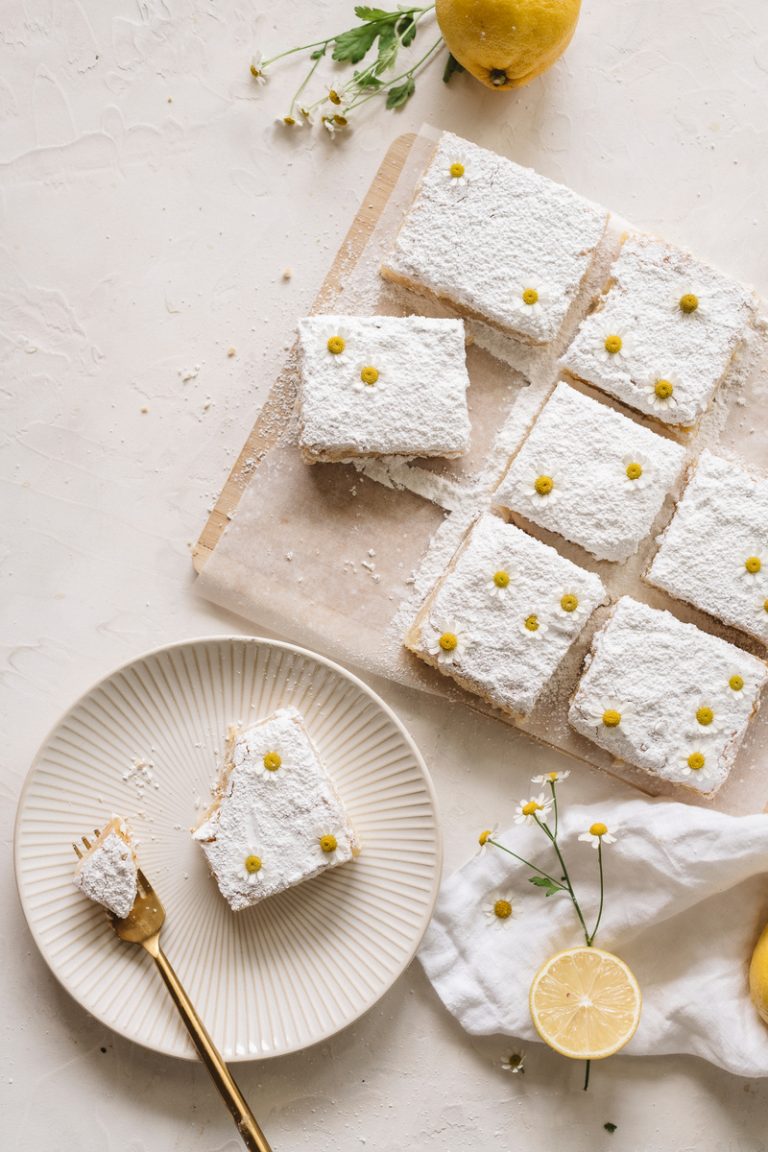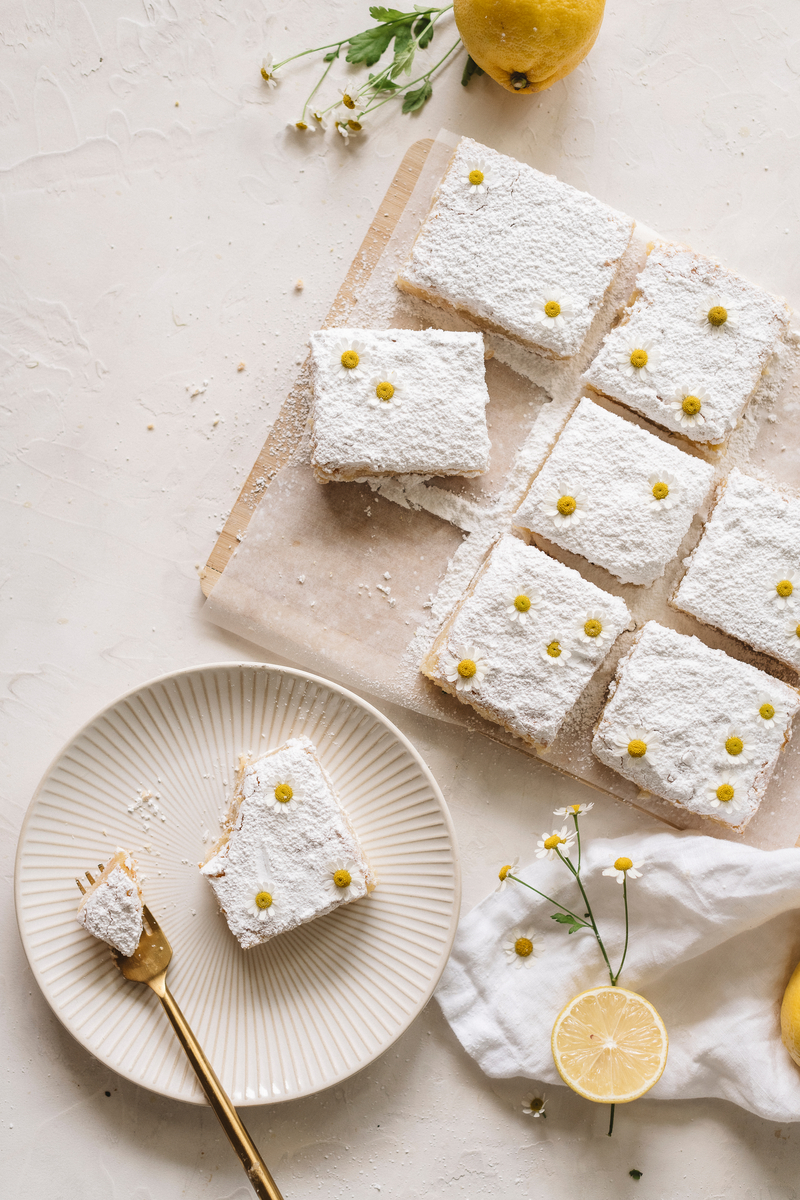 Why We Love It: These foolproof lemon bars are as bright and cheery as I hope your Labor Day weekend will be. This gluten-free spin uses a graham cracker crust, sweetened by maple syrup instead of sugar, to lay the foundation for a zesty filling. As it should be, there's no shortage of lemon zest and juice in these tasty bars because no one likes a lackluster lemon square.
The best part? You can make the bars ahead of time, store them in the fridge, and bring them out when you're ready to serve. Just be sure to save that powdered sugar shower for the last second! It keeps everything looking light, fresh, and oh-so-appetizing.
Hero Ingredient: While I'm usually partial to a pastry base for my lemon squares, even I can't deny that the graham cracker crust here elevates the dessert. There's just something about the added texture that really enhances that smooth lemon filling.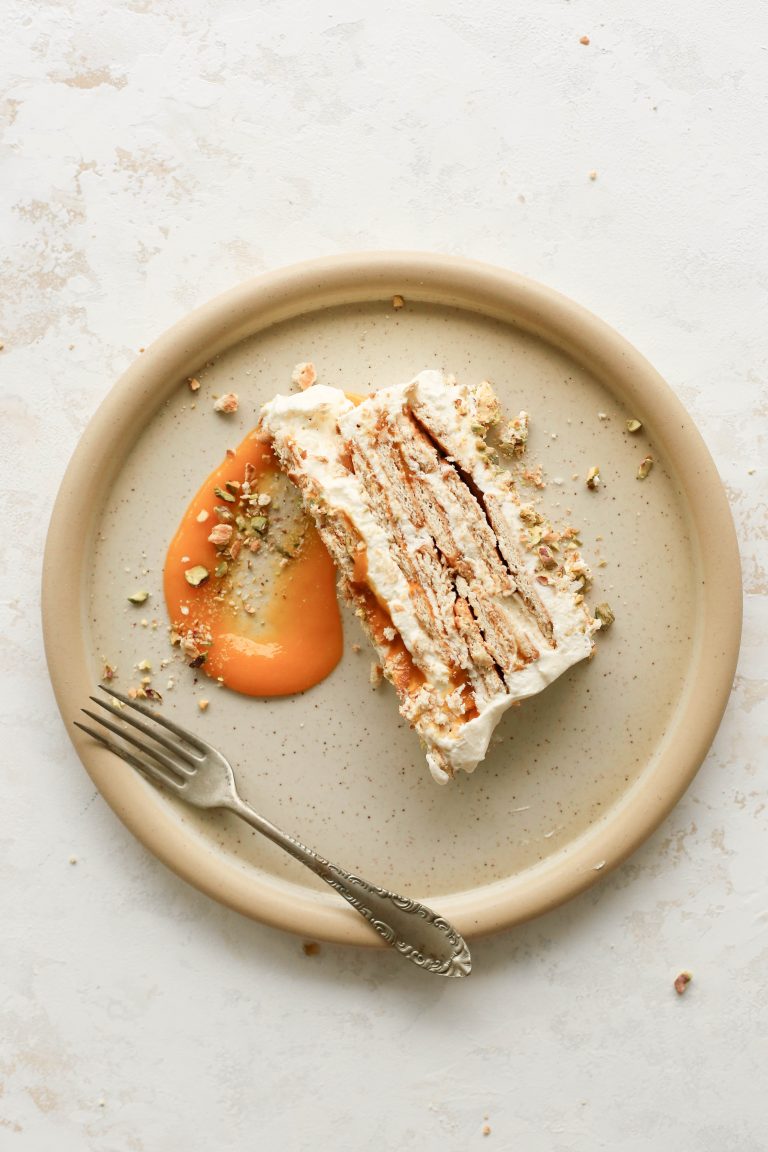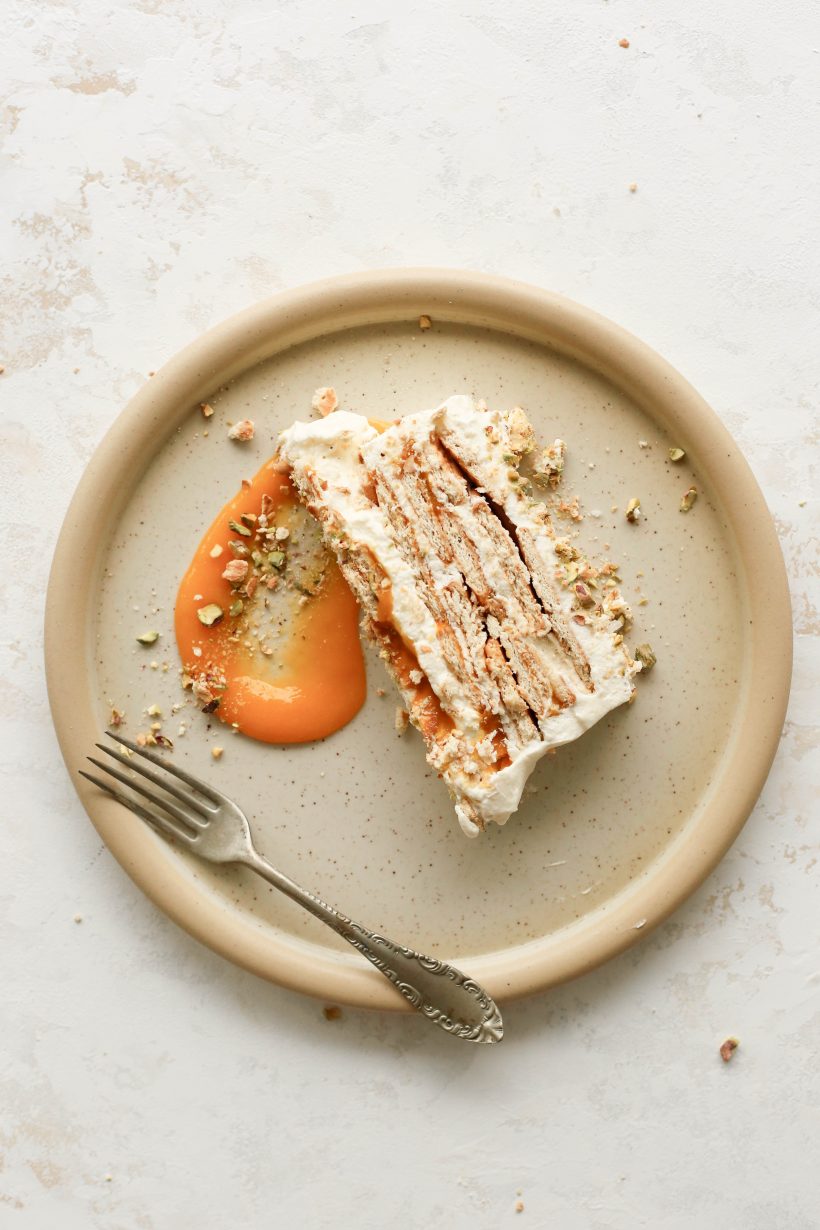 Why We Love It: It's time to talk about icebox cake, people! What's easier than a cake you simply have to build and chill? First of all, as the name suggests, you don't have to turn on the oven for this one. Score! It also resembles a layer cake when sliced, creating an elegant presentation.
The cake's layers suit each other well, with none outshining the other. There's sweet mango puree, floral cardamom cream, humble graham crackers, and a salty pistachio crumble to round out all of these components. You don't want to miss out on this incredibly simple and rewarding icebox cake. It's made for entertaining!
Hero Ingredient: The mango puree is absolutely amazing. You'll probably have a little leftover, which I recommend storing in a mason jar in the fridge to use in cocktails, to top ice cream or yogurt, or to eat straight with a spoon! The options are endless.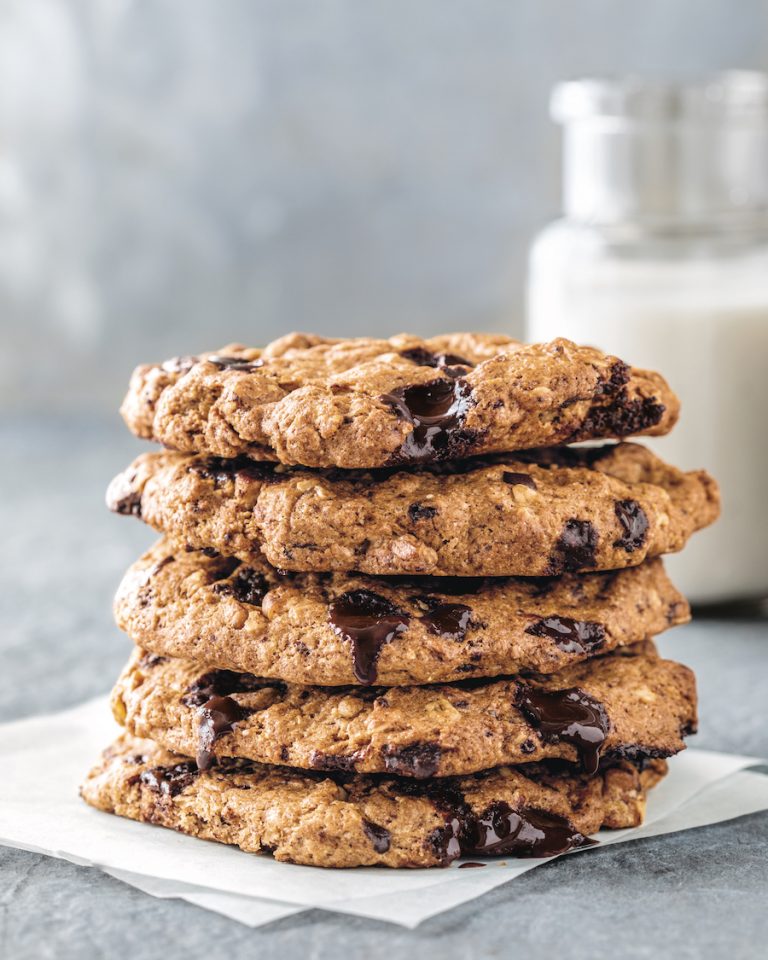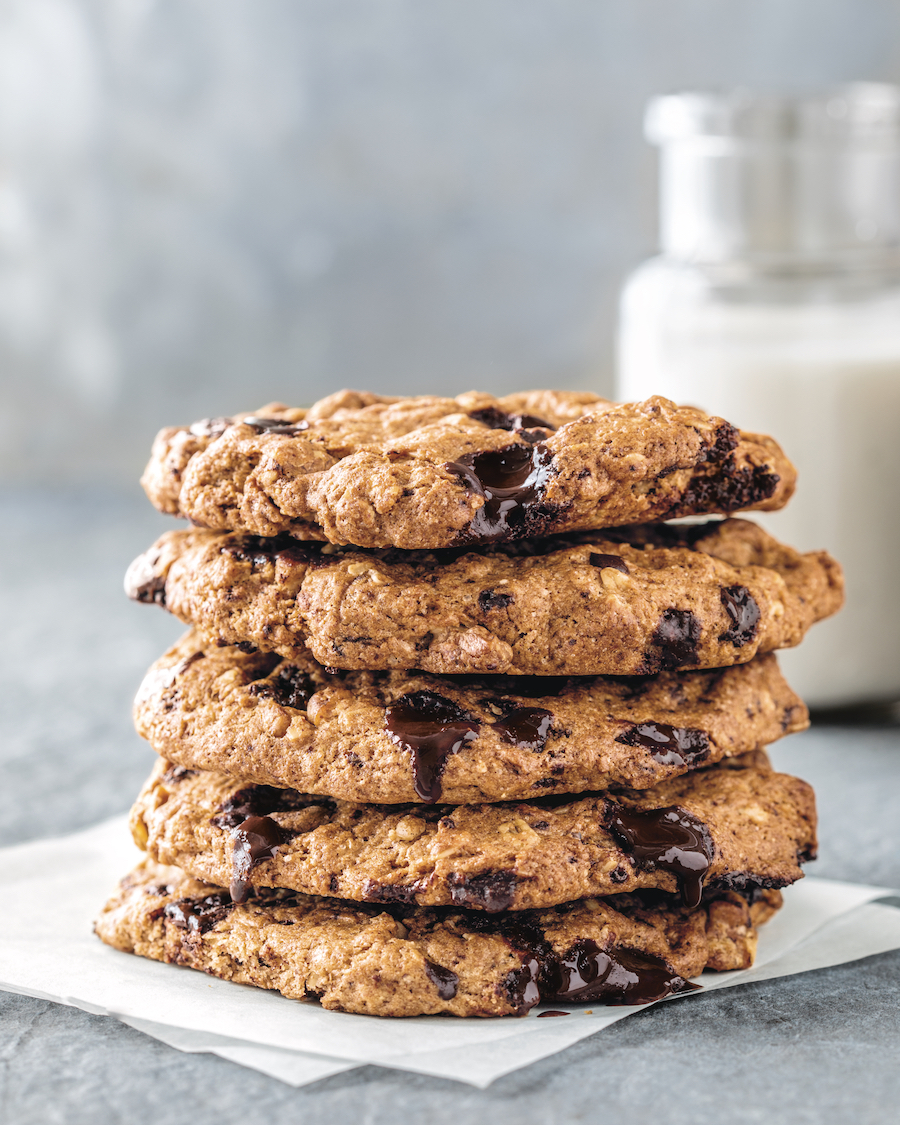 Why We Love It: Like the other dietary-restriction friendly recipes on this Labor Day desserts list, this chocolate chip cookie recipe is the real deal. Yes, it's gluten-free and vegan, and yes, it's also a home run. While gluten-free baked goods that aren't dry can be few and far between, these cookies close the gap. They're big and chewy, and everyone at your gathering can enjoy one or two without hesitation.
Hero Ingredient: Toasting your walnuts beforehand enhances the nutty, buttery flavor they bring to the cookie.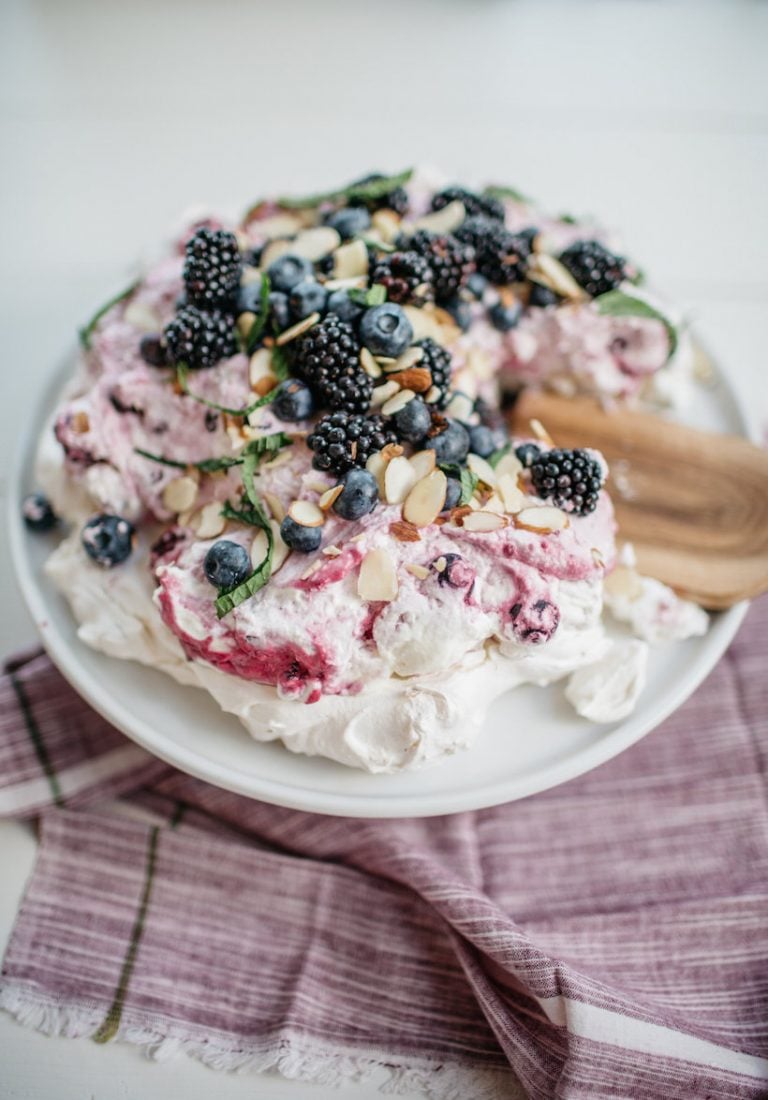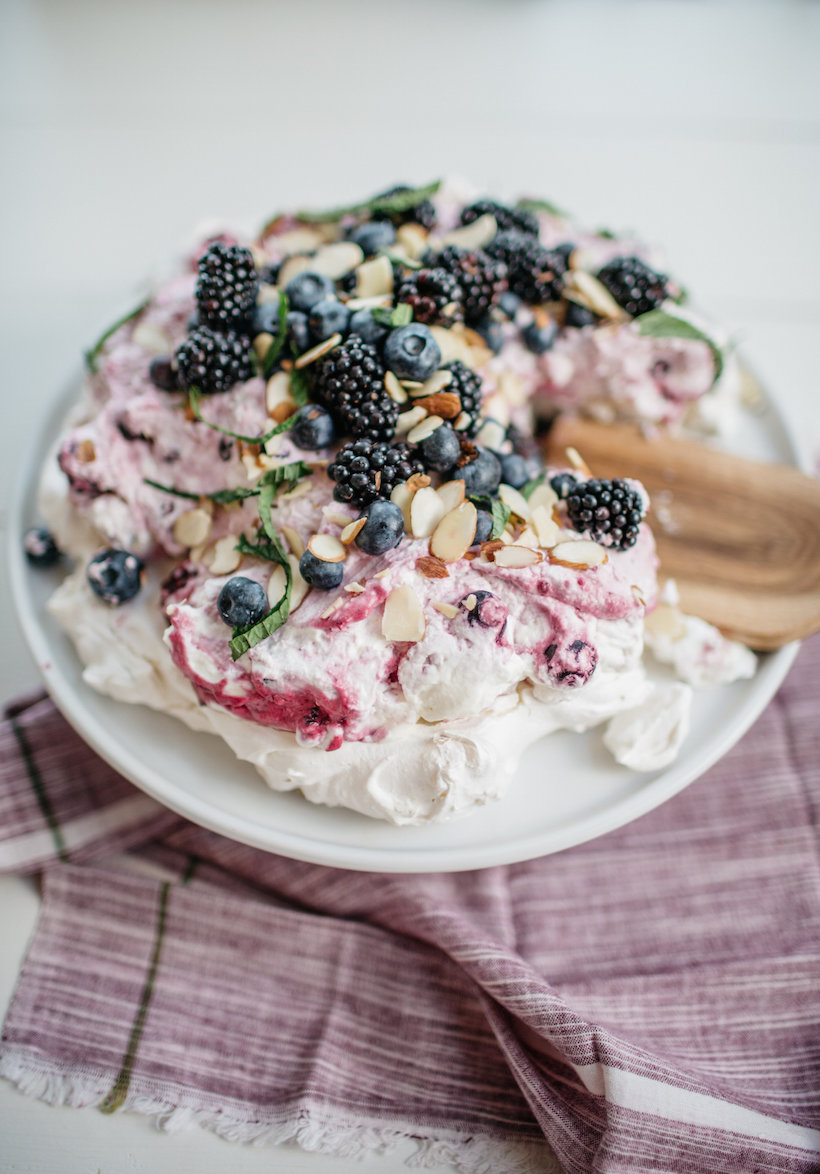 Why We Love It: Pavlova scores for its incredible ease, yet it boasts an impressive and elegant appearance. It's one of those recipes that turns out to be so much more than the sum of its parts, which is why it's great for a Labor Day celebration! All it takes to craft this charming cake-like dessert is a simple meringue and tart berry cream you'll swoon over. Blueberries and blackberries get coated with orange zest/juice, mascarpone cheese, whipping cream, and more to add depth to that almond meringue and create a delightful centerpiece for your table.
Hero Ingredient: What I love most about pavlova is that it encourages everyone to embrace the beauty of imperfections. Maybe your meringue is cracked, your cream didn't stiffen as much as you would've liked, or the flavor is missing a little something, but your guests will love it regardless. That and they'll probably have it on their hands and faces, which is even more fun. Embrace the chaos! It's more satisfying if you do.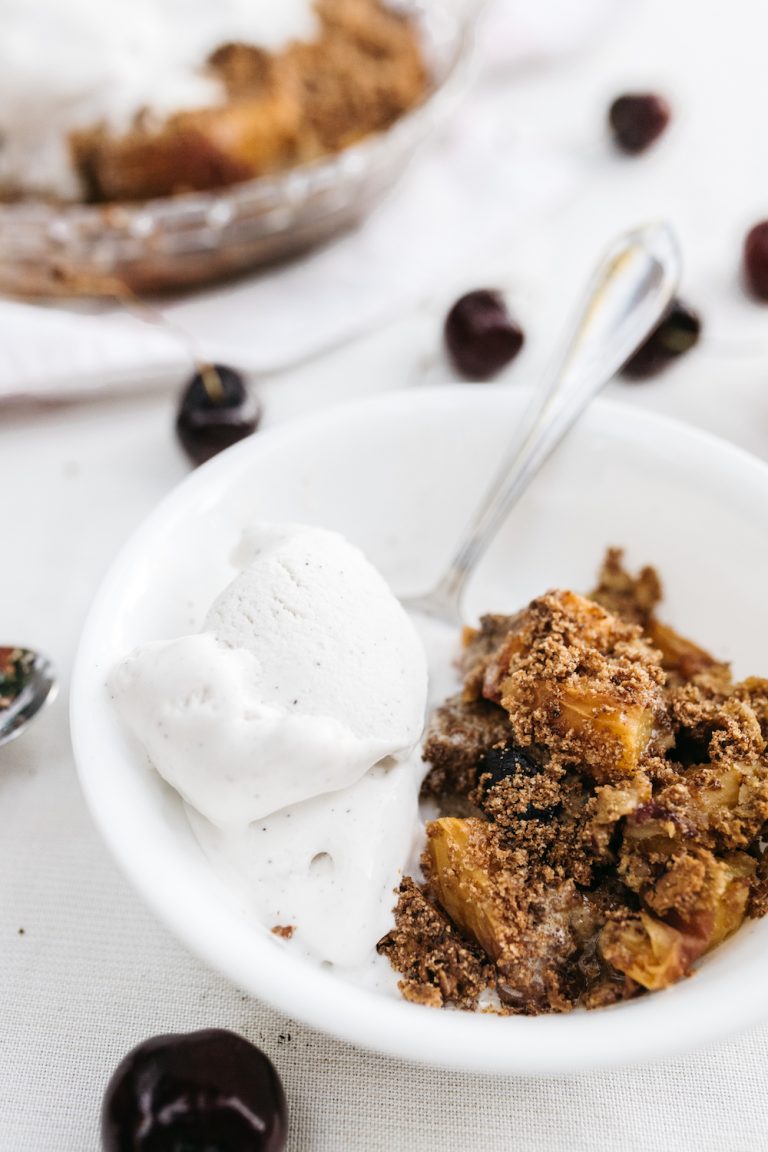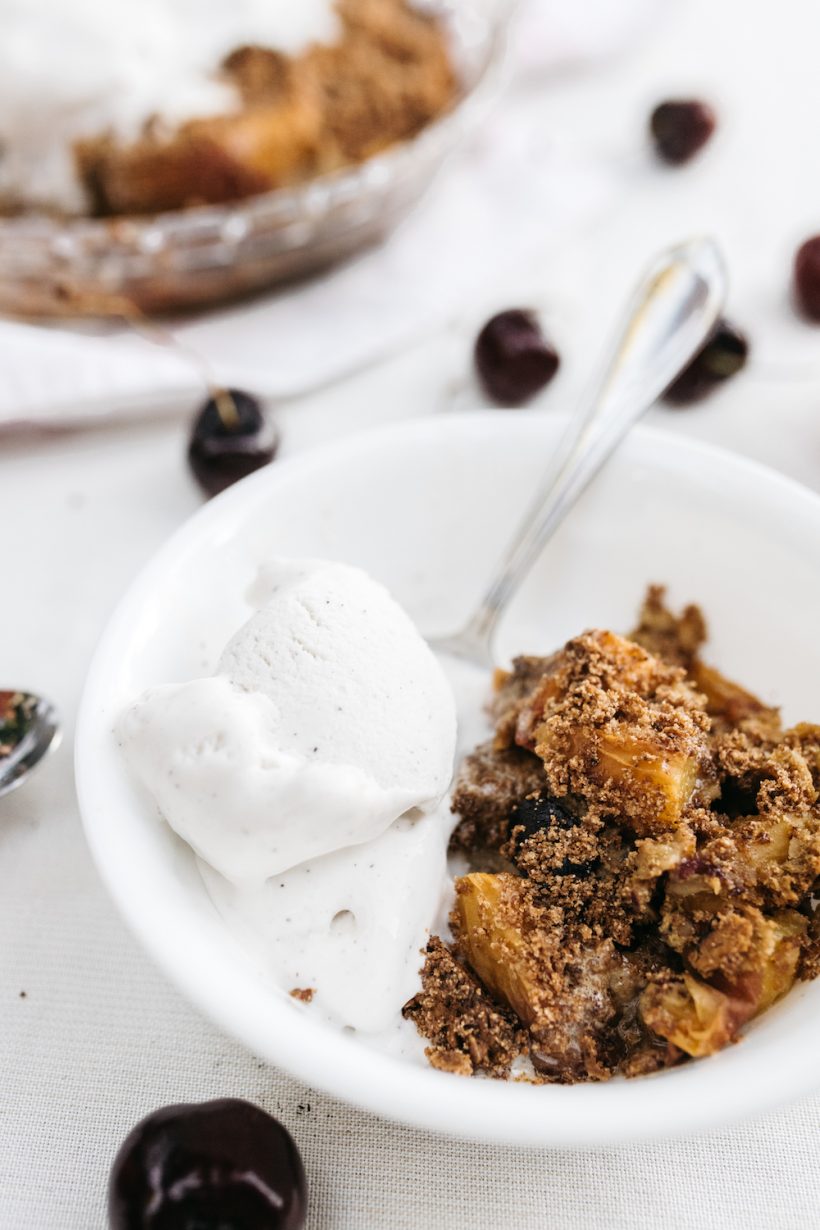 Why We Love It: Not a crumble or cobbler (still a little unsure about the difference), this stone fruit crisp is guaranteed to win the hearts of your guests. Jammy, juicy peaches join forces with tart cherries to create a fruity base you could eat with a spoon. But if you're team topping like me, you'll love the crispy cinnamon crumble most. All of that served under a few scoops of vanilla ice cream? Perfection.
Hero Ingredient: Tart cherries enhance the flavor of that fruit foundation. When met with bursting, floral peaches, it's hard to peel your spoon away.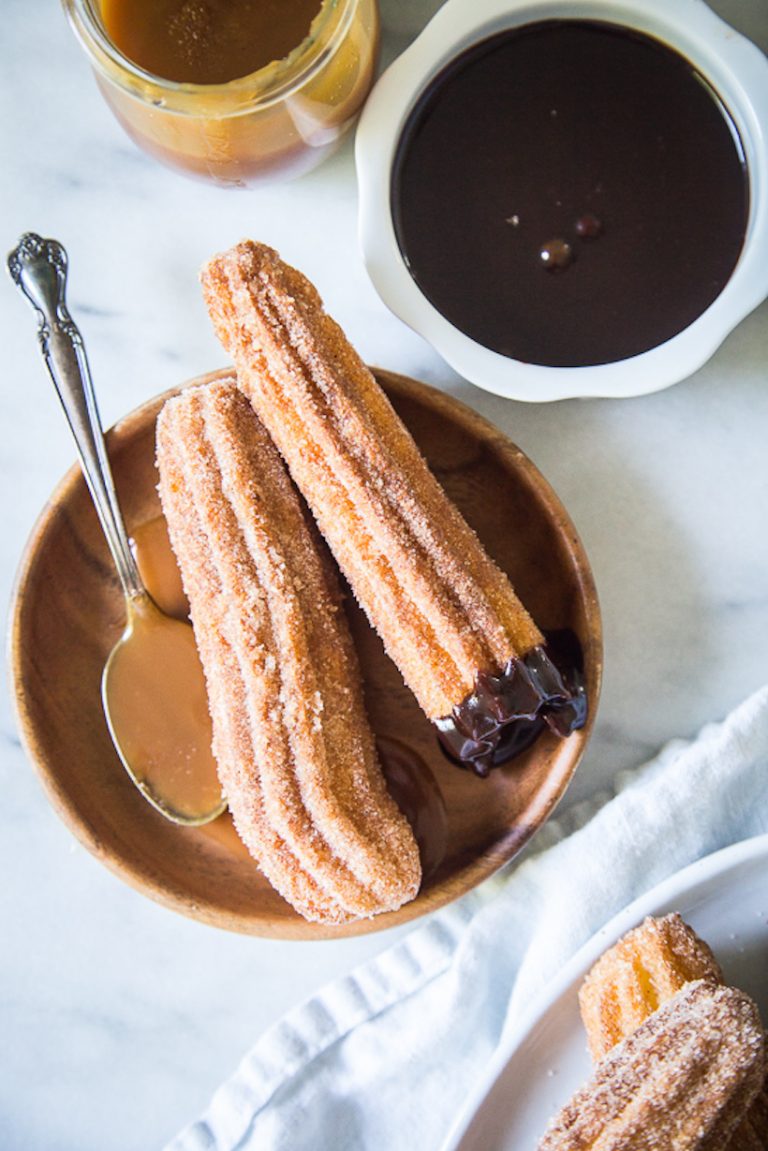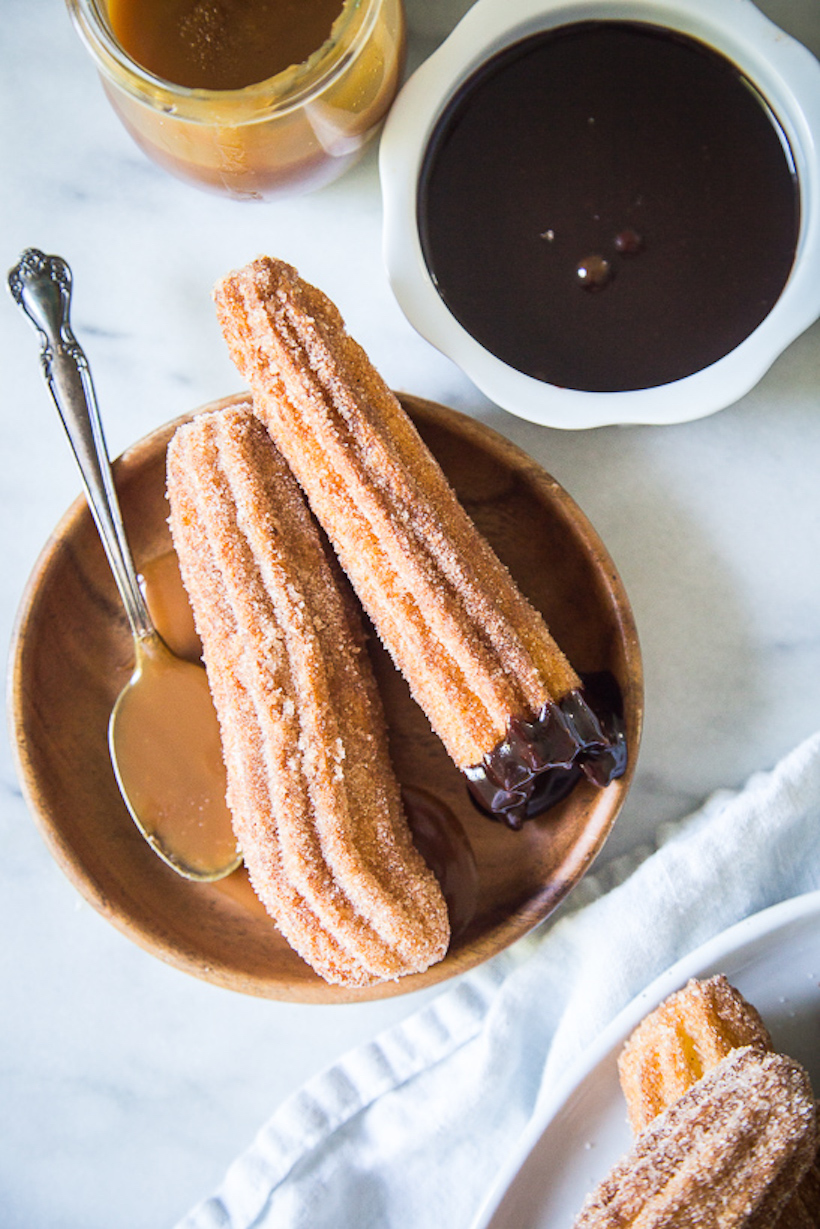 Why We Love It: Like s'mores cookies, churros are incredibly playful and a guaranteed hit. Their crunchy exterior contrasting the perfectly soft interior—all rolled in cinnamon sugar—is impossible not to love. These churros also come with an impressive caramel sidekick that's delicious enough to drink. Literally.
Hero Ingredient: That caramel sauce is gooey, slightly salted, and just the right amount of toasty/bitter to add an impressive depth to those lovable churros.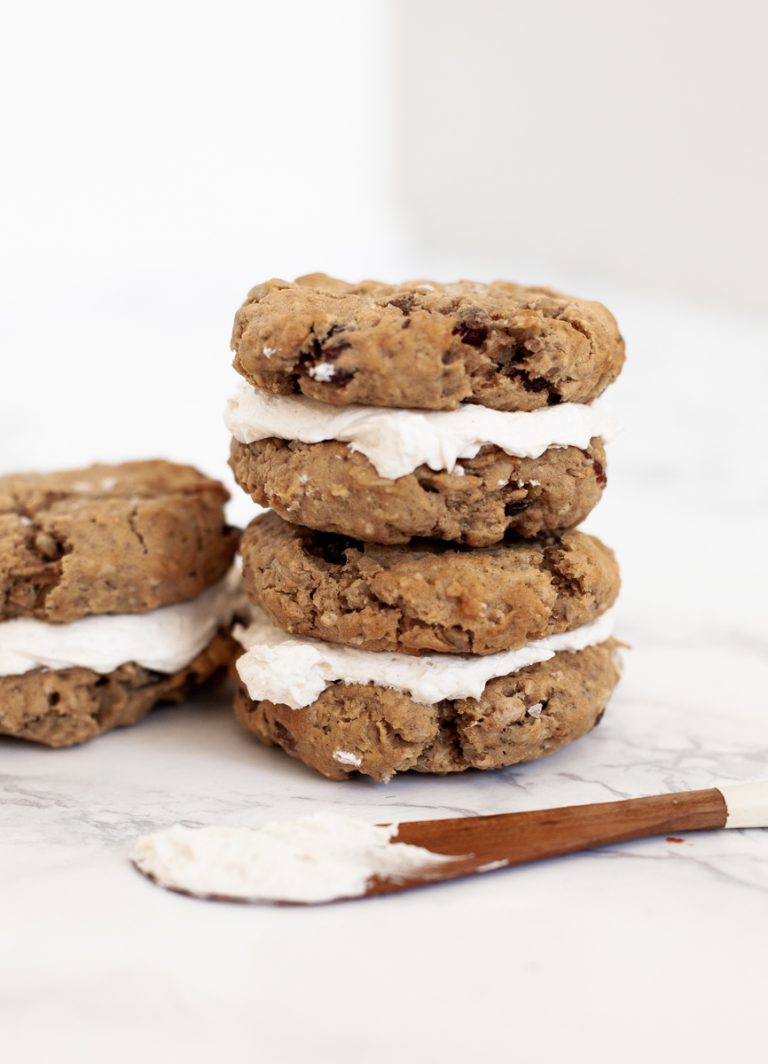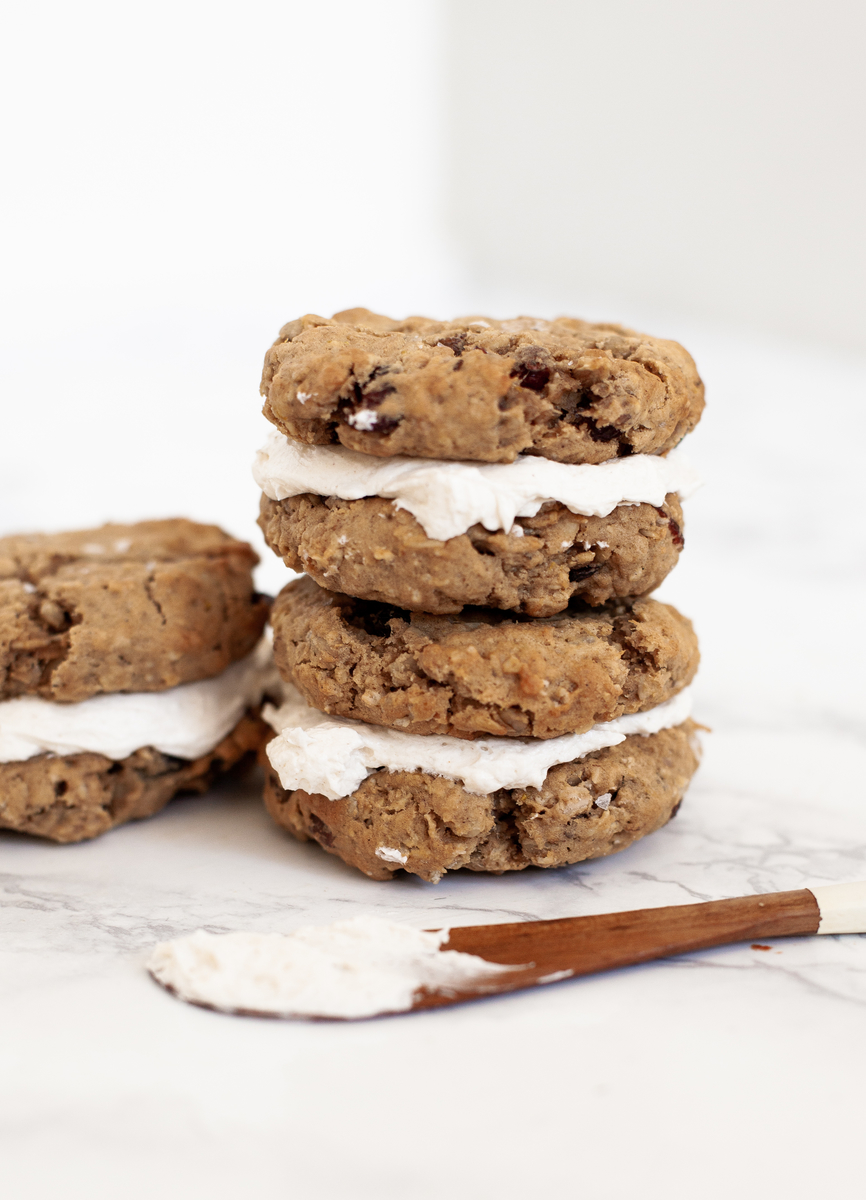 Why We Love It: Oatmeal cream pies are another classic that always put a smile on my face. While yes, the Little Debbie variety is alarmingly delicious, this recipe breathes fresh, unprocessed life into the cherished classic. Healthier oatmeal cookies lay the groundwork for those mouthwatering cream pies as a cinnamon buttercream brings flavor and creaminess to the cookie base. The best part? You can invoke the make-ahead cookie method. Simply freeze the unbaked cookie dough for up to two months so you can enjoy a fresh oatmeal cookie (or cream pie) on demand.
Hero Ingredient: Those oatmeal cookies contain all kinds of healthy ingredients. We're talking mashed banana, peanut butter, cranberries, toasted pecans, sunflower seeds, and more. Deliciously… nutritious? It might be a stretch, but trust me: these deliver.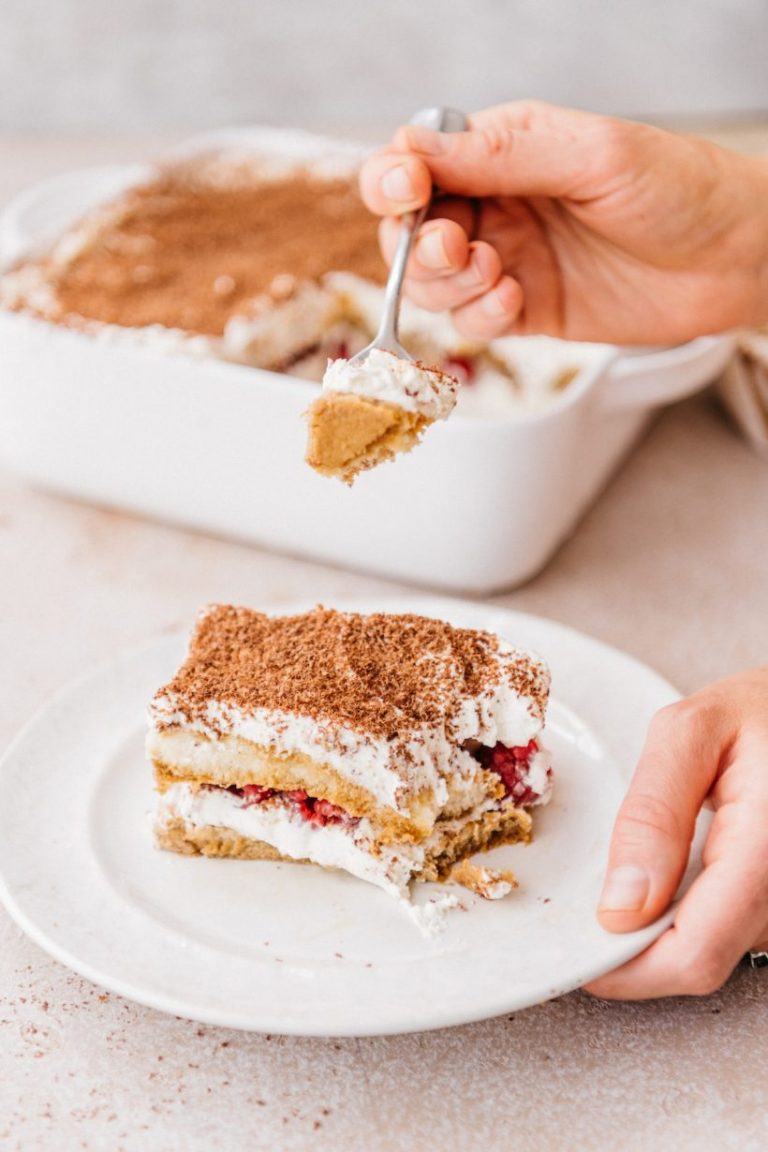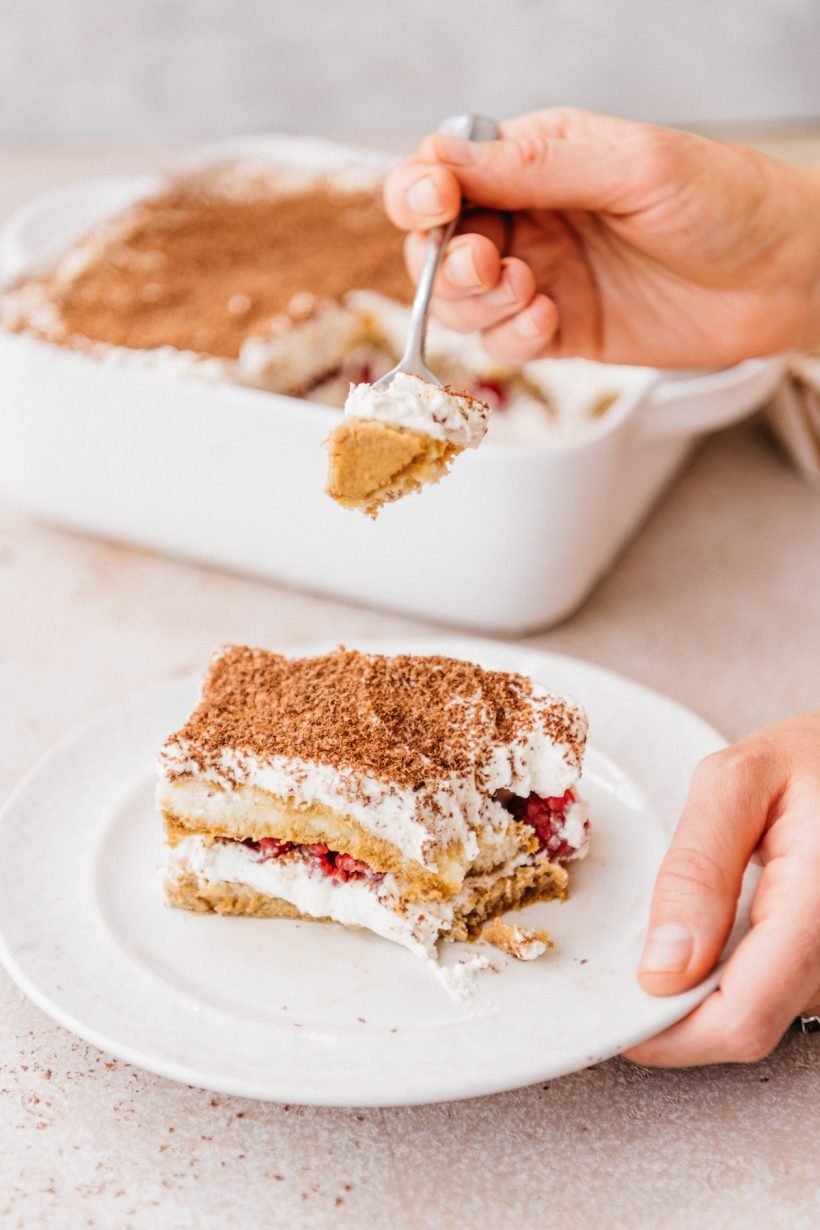 Why We Love It: This tiramisu is one of the best I've ever had. All of the components of a great tiramisu (strong espresso flavor, creamy mascarpone, vanilla bean seeds, and a chocolate element) are enhanced by the addition of tart raspberries and Chambord. And I, for one, am so glad they are. The raspberries in each layer not only introduce an amazing flavor contrast, but they bring a welcome freshness and bursting vibrance to each tasty bite. This one is a must-try.
Hero Ingredient: Use a good-quality bittersweet chocolate bar to shave over top. With something as sacred as tiramisu, only the best will do.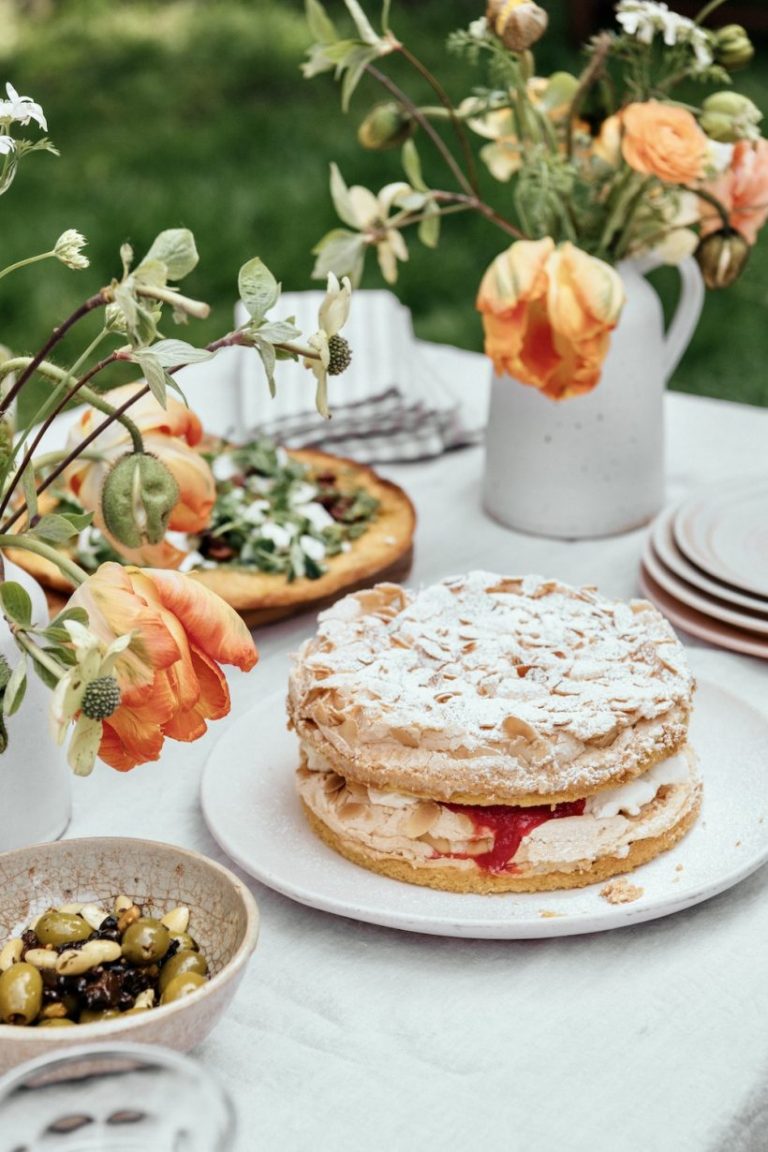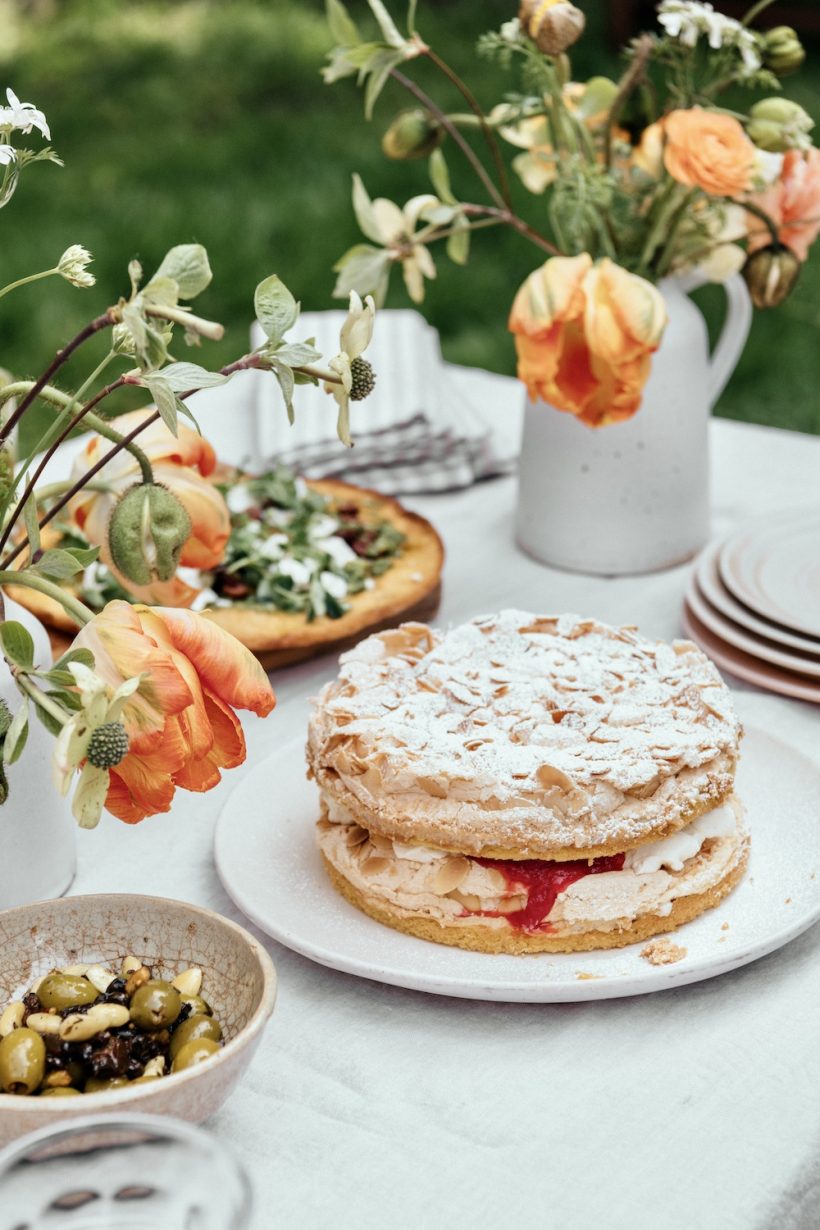 Why We Love It: Another incredibly easy but elegant dessert, this rhubarb meringue cake will brighten up any table you gather around. Its meringue base is layered with whipped cream and rhubarb compote, then topped with another meringue to create a gorgeous layered cake your guests will swoon over. Dust it all with powdered sugar and you've got a winning dessert to end your meal with.
Hero Ingredient: To make life a little easier, you can prepare the rhubarb compote up to two days in advance. All that's left to do is bake the meringues, layer, and enjoy!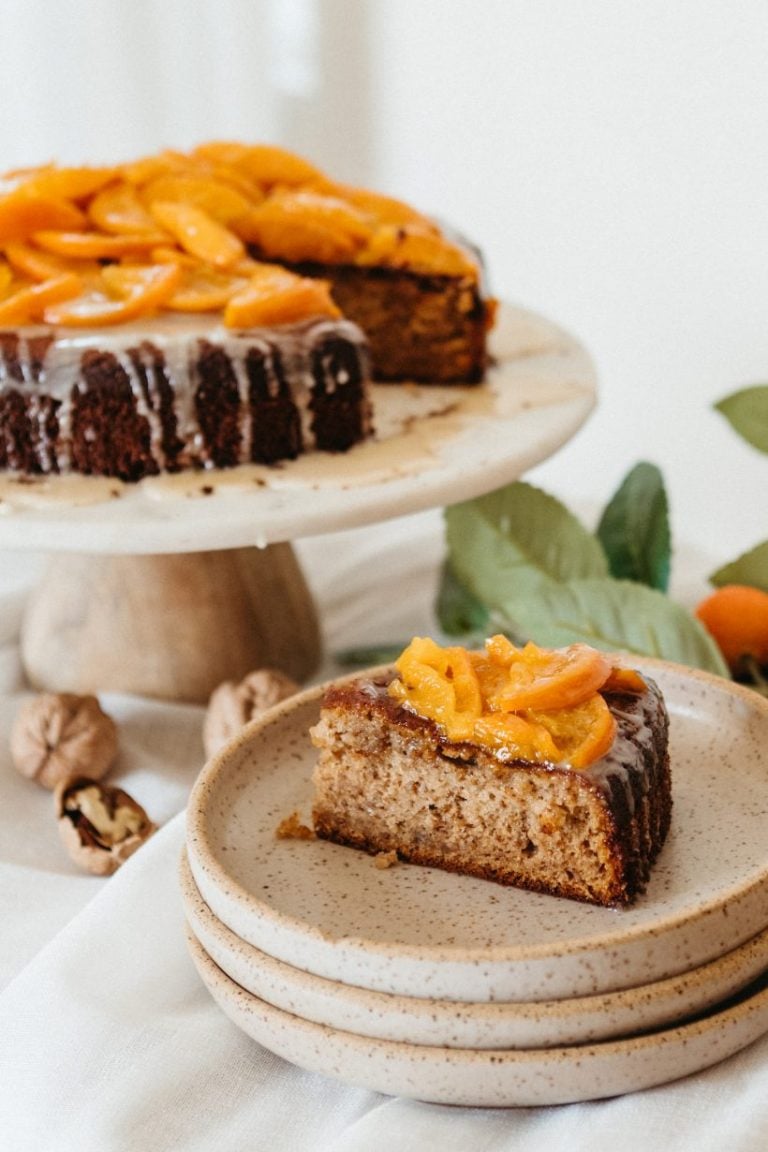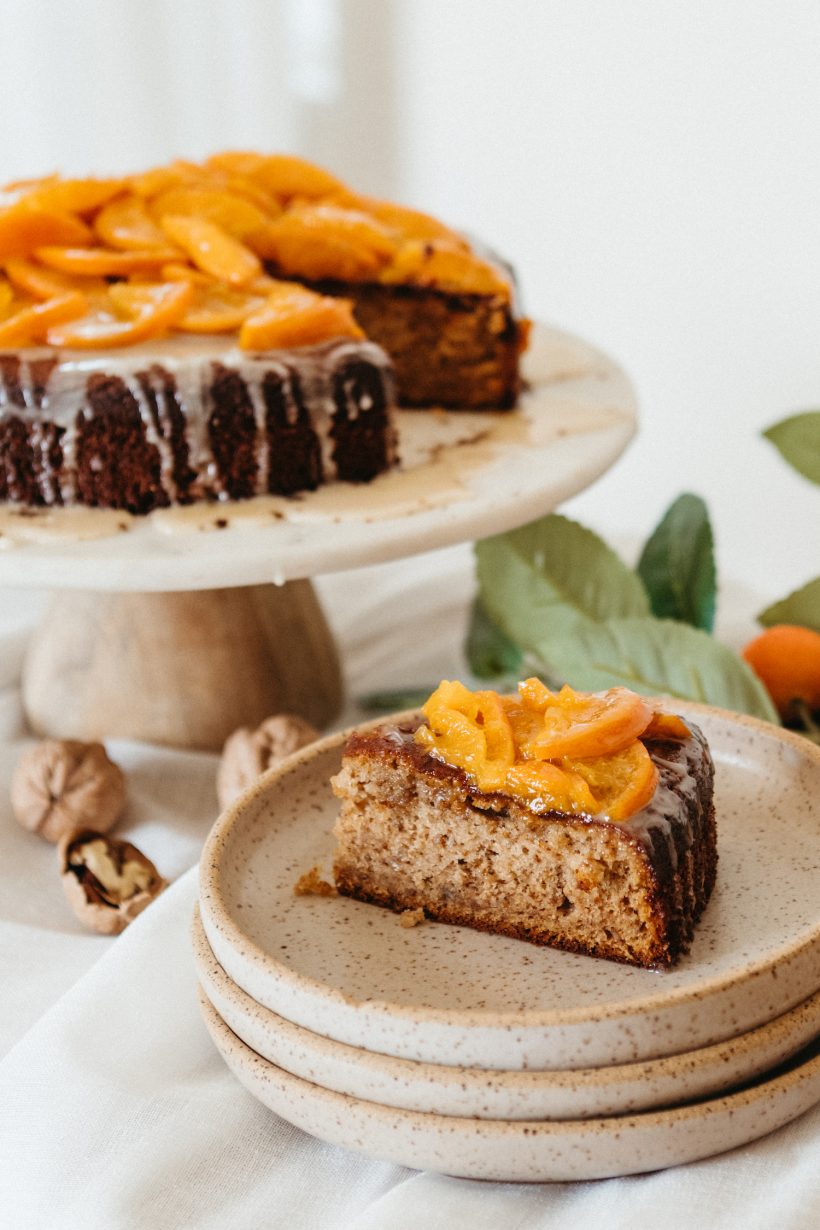 Why We Love It: While it can definitely be defined as a snacking cake, this olive oil cake is also perfect to bring out at the end of a meal. It's decadent without tasting cloyingly sweet, and flavored simply, with a light, fluffy texture that's enriched by buttery ground walnuts. Yum! And the candied orange slices brighten things up while also lending a sweetness to the flavor profile. Drizzle all of that with a mouthwatering orange glaze and you're set.
Hero Ingredient: Greek yogurt and honey bring both flavor and moisture to the cake that's definitely detectable. When it comes to snacking cakes, the texture is everything—and this one's got it.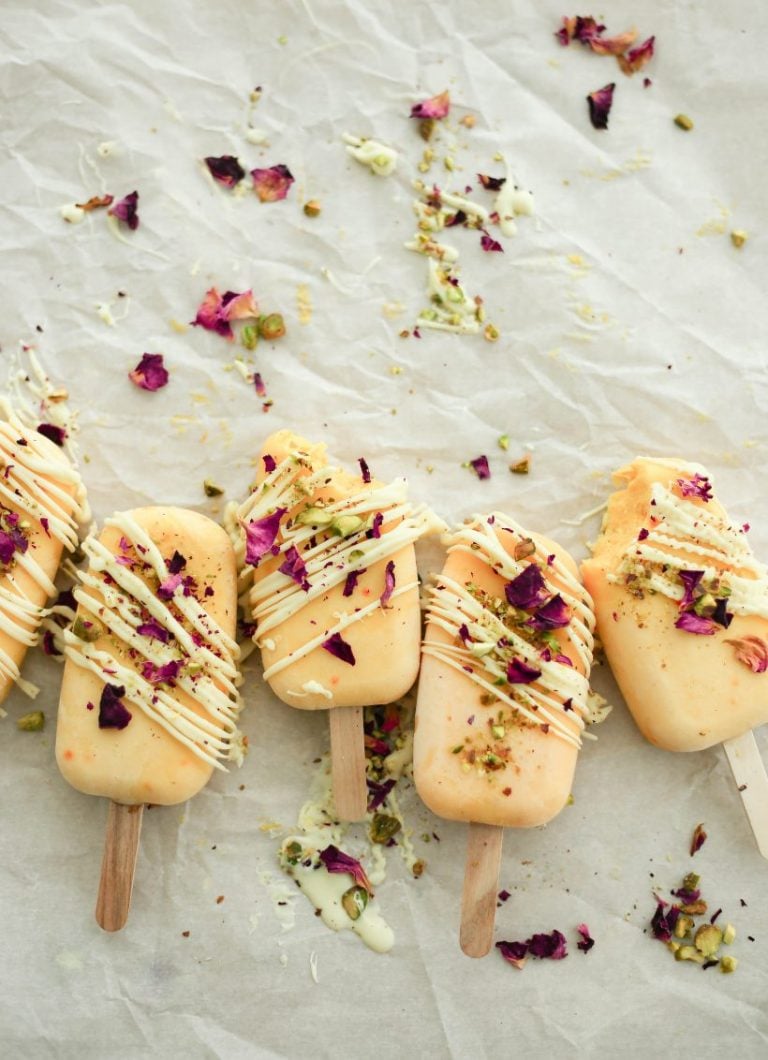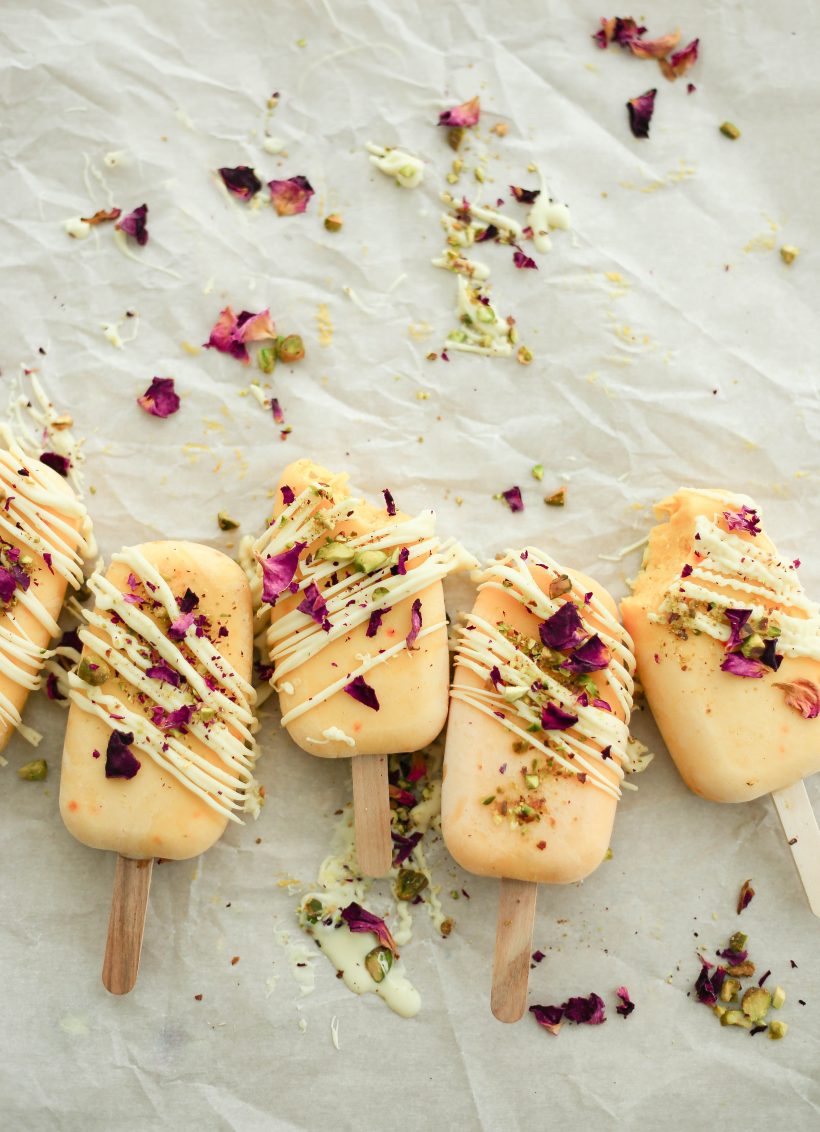 Why We Love It: Cool off at the end of your Labor Day gathering with these mango lassi popsicles. They're sweet, tangy, refreshing, and totally addicting. With a creamy yogurt base, flavorful fruit, and a floral note of cardamom, you can't go wrong with these frozen treats. Plus, like a few of the other Labor Day desserts on this list, you can make them in advance.
Hero Ingredient: A pinch of saffron is optional, but if you can splurge, you'll be glad you did. It introduces an earthy element that finishes these popsicles beautifully. If it's not in the cards, however, the popsicles are still 100% dream-worthy all on their own.