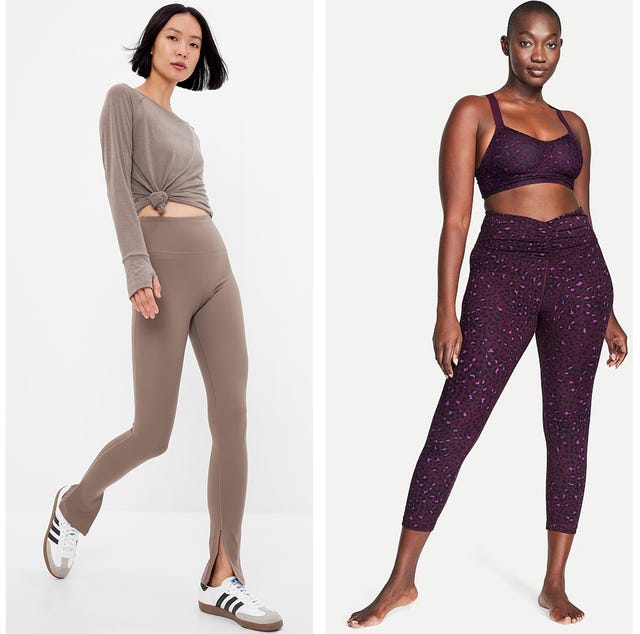 GettyGetty Images
Every year, you tell yourself, "new year, new me," but this year, you're serious. The vision boards are ready, the sneakers are laced, and now you just need the perfect workout clothes to slay any gym look.
Your perfect workout leggings will feel custom-made for you and support all your body goals. There are numerous styles to meet your every gym need, like moisture-wicking fabric for those intense sweat days and double-lining to prevent anything from peeking through. You may want to show off those glutes, but I don't think you mean like that. Those fleece-lined leggings will be your best friend when you hit the streets during those chilly winter months. You can never own too many pairs when it comes to your comfort and style.
We live in our athleisure, so our workout leggings have to work for the gym and errands without completely issuing an outfit change. Below, find the perfect fit for your lifestyle in our top picks here.
Advertisement – Continue Reading Below
Cool & Dry
Nike
Mesh-Paneled Leggings
Micro-Performance
Alo
Airlift Legging
No Slip Grip
Calvin Klein
Stirrup Logo Leggings
Ultra-Soft Finish
Everlane
Perform 24/7 Leggings
| | |
| --- | --- |
| Sizes Available | XXS – 3XL |
Ballerina Style
Sweaty Rocks
Ankle-Tie Leggings
Snatched Waistline
Lululemon
Align V-Waist Leggings
| | |
| --- | --- |
| Sizes Available | US0 – US14 |
Everyday Essential
Gap
Power Split-Hem Legging
| | |
| --- | --- |
| Sizes Available | XXS – XXL |
Seamless Design
Wolford
Perfect Fit Leggings
Sheer Skirted
Eleven By Venus Williams
Outskirt Capri
Fit and Flare
Aerie
Real Me Crossover Flare Laggings
| | |
| --- | --- |
| Sizes Available | XXS – XXL |
Seamless Scrunch
Alphalete
Amplify Leggings
| | |
| --- | --- |
| Sizes Available | XXS – XXL |
4-Way Stretch
Fabletics
PureLuxe Maternity Leggings
| | |
| --- | --- |
| Sizes Available | XXS – 4XL |
Crisscross Bodycon
Live The Process
Orion Cutout Legging
Versatile Function
Athleta
Elation 2 in 1 Capri
| | |
| --- | --- |
| Sizes Available | XXS – 3XL |
Carry 'N Go
FP Movement
Trail Cargo Leggings
Power Lounger
Victoria's Secret
Love Cloud Ruched Legging
Seam Contouring
Gymshark
Whitney High Rise Legging
Lace-Up Front
Year Of Ours
Ribbed Football Leggings
Graphic Print
Reebok
Cardi B Tights
Italian Perform
Vaara
Bonded Sports Legging
How to Shop for Workout Leggings
While you may think shopping for the best workout leggings comes easily, your personal preferences will come into play. From the type of material and overall fit to smaller details like zipper pockets, there are a handful of things to consider as you look for your favorites.
What makes a pair of the best leggings (for you) will often depend on the material. How much stretch do you want? Are you looking for a blend of Lycra or Spandex? Maybe you want something with more compression. Be sure to look at the material of the leggings in question to get an idea of how they'll feel—because that'll be the primary factor for what'll feel comfortable.
Varying inseam lengths come in handy when you want the option of capris or ankle leggings—or you're on the taller side and need some extra material. Each style can elongate your legs or accentuate your calves, depending on what you like. The flared style is also perfect for playing with proportions.
To seam or not to seam? That's a question for your comfort and the legging's durability. Over time, seams can cause chafing or even begin to separate. Seamless styles not only provide you with a smooth look but a comfortable feel.
Pockets may be the greatest invention ever created. You don't want to lug your purse to the gym or have it on your person while exercising. Leggings with pockets are perfect for those small essentials we need on hand. Added bonus if they're hidden on the inside of the fabric.
Advertisement – Continue Reading Below