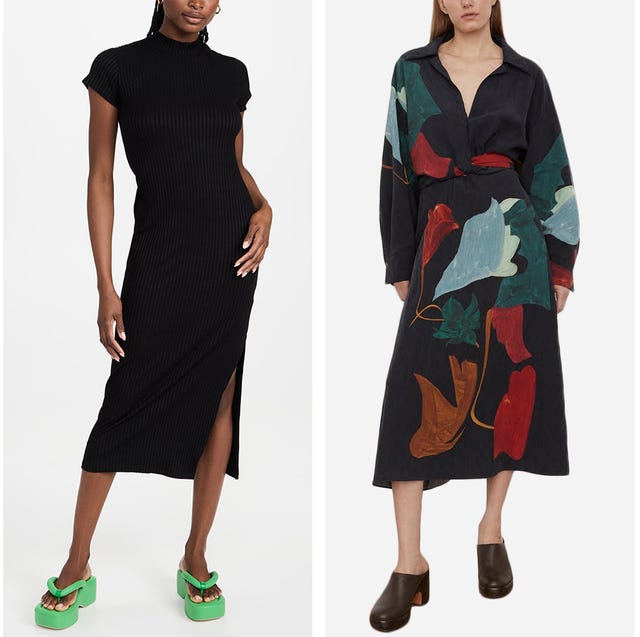 Courtesy of retailers
If you, like me, are currently sweating your way through summer, shopping for fall dresses might be the last thing on your mind. But, in case it hasn't already registered, August is nearly here. That means your days of much-needed (and deserved!) iced coffees are creeping towards the end of their peak season. In their place come apple cider donuts, maple sugar pies, and, naturally, pumpkin spiced lattes. Do I think of seasons in terms of food? Yes. Do I also think of seasons in terms of fashion? Absolutely.
I don't know about you, but bearing with the dog days of summer has me yearning for the cooler days of fall, which includes the ever-lovely activity of fall dressing. And while summer lends itself to airy dresses, the one-and-done closet staple isn't strictly reserved for the warmest months of the year—and if you've kept a tab on the fall trends, you already know that some of the best dresses were meant for the upcoming season.
Go ahead and get a head start on putting together your autumn wardrobe with some new options. To help you narrow down which ones are worthy of a spot in your growing collection, I pulled together some of the best fall dresses available now. Plus, if you want to get some tried-and-tested options to make your decision even easier, I've pulled some customer-backed options, too. Scroll on to see the dresses for fall worth adding to your cart sooner than later.
Advertisement – Continue Reading Below
Abstract Painted Slim Fitted Wrap Dress
Wear this to the office (if you're going in, of course), dinner, a gallery show, or any other occasion where you want to look sleek and polished without trying too hard. This could even be great as a fall wedding guest dress, in my opinion.
Margot Long Sleeve Sweater Dress
When I think of fall dresses, sweater dresses immediately come to mind (well, that and long-sleeve dresses). This one in particular, which comes with a matching belt to give you more shape when you want it, is easy to wear and soft (there's a hint of cashmere in the blend!), so you'll want to cozy up in this, stat.
Rating: 5 out of 5 stars, 3 reviews on nordstrom.com
Customer Review: "This dress is very flattering and comfortable. It shows your shape but not tight. Can be dressed up and worn with booties, boots or heels."
Looking for a dress to take you from the late days of summer into the early days of fall? No problem. Since this turtleneck dress is sleeveless, you'll be able to wear it on its own when the temperatures are still warm enough for you to ditch your jacket. And once the air gets a chill, all you have to do is throw on a chic blazer. Ta-da!
Another mock neck option is this classic cap-sleeve style from LNA. As someone who owns multiple pieces from this brand, trust me when I tell you: This is dress is comfortable. You'll love the way this ribbed material feels against your body so much, I guarantee it'll feel like a piece of loungewear.
Easy Crewneck Long Sleeve Sweater Dress
You simply can't go wrong with a foolproof silhouette. Hitting just above the knee, this effortless option is casual and cool, but can still be dressed up with a pair of tights. Just imagine pairing this with your favorite fall boots, from ankle booties to knee-high styles.
Rating: 4.4 out of 5 stars, 34 reviews on nordstrom.com
Customer Review: "This is a comfortable, easy to wear, soft, not scratchy, knit dress. Works for me as an everyday outfit basic for chillier seasons. Looks nice with leggings or tights and boots or booties. I am not thin, tall, or young; I have an apple shape, and this dress looks attractive and feels comfortable."
Aleid Turtleneck Midi Dress
Maybe you're keen on making a statement this fall. I have the perfect dress for you: Between the graphic print, the cutout shoulders, and the tie details, this dress will do all the work so you don't have to. It'll look especially cool with a sleek leather jacket, too.
The Daytripper Shirtdress
Sometimes, you just want a dress to throw on without a second thought (that also looks good, of course). This is the dress you want—and according to one reviewer, it's great for those who are expecting, too.
Rating: 4.25 out of 5 stars, 24 reviews on everlane.com
Customer Review: "This dress is so adorable! I have it in 2 colors…I am definitely into the loose-fitting look, but it would also look great with a belt to give your look more shape. I am 5 months pregnant right now, but I am excited to wear it post-pregnancy as well!"
I love a dress that speaks volumes when it comes to versatility. Brochu Walker's simple dress is a style you can wear now, while we're in the heat of summer, as well as in the fall when the air is cool and crisp. Just be sure to swap out those open-toe sandals for boots (and maybe tights) when the time comes.
Sage green is the color of the moment, and if you haven't already started incorporating the unexpected shade into your wardrobe, now is a great time to start. The ruffled hem and matching tie at the waist gives this a fun and flirty touch to an otherwise utilitarian dress.
Rating: 5 out of 5 stars, 1 rating on shopbop.com
Customer Review: "This dress is super cute and fits great! Exactly as described. Color is great as well."
Anyone looking for a dress that can handle the elements should opt for this pretty button-down style. Made with garment-dyed cotton, it's a great option for those final days of summer before you start styling it with some additional layers, like a sleek black turtleneck.
Rating: 4 out of 5 stars, 6 reviews on alexmill.com
Customer Review: "Love this dress. It feels very high quality and it is really versatile. It's a great dress to wear to work but can also work with sandals for a more casual style. This is my first purchase from Alex Mill and I will definitely shop here in the future!"
Florals for fall are nothing new, but they look especially pretty in the form of this silk-satin wrap dress. Wear it with boots of any style for a go-to fall look. Or, if you have a special occasion, style this dress with simple heels.
Scoop Neck Knit Midi Dress
Bring that '90s aesthetic into the next season with this knit midi dress. The ribbed texture and the sweet keyhole detail makes this extra pretty, but you can also toughen it up with combat boots or sneakers.
Carnation Knit Midi Dress
Big fan of Staud? Me too. I love the idea of donning this dress with gold jewelry and mules for a look that can go straight from work to drinks.
Ayda Mixed-Knit Maxi Dress
Mix up your collection of knit fall dresses with one that feels a little unexpected. This dress has it all: texture, graphic details, and ease. Plus, it touches on the crochet clothing trend that's been everywhere this season. (FWIW, I took one look at this dress and added it to my cart.)
Fall isn't all about pumpkin spiced lattes and knitwear. When that inevitable hot-AF time of year (aka Indian summer) comes along, you'll need a dress that keeps you cool and seasonally appropriate. Well, this is the dress for you, and you can layer it with a long-sleeve top underneath when you need something extra.
Seersucker Smocked Midi Dress
Love the seersucker trend so much that you want to bring it into the next season? Ganni has you covered, with puff sleeves to boot. Simply put, this is one of those throw-on-and-go dresses you'll keep for years.
Wrap yourself in this cozy blanket of a dress all season long. As a style you can dress up or down, this under-$50 frock is an affordable option everyone should have.
An easy way to keep yourself warm without piling on the layers is to sport a cashmere sweater dress. This one is undeniably cozy and will look as good with a pair of sneakers as it will with boots. In other words, it's essential for those low-key fall days.
Rating: 5 out of 5 stars, 6 reviews on nakedcashmere.com
Customer Review: "I am so cold-natured, it's difficult to look fashionable and yet be adequately warm. This dress, however, manages to combine the two. I'm 5'5", 115lbs – the small was too roomy so downsized to XS. Flattering, hits mid-thigh, so great with knee-high boots, adding tights or leggings as needed."
Want a fall dress for going out? Look no further than this vibrant style from Mango. The knitted material gives it a level of polish while also making it easy to wear (and warm, of course). Pair it with fun cowboy boots, sneakers, heeled booties, or literally anything else.
Lounge Ribbed Long Sleeve Maxi Dress
Maybe you want a dress worthy of going out and staying in. In which case, get yourself a dress that can do both. Reviewers share that this dress feels like a second skin (which comes as no surprise from Kim Kardashian's Skims). That said, it's stylish enough to wear with sneakers for those moments when you need to leave the house.
Rating: 4.6 out of 5 stars, 288 reviews on nordstrom.com
Customer Review: "I got this dress and wasn't sure about the fit. I'm big into measuring myself but with this dress, I just took a chance! I was blown away when I put this on. It fit my body so beautifully. It's versatile in so many settings. I can travel in this and wear it again for a night out. The ribbed fabric holds you well…the sleeves are slimming and that square neckline line made my cleavage pop but in a decent way. I tried this on with a regular bra and had no issues with the neckline. I would love to get this in the cocoa color."
This content is created and maintained by a third party, and imported onto this page to help users provide their email addresses. You may be able to find more information about this and similar content at piano.io
Advertisement – Continue Reading Below