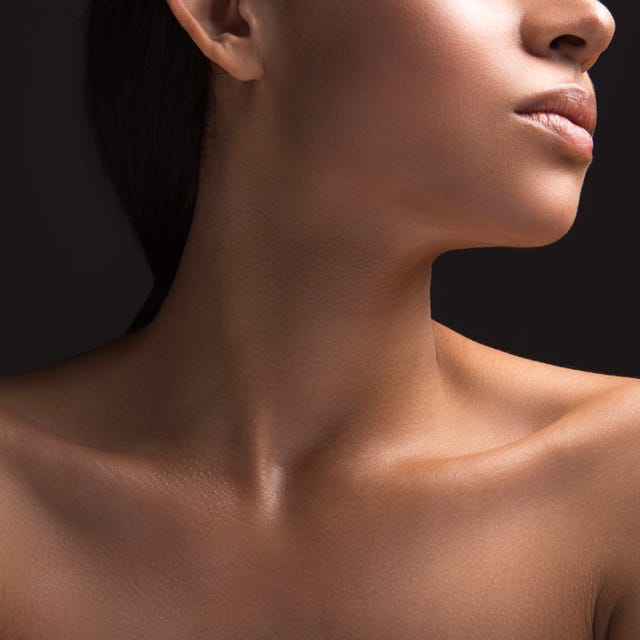 YakobchukOlena
Nothing is more soothing than the ritual of taking time for yourself each night a la your nighttime skincare routine. But are you taking care of your neck too? While it may seem like a funny question, the skin below our chin is just as delicate as the skin above. In fact, our necks are just as vulnerable to sun damage, age spots, sagging, and wrinkling over time, aka, they will be the tell-tale sign of aging. So, whether your concern is "turkey neck" (the term used to describe the sagging or loosening of skin around the chin) or "tech neck" (the appearance of fine lines and wrinkles resulting from constantly straining our necks to look at our computers or phones…hello Zoom and TikTok), it's time to invest in your precious neck skin.
The best way to start showing your neck some love is with a dedicated cream or serum that works to nourish the skin and prevent the signs of aging. We spoke with our experts including, Plastic Surgeon Dr. Kevin Sadati, Dermatologist Dr. Karan Lal, and Dermatologist Dr. Arash Akhavan, to get down to the bottom of what we should be looking for when it comes to the best skin tightening creams. Ahead, we combed through reviews and scoured the top-rated products to find the 19 best neck creams that actually work, as well as compiled some tips and tricks from our experts for caring for your skin. Read on for a younger looking neck!
Advertisement – Continue Reading Below
1
Best For Nourishment
SKKN by Kim
Face Cream
2
Best For Crepey Skin
Crepe Erase
Ultra Smoothing Neck Repair
3
Best Neck Serum
Nécessaire
The Neck Serum
4
Best Affordable Option
The INKEY List
Retinol Anti-Aging Serum
5
Best For Tech Neck
StriVectin
Tightening Neck Cream
6
Best For Loose Skin
Yeouth
Neck Firming Cream
7
Best For Sagging Skin
Eva Naturals
Neck Firming Cream
8
Best For Hyperpigmentation
InstaNatural
Retinol Moisturizer Anti Aging Night Face Cream
9
Best For Full Body Tightening
Crepe Erase
Body Firm Advanced Body Repair Treatment Ultra
10
Best For Dry Skin
Neutrogena
Rapid Wrinkle Repair Retinol Oil
11
Best For Sensitive Skin
Pure Biology
Neck Firming Cream
12
Best For Preventative Care
Shiseido
Benefiance Concentrated Neck Contour Treatment
13
Best For Dewy Skin
BeautyStat
Universal Pro-Bio Moisture Boost Cream
14
Best For Sensitive Skin
Anavita Skin Care
Moisturizing Anti Wrinkle Anti-Aging Cream
15
Best For Extremely Sensitive Skin
Mario Badescu
Vitamin A-D-E Neck Cream
16
Best For Wrinkles
NeoStrata
Triple firming Neck Cream
17
Best For Contouring
Dermalogica
Neck Fit Contour Serum
18
Best For Fine Lines
RoC
Multi-Correxion 5-in-1 Restoring Night Cream
19
Best For Quick Results
it Cosmetics
Confidence in a Neck Cream
Do neck firming creams actually work?
If you're concerned about loose skin, fine lines and wrinkles around the neck area, topical creams can minimize those issues. "Neck firming creams are a great place to start- and they do work," says Dr. Lal. However, like most skincare, results take time. "Neck firming creams will not provide overnight results, with most clinical products requiring 12 weeks of use before results are visible," adds Dr. Sadati. While neck creams may not provide the same results that in-office treatments would, "They do help add moisture to the delicate skin around the neck which can over time smooth the texture and reduce the appearance of wrinkles in the skin, but it is best to pair products with a procedure to achieve desired results," says Dr. Akhavan.
What ingredients are good to have in a neck firming cream?
"Hyaluronic acid, peptides, retinol, alpha hydroxy acids, and squalane are some examples of good ingredients to look for in a neck cream as they are ultra hydrating and beneficial for increasing collagen production," says Dr. Akhavan. For increased anti-aging, "Good neck creams will have a retinol which stimulates collagen and also helps fade dyspigmentation that occurs from sun exposure," says Dr Lal. However, it's important to remember that retinol is a powerful ingredient. "The skin on the neck area is thin and sensitive," says Sadati. "It's best to use retinol products on the neck every 3 days and gradually increase the frequency as tolerated. Applying moisturizer after will help soothe the skin and help it to appear smoother."
What in-office treatments can you receive for the neck area?
For more intense and long-lasting results, in-office treatments are available. "There are both surgical and non-surgical options available for neck rejuvenation," says Dr. Sadati. "If you are looking for dramatic improvement a neck lift will deliver these results. Depending on your age and the condition of the skin non-surgical options such as radiofrequency, micro needling, resurfacing lasers and injectables can also provide significant improvement."
Advertisement – Continue Reading Below